---
Global Automotive Adhesive and Sealants Market is estimated to reach 2,217 kilo tons by 2024; growing at a CAGR of 6.4% from 2016 to 2024. A sealant is a sticky material which penetrates by capillary act into a substrate where it is functional and provides a block to air, liquids, dust, and others, from crossing from one substrate to another. They are corrosion resistant, have adhesion and are insoluble in most media. The adhesion of sealants is a little lower related to adhesives. Sealants lie among high strength adhesives and little strength caulks and putties. However, they have developed elongation as compared to adhesives. There are many types of sealants which are used across several industries such as automobiles building & construction, marine applications and rubber industry among others.
Global Automotive Adhesive and Sealants Market Size and Forecast, 2015 - 2024 (Kilo Tons)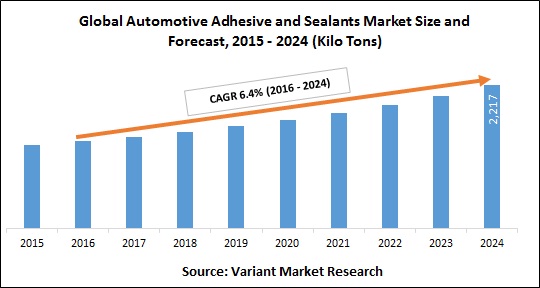 The major aspects driving the global automotive adhesive and sealants market are innovations in the industry such as the introduction of a new silyl improved polymer (SMP) technology by Bostik, which is anticipated to intensify the efficiency and safety values for automobile manufacturers. Manufacturers are thus progressively shifting toward water-based adhesives, which are environment welcoming and contain a lesser amount of VOCs. Miniaturization & weight decrease are key factors inducing technology trends in the market. Companies are presenting specialized products with collective properties. New opportunities are accessible for manufacturers to produce environment friendly and fast curative adhesives from bio-based and renewable resources, which is probable to boost industry growth.
The market for automotive adhesive and sealants is classified on the basis of application, type, and geography. The classification by application includes BIW, UTH and power train, paint shop, and assembly. Type is bifurcated as epoxy, acrylics, polyurethanes, rubber, PVC, silicones, and hot melts.
Global Automotive Adhesive and Sealants Market By Application, 2016 Vs 2024

Based on the geographical analysis, automotive adhesive and sealants market is segmented into North America, Europe, Asia-Pacific, Rest of the World (RoW). North America is further bifurcated in U.S., Canada, and Mexico whereas Europe consists of UK, Germany, France, Italy, and others. Asia-Pacific is segmented into India, China, Japan, South Korea and others while RoW is bifurcated into South America, Middle East, and Africa.
Global Automotive adhesive and sealants market share by region, 2024 (value%)

The key market player includes Evonik Industries, BASF, DSM Inc., Henkel, 3M Inc., Avery Dennison, Bostik, AkzoNobel N.V., Franklin Adhesives & Polymers, H.B. Fuller & Co among others.
The key takeaways from the report
The report will provide detailed analysis of Global Automotive Adhesive and Sealants with respect to major segments such as type, application and geography
The report will include the qualitative and quantitative analysis with market estimation over 2015-2024 and compound annual growth rate (CAGR) between 2016 and 2024
Comprehensive analysis of market dynamics including factors and opportunities will be provided in the report
An exhaustive regional analysis of Global Automotive Adhesive and Sealants Market will be included in the report
Profile of the key players in the Global Automotive Adhesive and Sealants Market will be provided, which include key financials, product & services, new developments and business strategies
Scope of Global Automotive Adhesive and Sealants Market
Type Segments
Epoxy
Acrylics
Polyurethanes
Rubber
PVC
Silicones
Hot Melts
Application Segments
BIW
UTH and Power Train
Paint Shop
Assembly
Geographical Segments:
North America
Europe

UK
Germany
France
Italy
Rest of Europe

Asia-Pacific

India
China
Japan
South Korea
Rest of Asia-Pacific

RoW

South America
Middle East
Africa
Automotive Adhesive and Sealants Market Primary Interviews by Geography

---
Related Report
Automotive MEMS Sensors Market Global Scenario, Market Size, Outlook, Trend And Forecast, 2015 – 2024


- December 2017

Automotive Lightweight Materials Market Global Scenario, Market Size, Outlook, Trend and Forecast, 2015 – 2024


- December 2017

Motorcycle HUD Market Global Scenario, Market Size, Outlook, Trend and Forecast, 2015 – 2024


- December 2017

ADAS Market Global Scenario, Market Size, Outlook, Trend and Forecast, 2015 – 2024


- December 2017

Automotive Body Parts Market Global Scenario, Market Size, Outlook, Trend and Forecast, 2016 – 2024


- December 2017