---
Global Biopesticides Market is estimated to reach $4 billion by 2024; growing at a CAGR of 8.8% between 2016 and 2024. Biopesticides are a type of pesticide, which contain active ingredient, derived from natural materials such as bacteria, fungi and virus or substance produced by plants which contains genetic material or Plant-Incorporated Protectants (PIPs). Biopesticides are usually less toxic as compared to conventional pesticides. At present, Bacillus thuringiensis (Bt) is most widely used insecticide which is useful for pest control. They target only the specific and affect only the target pest with regards to a broad spectrum. In U.S., before a pesticide can be marketed, The Federal Insecticide, Fungicide and Rodenticide Act (FIFRA), requires that United States Environmental Protection Agency (EPA) evaluate the proposed pesticide to assure that its use will not pose risk of harm to human health and the environment.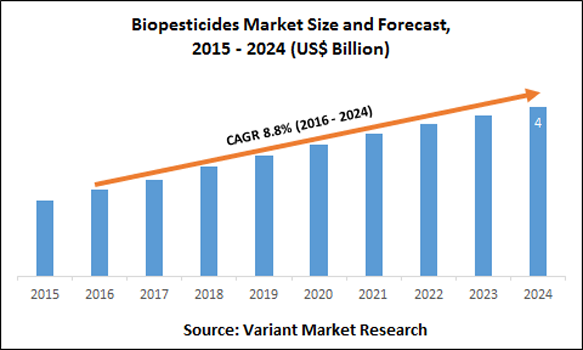 Increased knowledge among the end-users and advancements in biotechnology and bio-pesticide technology are the major factors supporting the growth of global biopesticides market. Moreover, encouragement for organic farming from various government organizations rising and R&D for advanced farming innovations also fuel the growth of the market. However, negative perception and low availability along with low shelf-life of biopesticides may hinder the growth of the market. Furthermore, emerging technologies would provide opportunity in upcoming years.
The biopesticides market is segmented based on the product type, active ingredient type, crop type, application and geography. By product type, it is further segmented into bioinsecticides, biofungicide, bionematics and bioherbicide. Active ingredient type can be further segmented into microbial pesticides, plant-based pesticides and biochemical pesticides. Crop type is segmented into permanent crops, arable crops and others. Furthermore, applications are segmented into seed treatment application, on-farm application and post-harvest.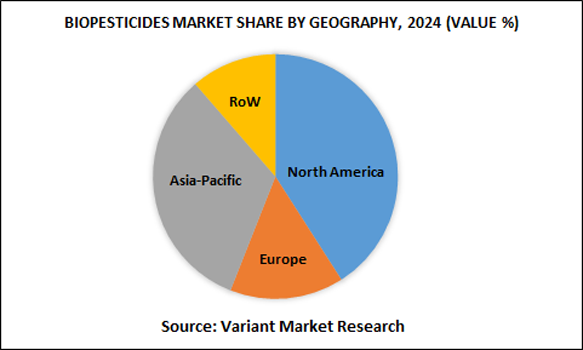 By geography the market is segmented into North America, Europe, Asia-Pacific and RoW. The U.S., Mexico and Canada are covered under North America wherein Europe covers France, Germany, Italy, Spain and others. Asia-Pacific covers China, India, Japan and others. Rest of the World (RoW) covers South America, Middle East and Africa.
Key market players include Bayer CropScience Ag, GreeNeem, Sibbiopharm Ltd., Isagro SpA, BioWorks, Inc, San Jacinto Environmental Supplies, Troy Biosciences, Inc., Syngenta Bioline Ltd. Dow AgroSciences LLC and AgBiTech Pty Ltd, among others.
The key takeaways from the report
The report will provide detailed analysis of Biopesticides Market with respect to major segments such as product type, active ingredient type, crop type and application of the market
The report will include the qualitative and quantitative analysis with market estimation over 2015-2024 and compound annual growth rate (CAGR) between 2016 and 2024
Comprehensive analysis of market dynamics including factors and opportunities is included in the report
An exhaustive regional analysis of Biopesticides Market will be provided in the report
Profile of the key players in the Biopesticides Market will be provided, which include key financials, product & services, new developments and business strategies
Scope of Biopesticides Market
Product Type Segments
Biofungicide
Bionematics
Bioinsecticides
Bioherbicide
Active Ingredient Type Segments
Biochemical Pesticides
Microbial Pesticides
Plant-Based Pesticides
Crop Type Segments
Arable Crops
Permanent Crops
Others
Application Segments
On-Farm Application
Post-Harvest
Seed Treatment Application
Geographical Segments
North America
Europe

Germany
France
United Kingdom
Spain
Others

Asia-Pacific

China
India
Japan
South Korea
Others

RoW

South America
Middle East
Africa
---
Related Report
Aerosol Market (By Application: Household, Automotive Industry, Paint & Varnishes, Food, Personal care, Insecticide, and Other Applications; By Geography: North America, Europe, Asia-Pacific and RoW) Global Scenario, Market Size, Outlook, Trend and Forecast, 2015 - 2024


- October 2017

Diamide Insecticide Market Global Scenario, Market Size, Outlook, Trend and Forecast, 2015 – 2024


- November 2017

Acetyls Market (By Product Type: Acetic Acid, Vinyl Acetate Monomer, Ethyl Acetate, Acetic Anhydride, And Others; By Geography: North America, Europe, Asia-Pacific and RoW) Global Scenario, Market Size, Outlook, Trend and Forecast, 2015 – 2024


- October 2017

Quantum Dots Market Global Scenario Market Size, Outlook, Trend and Forecast, 2015-2024


- November 2017

Global Activated Carbon Market (By Product Type Segments: Powdered Activated Carbon, Granular Activated Carbon, Others; By Application: Liquid Phase, Gaseous Phase; By End Use: Water Treatment, Pharmaceutical & Medical, Automotive, Food & Beverage Processing, Air Purification, Others and By Geography: North America, Europe, Asia-Pacific and Row)) Opportunities, Growth and Forecast, 2015 - 2024


- October 2017