---
Global Insulin Delivery Devices Market is estimated to reach $22.8 billion by 2024; growing at a CAGR of 8.9% from 2016 to 2024. Insulin is a hormone made in the pancreas, which is essential in regulating blood glucose levels. Insulin plays a vital role in metabolism as the lack of insulin production or inability to respond to insulin leads to the development of diabetes. People with type 1 and type 2 diabetes requires to take insulin shots externally in order to prevent long-term complications and to aid the body in processing glucose and avoid complications related to hyperglycemia. The most commonly prescribed insulins for medication are synthetic insulins, that are given through injection pen, syringe, insulin pumps and other devices. The type of devices used to deliver insulin varies among end-users depending upon their ability to operate, insulin regimen, and others.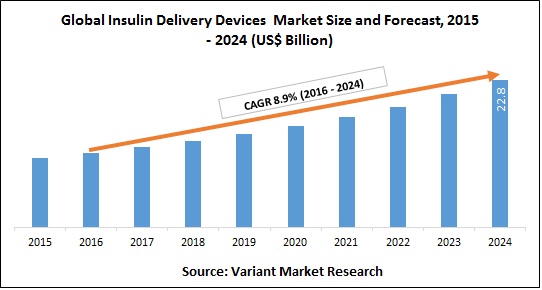 Increasing number of geriatric and obesity population, technological advancements in insulin delivery systems, and favoring reimbursement policies are the drivers boosting the growth of the global insulin delivery devices market. Moreover, increasing awareness among consumers on availability of several delivery devices and development of human insulin devices are also fueling the growth of the market. However, high cost of these devices and risks associated with the misuse of drug delivery devices may hamper the growth of the market. Furthermore, market expansion and growing R&D activities would provide several opportunities for players in the market.
The global insulin delivery devices market is bifurcated into device type and geography. Device type is categorized into insulin pumps, insulin syringes, insulin pens and insulin jet injectors.
By geography, the market has been segmented into North America, Europe, Asia-Pacific, and Rest of the World (RoW). The U.S., Canada, and Mexico are covered under North America wherein Europe covers UK, Germany, France, Italy, Spain, and others. Asia-Pacific covers China, Japan, India, and others. RoW covers South America, Middle East, and Africa.
The key players operating in the market include Medtronic plc, Eli Lilly and Company, Becton, Dickinson and Company, Tandem Diabetes Care, Inc., Ypsomed Holding AG, F. Hoffmann-La Roche, Ltd., Animas Corporation, Novo Nordisk A/S, B. Braun Melsungen AG, and Insulet Corporation, among others.
The key takeaways from the report
The report will provide a detailed analysis of Global Insulin Delivery Devices Market with respect to major segments such as device type and geography
The report will include the qualitative and quantitative analysis with market estimation over 2015-2024 and compound annual growth rate (CAGR) between 2016 and 2024
Comprehensive analysis of market dynamics including factors and opportunities will be provided in the report
An exhaustive regional analysis of Global Insulin Delivery Devices Market from 2015 to 2024 has been included in the report
Profile of the key players in the Global Insulin Delivery Devices Market will be provided, which include key financials, product & services, new developments and business strategies
Scope of the Global Insulin Delivery Devices Market
Device Type Segments
Insulin Pumps
Insulin Syringes
Insulin Pens
Insulin Jet Injectors
Geography Segments
Europe

UK
Germany
France
Italy
Spain
Other
Asia-Pacific
RoW

South America
Middle East
Africa
---
Related Report
Optical Menstrual Cup Market Global Scenario, Market Size, Outlook, Trend and Forecast, 2015 – 2024


- December 2017

Optical Imaging Market Global Scenario, Market Size, Outlook, Trend and Forecast, 2015 – 2024


- December 2017

Molecular Decision Support Market Global Scenario, Market Size, Outlook, Trend and Forecast, 2015 – 2024


- November 2017

Digital Radiology Market (By Device Type: Digital Detectors, Portable Radiology Systems, And Mobile C Arm; By Geography: North America, Europe, Asia-Pacific and RoW) Global Scenario, Market Size, Outlook, Trend and Forecast, 2015 – 2024


- September 2017

Self-Monitoring Blood Glucose (SMBG) Devices Market (By Type: Blood Glucose Meter, Blood Glucose Test Strips, Blood Glucose Lancet, And Others; By Geography: North America, Europe, Asia-Pacific and RoW) Global Scenario, Market Size, Outlook, Trend and Forecast, 2015 – 2024


- September 2017