---
Global Over the Counter (OTC) Drugs Market is expected to reach $273 billion by 2024 from $125 billion in 2016; growing at a CAGR of 10.2% from 2016 to 2024. Over the counter (OTC) drugs are those drugs which can be picked by consumer without the prescription of doctors intended to use for diagnosis, cure, mitigation, treatment or prevention of disease. These OTC need to be labelled safe, effective, pure and accurate by the concerned government authority before they could go into the market. Dietary supplements are regulated like food products and it is used for health purpose. Supplements generally claims about improving the structure of the body or overall well-being.
Global over the counter drug & diet supplement market is currently at its blooming stage attributed to the factors such as increase in number of adults preferring to buy drugs for minor diseases, without consulting the doctor. Moreover, advancement of technology have enabled consumer to get consultation through internet and easy availability of medical data on internet have also fueled the growth of market. However, high regulation and side effects due to high dosage are some of the factors which are restraining the growth of OTC drugs & diet supplementary market.
The global OTC drugs and diet supplement market is segmented on the basis of remedies and geography. On the basis of remedies market is segmented into analgesics remedies, dermatological remedies and digestive remedies. Geography segment includes North America, Europe, Asia-Pacific, and rest of the world (RoW).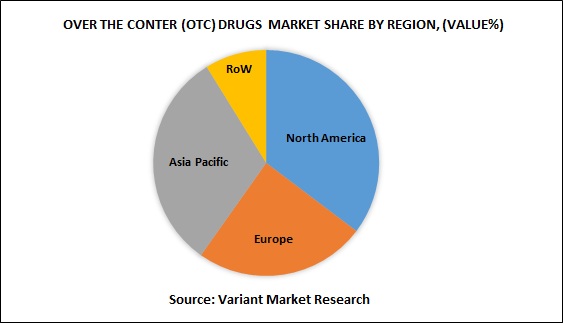 Some of the major companies in global over the counter drug & diet supplement market are Pfizer, Sun Pharma, Novartis, Proctor and Gamble, GlaxoSmithKline, and Bayer.
The key takeaways from the report
The report will provide detailed analysis of over the counter drug & diet supplement market with respect to major segments such as remedies and geography of the market.
The report will include the qualitative and quantitative analysis with market estimation over 2015-2024 and compound annual growth rate (CAGR) between 2016 and 2024.
Comprehensive analysis of market dynamics including factors and opportunities.
An exhaustive regional analysis of over the counter drug & diet supplement market.
Profile of key players of the over the counter drug & diet supplement market, which include key financials, product & services and new developments.
Scope of Over the Counter Drug & Diet Supplement Market
Remedies Segments
Analgesics remedies
Dermatological remedies
Digestive remedies
Geographical Segments
North America
Europe

Germany
France
United Kingdom
Spain
Others

Asia-Pacific

China
India
Japan
South Korea
Others

RoW

South America
Middle East
Africa
---
Related Report
Clinical Nutrition Market (By Product: Infant Nutrition, Enteral Nutrition, and Parenteral Nutrition; By Geography: North America, Europe, Asia-Pacific and RoW) Global Scenario, Market Size, Outlook, Trend and Forecast, 2015 – 2024


- November 2017

Connected Wearable Patches Market Global Scenario Market Size, Outlook, Trend and Forecast, 2016 – 2024


- January 1970

Regenerative Medicine Market Global Scenario, Market Size, Outlook, Trend and Forecast, 2015 – 2024


- December 2017

Cold Pain Therapy Market (By Product: OTC-Based Products (Pharmaceuticals And Medical Devices) And Prescription Based Products (Motorized Devices and Non-Motorized Devices); By Application: Musculoskeletal Disorder, Sport Medicine, Post-Operative, Post-Trauma, And Physical Therapy; By Geography: North America, Europe, Asia-Pacific and RoW) Global Scenario, Market Size, Outlook, Trend and Forecast, 2015-2024


- September 2017

Orthopedic Soft Tissue Repair and Sports Medicine Market (By Surgical Procedures: ACL/PCL, Meniscal Repair, Rotator Cuff, Shoulder Labarum, Hip Arthroscopy, Biceps Tenodesis; By Injury Location: Knee, Hip, Shoulder, And Others; By Geography: North America, Europe, Asia-Pacific and RoW) Global Scenario, Market Size, Outlook, Trend and Forecast, 2015-2024


- September 2017