---
Automatic Number Plate Recognition Market Overview :
Automatic Number Plate Recognition Market is estimated to reach $1.4 Billion by 2024 with CAGR of 13.3% between 2016 and 2024. The automatic number plate recognition (ANPR) is an image processing technology, used for mass surveillance, which can detect and capture the images for vehicles and identify their license number. It is greatly helps to recognize the criminality at local or national level which include terrorists, criminals on the run, and organized crime groups among others. They are also used at electronic toll collection for pay-per-use roads and monitoring traffic activity. ANPR enables to store the images captured and the text from license plate along with a photograph of the driver. ANPR technology is country and region specific, owing to the variations in text, format, color, and among others, from place to place.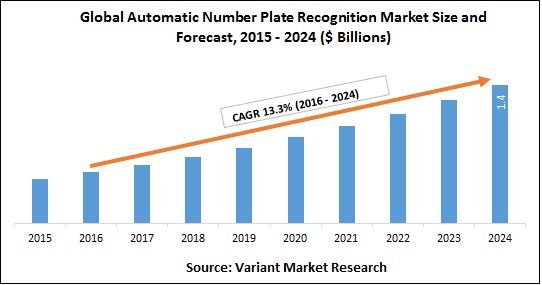 Initiative by various government bodies to incorporate new technology for safety and security for general public coupled with increasing rates of crime and terrorist threats are the major factor supporting the growth of the global automatic number plate recognition market. Moreover, development of smart cities with technological advanced solutions also supports the growth of the market. However, variations in license plate designs across different states or countries could hinder the growth of the market. Furthermore, increasing adoption of ANPR systems across various sectors such as defense, government offices, and shopping malls among others could provide opportunity growth in the upcoming years.
The global automatic number plate recognition market is segmented based on the application, end-use industry and geography. By application, it is further segmented into security & surveillance, vehicle parking, traffic management and toll enforcement. Furthermore, end-use industry is segmented into government (homeland security, traffic department and defense) and commercial (entertainment & recreation facilities and dedicated car parks).
By geography the market is segmented into North America, Europe, Asia-Pacific and rest of the world (RoW). The U.S., Canada and Mexico are covered under North America wherein Europe covers U.K., Italy, France, Germany and Rest of Europe. Asia-Pacific covers China, Japan, South East Asia, Australia and Rest of Asia Pacific. Rest of the World (RoW) covers South America, Middle East and Africa.
Key market players include 3M Company, Siemens AG, Intelligent Traffic Solutions Ltd., Genetec Inc., Vigilant Solutions Inc., Bosch Security Systems, CA Traffic Limited, ELSAG North America, COBAN Technologies and NDI Recognition Systems Ltd.
The key takeaways from the report
The report will provide detailed analysis of Automatic Number Plate Recognition Market with respect to major segments such as application and end-use industry type of the market.
The report will include the qualitative and quantitative analysis with market estimation over 2015-2024 and compound annual growth rate (CAGR) between 2016 and 2024.
Comprehensive analysis of market dynamics including factors and opportunities.
An exhaustive regional analysis of Automatic Number Plate Recognition market.
Profile of key players of the Automatic Number Plate Recognition market, which include key financials, product & services and new developments.
Scope of Automatic Number Plate Recognition Market
Application Segments
Security & Surveillance
Vehicle Parking
Traffic Management
Toll Enforcement
End-Use Industry Segments
Government

Homeland Security
Traffic Department
Defense
Commercial


Entertainment & Recreation Facilities
Dedicated Car Parks
Geography Segments
North America
Europe

U.K.
Italy
France
Germany
Others

Asia-Pacific

China
Japan
South East Asia
Australia
Others

RoW

South America
Middle East
Africa
---
GET MORE INFORMATION ABOUT THIS REPORT
---
Related Report