---
Automotive Telematics Market Overview :
Global Automotive Telematics Market is estimated to reach $74 Billion by 2024, growing at a fastest CAGR of 20.4% from 2016 to 2024. Automotive Telematics has been formed by amalgamation of telecommunications, data processing and vehicular technology. It has potential to convert the automobiles from a just a mere mode of transport into a mobile information station. Telematics gives minute to minute live updates of vehicle. Some of the key services present in the automotive telematics include GPS, automatic crash notification, vehicle tracking, navigation assistance, traffic assistance, infotainment services and among others.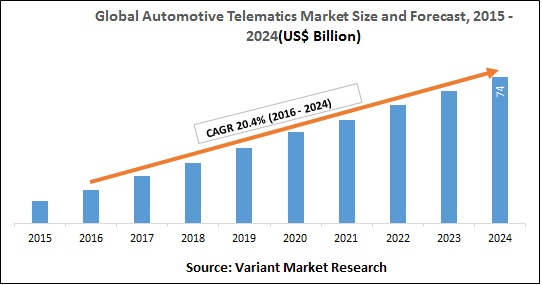 Increasing awareness regarding the benefits of telematics in vehicles and increasing road congestions coupled with high number of vehicle mishaps & road accidents are the key factors supporting the growth of the market. Moreover, support from government to use telematics in vehicles and increasing demand for wireless communication system by passengers is also expected to fuel the growth of the market. However, high cost and lack of technical knowledge could hinder the growth of the market. Furthermore, entry of new players and untapped markets in emerging economies could provide opportunity in the upcoming years.
The market is segmented based on the application, vehicle type and geography. By application, it is further segmented into vehicle tracking, satellite navigation, fleet management, vehicle safety communication and others. Furthermore, vehicle type is segmented into passenger vehicles, light commercial vehicles and heavy commercial vehicles.
By geography the market is segmented into North America, Europe, Asia-Pacific and rest of the world (RoW). The U.S., Canada and Mexico are covered under North America wherein Europe covers Germany, France, U.K., Italy and Rest of Europe. Asia-Pacific covers China, India, Japan and Rest of Asia Pacific. Rest of the World (RoW) covers South America, Middle East and Africa.
Key market players include Robert Bosch Gmbh, Airbiquity Inc., Mix Telematics, Visteon Corporation, Delphi Automotive Plc., Continental Ag, Teletrac Inc., Omnitracs LLC, DigiCore and TomTom Telematics among others.
The key takeaways from the report
The report will provide detailed analysis of Automobile Telematics with respect to major segments such as application and vehicle type of the market.
The report will include the qualitative and quantitative analysis with market estimation over 2015-2024 and compound annual growth rate (CAGR) between 2016 and 2024.
Comprehensive analysis of market dynamics including factors and opportunities.
An exhaustive regional analysis of Automobile Telematics market.
Profile of key players of the Automobile Telematics market, which include key financials, product & services and new developments.
Scope of Automotive Telematics Market
Application Segments
Vehicle Tracking
Satellite Navigation
Fleet Management
Vehicle Safety Communication
Others
Vehicle Type Segments
Passenger Vehicles
Light Commercial Vehicles
Heavy Commercial Vehicles
Geography Segments
North America
Europe

Germany
France
U.K.
Italy
Others
Asia-Pacific
RoW

South America
Middle East
Africa
---
GET MORE INFORMATION ABOUT THIS REPORT
---
Related Report