---
In-Car Infotainment Market Overview :
Global In-Car Infotainment Market is estimated to reach $44.7 Billion by 2024; growing at a CAGR of 13.6% from 2016 to 2024. In-car infotainment, also known as in-vehicle infotainment, include vehicle systems that combines entertainment and information delivery. It is a hardware device that provide navigation, connectivity, and audio and visual entertainments. These connected devices include navigation systems, head-up display, cloud based infotainment, interior personalization, and connected smartphones with hand-free car kit. These systems not only provide entertainment, but also assists in road driver safety, night vision cameras, and black box recording. Moreover, most of the in-car infotainment have special security features that averts the driver from distracting system elements.
Global In-Car Infotainment Market Size and Forecast, 2015 - 2024 (US$ Billion)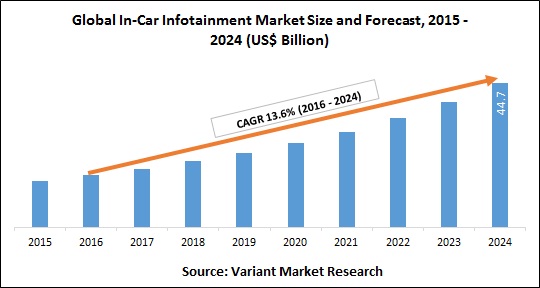 Expanding automotive sector coupled with increasing demand for media oriented systems transport (MOST) technologies are driving the growth of the global in-car infotainment market. Rising development of several smartphone apps for infotainment systems, and high adoption of electronic components in cars are also boosting the growth of the market. However, challenges such as safety and possibility of distraction to drivers may hamper the growth of the market. Furthermore, market expansion and personalized infotainment system would provide several growth opportunities in the coming years.
The global in-car infotainment market is segmented on the basis of installation type, component, and geography. On the basis of installation type, the market is segmented into OEMs and aftermarket. Component type is bifurcated as hardware (display, audio, connectivity, and others (Bluetooth, IVR, and climate control)), and software.
Global In-Car Infotainment market share by region, 2024 (value%)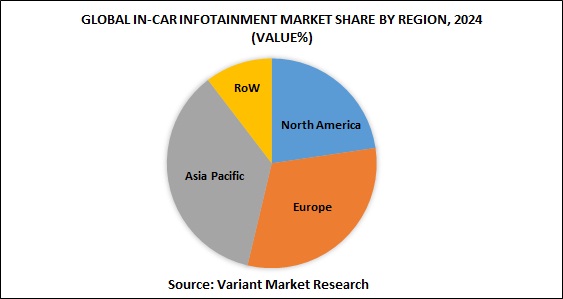 By geography, the market has been bifurcated into North America, Europe, Asia-Pacific and Rest of the World (RoW). The U.S., Canada, and Mexico are covered under North America wherein Europe covers UK, Germany, France, Italy, and others. Asia-Pacific covers China, Japan, India, South Korea, and others. RoW covers South America, Middle East, and Africa.
The key players operating in this segment include Delphi Automotive PLC, Robert Bosch GmbH, Panasonic Corporation, Bayerische Motoren Werke AG, General Motors Company, Ford Motor Company, Harman International, Continental AG, Aisin Seiki Co., Ltd., and Volkswagen AG, among others.
The key takeaways from the report
The report will provide a detailed analysis of Global In-Car Infotainment Market with respect to major segments such as installation type, and component
The report will include the qualitative and quantitative analysis with market estimation over 2015-2024 and compound annual growth rate (CAGR) between 2016 and 2024
Comprehensive analysis of market dynamics including factors and opportunities will be provided in the report
An exhaustive regional analysis of Global In-Car Infotainment Market from 2015 to 2024 has been included in the report
Profile of the key players in the Global In-Car Infotainment Market will be provided, which include key financials, product & services, new developments and business strategies
Scope of the Global In-Car Infotainment Market
Installation Type Segments
Component Type Segments
Hardware

Display
Audio
Connectivity
Other Components (Bluetooth, I V R, And Climate Control)

Software
Geographical Segments
North America
Europe

UK
Germany
France
Italy
Others

Asia Pacific

China
Japan
India
South Korea
Others

RoW

South America
Middle East
Africa
---
GET MORE INFORMATION ABOUT THIS REPORT
---
Related Report