---
Self-Driving Car Market Overview :
Global Self-Driving Car Market is expected to reach $20 billion by 2024; growing at a CAGR of 25.7% from 2016 to 2024. A self-driving car or a driverless car or even robotic car is a vehicle that has capability of sensing its surroundings while driving on road and navigating without any human input. Self-driving cars have pre-installed control systems in them which can analyze the sensory data in distinguishing between different cars and other vehicles on the road, which helps in deciding a path to the destination. Cars can detect their surrounding using variety of techniques such as LiDAR, radar, GPS and Odometry. Introduction of driverless cars could reduce traffic collisions, enhanced mobility for injured or disabled people, eco-friendly and lower need for insurance.
Global Self-Driving Car Market (Autonomous Vehicle Market) Size and Forecast 2015-2024
Support by various government departments for prevention of road accidents and technological advancements are the major factors supporting the growth of market. Moreover, reduction in the consumption of fuel and insurance cost are also expected to drive the market. However, concern about safety of driverless cars, risk of privacy and security may hinder the growth of market.
By components, the Autonomous Vehicle market is segmented into hardware, software, optical cameras, Lidar, radar, and others. The software component is largest segment at present and is expected to hold its position throughout the forecast period due technological enhancement in software segment such as advanced driver assistance systems to enhance safety and driving process.
Global Self-Driving Car( Driverless Car or Robotic Car) Market Share by Region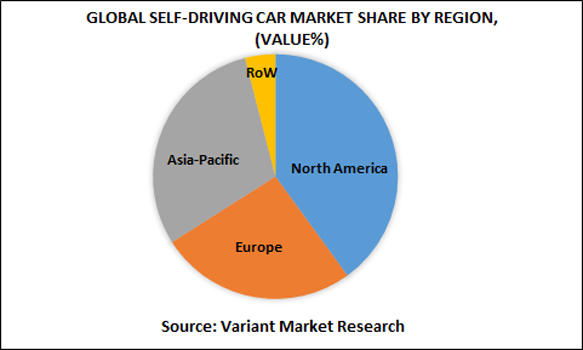 Based on geography, the market has been segmented into North America, Europe, Asia Pacific and RoW. The U.S., Mexico and Canada are covered under North America wherein Europe covers France, Germany, UK, Spain and rest of Europe. Asia-Pacific covers China, India, Japan, South Korea and Rest of Asia Pacific. Rest of the World (RoW) covers South America, Middle East and Africa.
Major companies operating in this market are Tesla Motors, Inc., Audi AG, Ford Motor Company, Toyota Motor Corporation, Google Inc., Volvo Group, Nissan Motor Company, Baidu Inc., Apple Inc., Daimler AG, Dutch Automated Vehicle Initiative (DAVI), BMW AG and Volkswagen among others.
The key takeaways from the report
The report will provide detailed analysis of self-driving car / robotic car market with respect to major segments such as technology and automation level
The report will include the qualitative and quantitative analysis with market estimation over 2015-2024 and compound annual growth rate (CAGR) between 2016 and 2024
Comprehensive analysis of market dynamics including factors and opportunities is included in the report
An exhaustive regional analysis of self-driving car market will be provided in the report
Profile of the key players in the self-driving car market will be provided, which include key financials, product & services, new developments and business strategies
Scope of Self Driving Cars Market
Component Segments
Hardware
Software
optical cameras
Lidar
Radar
Other
Geographical Segments
North America
Europe

Germany
France
United Kingdom
Spain
Others

Asia-Pacific

China
India
Japan
South Korea
Others

RoW

South America
Middle East
Africa
---
GET MORE INFORMATION ABOUT THIS REPORT
---
Related Report