---
Global Industrial Gases Market is estimated to reach $82.4 billion by 2024; growing at a CAGR of 6.5% from 2016 to 2024. Industrial gases are important commodities which are critical to various markets they serve. The diversity of industrial gas application supports to reduce the effects of the cyclicality in any single business sector. These gases are formed in bulk and are available in all the three states of matter (liquid, solid, gas). Starting of several industries, such as automobile and construction, increased the industrial gas production. Depending on their various chemical properties such as inertness, reactivity, and other physical properties these gases find application in several industries.
Global Industrial Gases Market Size and Forecast, 2015 - 2024 (US$ Billion)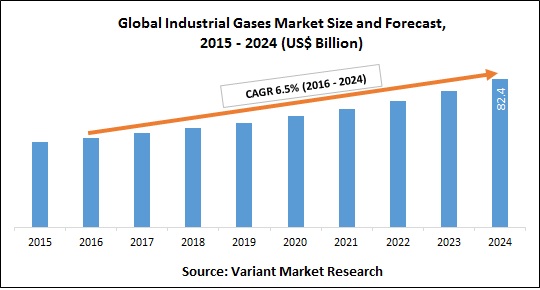 Rising demand for packed food & beverages, globalization of the industry, resource constrains, and growing demand about medical grade gases for medical and health care industry are the factors driving the growth of the industrial gases market. Though, the growing environmental rules associated to the manufacture and usage of industrial gases and high cost of transport & storage of these gases may hinder the growth of the market. Moreover, capacity expansion and development of innovative technologies like molecular sieve separation might provide with several growth opportunities in the forecasted years.
The global industrial gases market is segmented on the basis of products type, production and delivery, application, and geography. The market is segmented by products type into hydrogen, oxygen, carbon dioxide, nitrogen, helium, argon, and acetylene. Further by production and delivery, the market is bifurcated into merchant gases (liquified, tank delivery), merchant gases (cylinder delivery), and high-volume gases (on-site generation). Further, application segment comprises petroleum refinery, chemical production, food processing, healthcare, electronics, metal processing, and other applications.
Global Industrial Gases Market, by Products Type 2016 Vs 2024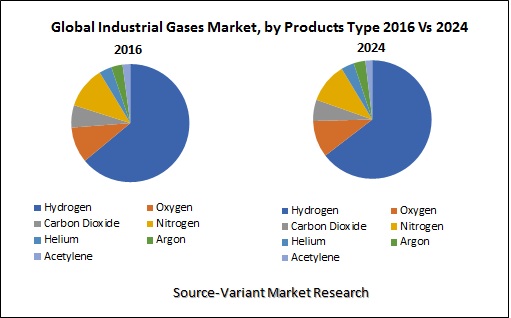 Based on geography, global industrial gases market is segmented into North America, Europe, Asia Pacific, and Rest of the World (RoW). North America is further bifurcated in U.S., Canada, and Mexico whereas Europe segment consist of UK, Germany, France, Spain, Italy, and Rest of Europe. Asia-Pacific is segmented into China, Japan, India, South Korea, and Rest of Asia-Pacific while RoW is bifurcated into South America, Middle East, and Africa.
Global Industrial Gases Market Regional Revenue % (2016 Vs 2024)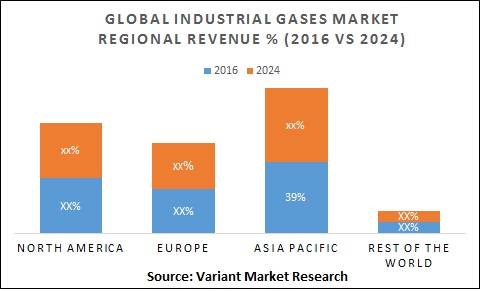 The key market players operating in industrial gases market include Air Products & Chemicals Inc., Air Liquide S.A., Praxair, Inc., The Linde Group, Messer Group GmbH, Taiyo Nippon Sanso Corporation, BASF SE, Yingde Gases Group Company, AIR WATER INC., and Buzwair Industrial Gases Factories, among others.
The key takeaways from the report
The report will provide detailed analysis of Global Industrial Gases Market with respect to major segments such as products type, production and delivery, and application
The report will include the qualitative and quantitative analysis with market estimation over 2015 – 2024 and compound annual growth rate (CAGR) between 2016 and 2024
Comprehensive analysis of market dynamics including factors and opportunities will be provided in the report
An exhaustive regional analysis of Global Industrial Gases Market has been included in the report
Profile of the key players in the Industrial Gases Market will be provided, which include key financials, product & services, new developments and business strategies
Scope of Global Industrial Gases Market
Products Type Segments
Hydrogen
Oxygen
Carbon Dioxide
Nitrogen
Helium
Argon
Acetylene
Production and Delivery Segments
Merchant Gases (Liquified, Tank Delivery)
Merchant Gases (Cylinder Delivery)
High-Volume Gases (On-Site Generation)
Application Segments
Petroleum Refinery
Chemical Production
Food Processing
Healthcare
Electronics
Metal Processing
Other Applications
Geographical Segments
North America
Europe

UK
Germany
France
Spain
Italy
Rest of Europe

Asia-Pacific

China
Japan
India
South Korea
Rest of Asia-Pacific

RoW

South America
Middle East
Africa
Global Industrial Gases Market Primary Interviews by Geography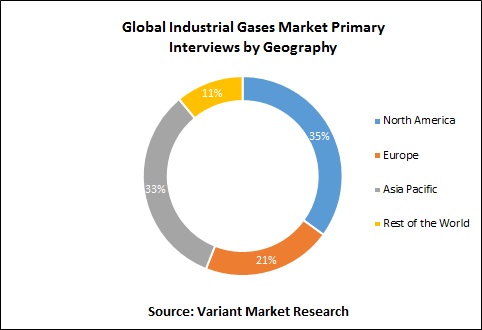 ---
Related Report
Graphite Market (By Product Type: Natural Graphite, and Synthetic Graphite; By End-User: Electrode, Refractory, Lubricants, Foundry, Battery, and Other End-Users; By Geography: North America, Europe, Asia-Pacific and Row) Global Scenario, Market Size, Outlook, Trend and Forecast, 2015 – 2024


- December 2017

Wind Turbine Composite Materials Market (By Type: Fiber, Resin, and Other Types; By Application: Nacelle, Blade, Tower, Base, and Other Applications; By Geography: North America, Europe, Asia-Pacific and Row)Global Scenario, Market Size, Outlook, Trend and Forecast, 2015 – 2024


- November 2017

Wax Market (By Product Type: Petroleum and Mineral Wax, Synthetic Wax, and Natural Wax; By Application: Candles, Packaging, Board Sizing, Rheology Surface Applications, Health Industries, Cosmetics, and Other Applications; By Geography: North America, Europe, Asia-Pacific and Row)Global Scenario, Market Size, Outlook, Trend and Forecast, 2015 – 2024


- November 2017

Construction Chemicals Market (By Type: Concrete and Mixture, Asphalt Additives, Adhesives and Sealant, Protective Coatings, and Others; By Geography: North America, Europe, Asia-Pacific and RoW) Global Scenario, Market Size, Outlook, Trend and Forecast, 2015-2024


- November 2017

Acrylic Surface Coating Market (By Substrate: Plastic, Concrete, Metal, and Other Substrates; By Technology: Waterborne, Solventborne, Powder, and Other Technologies; By Application: Construction, Automotive, General Industry, Furniture, and Other Applications; By Geography: North America, Europe, Asia-Pacific and RoW) Global Scenario, Market Size, Outlook, Trend and Forecast, 2015 – 2024


- November 2017