---
Global Inorganic Salts Market is estimated to reach $69,131 Billion by 2024; growing at a CAGR of 4.9% from 2016 to 2024. Inorganic salts include a wide range of salts that are used in several industries including agriculture, healthcare, construction, and many others. Each type of salt differs from each other in terms of physical and chemical properties. Moreover, they are essential for the normal functioning of the human body. These salts are used as nutrients for humans and animals. They are mostly combined in the form of food, for maintaining some of the metabolic processes, and conducting nerve impulse.
Global Inorganic Salts Market Size and Forecast, 2015 – 2024 (US$ Billion)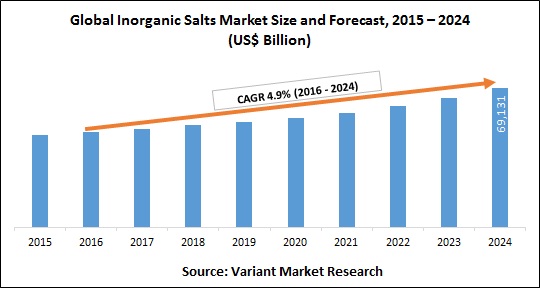 Expanding agrochemicals and agriculture industry, increasing demand for magnesium oxide, and growth in rubber industry are the factors driving the growth of the inorganic salts market. Moreover, rising use of these salts in pharmaceutical and construction industry also propels the market growth. However, toxic nature of certain salts could hamper the adoption among end users. Furthermore, increasing research in chemicals and biotechnology would create growth opportunities in the coming years.
The global inorganic salts market is categorized on the basis of product type, application, and geography. Product type is segmented as sodium salt, magnesium salt, calcium salt, potassium salt, ammonium salt, and other product types. Application segment is further bifurcated as chemical, fertilizer, food, healthcare, construction, and other applications.
Based on geographical analysis, global inorganic salts market is segmented into North America, Europe, Asia-Pacific, and Rest of the World (RoW). North America is further bifurcated in U.S., Canada, and Mexico whereas Europe consists of UK, Germany, France, Netherland, and rest of Europe. Asia-Pacific is segmented into China, Japan, India, Australia, and rest of Asia-Pacific, while RoW is bifurcated into South America, Middle East, and Africa.
Global Inorganic Salts Market Regional Revenue % (2016 Vs 2024)

Major players in this market include Thermo Fisher Scientific Inc., Chemtura Corporation, Lanxess AG, Behn Meyer, Merck Millipore, Bann Química, Eastman Chemicals Co., Loba Chemie Pvt. Ltd., Otsuka Chemical Co Ltd., and Emerald Performance Materials, among others.
The key takeaways from the report
The report will provide detailed analysis of Global Inorganic Salts Market with respect to major segments such as product type, and application
The report will include the qualitative and quantitative analysis with market estimation over 2015 – 2024 and compound annual growth rate (CAGR) between 2016 and 2024
Comprehensive analysis of market dynamics including factors and opportunities will be provided in the report
An exhaustive regional analysis of Global Inorganic Salts Market will be included in the report
Profile of the key players in the Global Inorganic Salts Market will be provided, which include key financials, product & services, new developments and business strategies
Scope of Inorganic Salts Market
Product Type Segments
Sodium Salt
Magnesium Salt
Calcium Salt
Potassium Salt
Ammonium Salt
Other Product Types
Application Segments
Chemical
Fertilizer
Food
Healthcare
Construction
Other Applications
Geographical Segments
North America
Europe

UK
Germany
France
Netherland
Rest of Europe

Asia Pacific

China
Japan
India
Australia
Rest of Asia-Pacific

RoW

South America
Middle East
Africa
Global Inorganic Salts Market Primary Interviews by Geography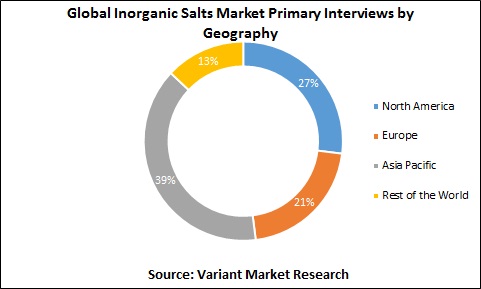 ---
Related Report
Graphite Market (By Product Type: Natural Graphite, and Synthetic Graphite; By End-User: Electrode, Refractory, Lubricants, Foundry, Battery, and Other End-Users; By Geography: North America, Europe, Asia-Pacific and Row) Global Scenario, Market Size, Outlook, Trend and Forecast, 2015 – 2024


- December 2017

Wind Turbine Composite Materials Market (By Type: Fiber, Resin, and Other Types; By Application: Nacelle, Blade, Tower, Base, and Other Applications; By Geography: North America, Europe, Asia-Pacific and Row)Global Scenario, Market Size, Outlook, Trend and Forecast, 2015 – 2024


- November 2017

Wax Market (By Product Type: Petroleum and Mineral Wax, Synthetic Wax, and Natural Wax; By Application: Candles, Packaging, Board Sizing, Rheology Surface Applications, Health Industries, Cosmetics, and Other Applications; By Geography: North America, Europe, Asia-Pacific and Row)Global Scenario, Market Size, Outlook, Trend and Forecast, 2015 – 2024


- November 2017

Construction Chemicals Market (By Type: Concrete and Mixture, Asphalt Additives, Adhesives and Sealant, Protective Coatings, and Others; By Geography: North America, Europe, Asia-Pacific and RoW) Global Scenario, Market Size, Outlook, Trend and Forecast, 2015-2024


- November 2017

Acrylic Surface Coating Market (By Substrate: Plastic, Concrete, Metal, and Other Substrates; By Technology: Waterborne, Solventborne, Powder, and Other Technologies; By Application: Construction, Automotive, General Industry, Furniture, and Other Applications; By Geography: North America, Europe, Asia-Pacific and RoW) Global Scenario, Market Size, Outlook, Trend and Forecast, 2015 – 2024


- November 2017