---
Global Methylene Chloride Market is estimated to reach $1,078 Million by 2024; growing at a CAGR of 5.2% from 2016 to 2024. Methylene chloride, also known as dichloromethane and methylene dichloride, is a colorless liquid majorly used as industrial solvent. It is used in a variety of industries and applications including adhesives, metal cleaning, painting and coating products, and many others. Moreover, methylene chloride is also used to extract chemicals from plants for manufacturing of medicines such as antibiotics, steroids, and vitamins. It is also used to clean medical equipment, as it does not cause any corrosion or damage to heat-sensitive parts. Developing economies such as Malaysia and South Korea are witnessing increasing demand owing to growth on consumption of adhesives, and developing textile and packaging sectors.
Global Methylene Chloride Market Size and Forecast, 2015 – 2024 (US$ Million)

The global methylene chloride market is driven by factors such as rising demand from paints and coatings industry, increasing development of new applications across various verticals, growing adoption in personal care and cosmetics industries, and increasing investments in R&D on developing new process. However, risks associated with methylene chloride could cause a major hindrance for the market growth. Furthermore, increasing applications, and market expansion would provide growth opportunities in coming years.
The key bifurcations of global methylene chloride market include application, and geography. Application is categorized as metal cleaning, paints & varnishes, pharmaceuticals, food & beverages, chemical & foam manufacturing and others.
Based on geography, the global methylene chloride market has been segmented into North America, Europe, Asia-Pacific and Rest of the World (RoW). The U.S., Mexico and Canada are covered under North America wherein Europe covers UK, Germany, Spain, Netherland, and rest of Europe. Asia-Pacific covers China, Japan, Malaysia, South Korea, and rest of Asia-Pacific. Rest of the World (RoW) covers South America, Middle East and Africa.
Methylene Chloride Market Regional Revenue % (2016 Vs 2024)

Major companies operating in this segment include Solvay S.A., AkzoNobel N.V., The Dow Chemical Company, Gujarat Alkalies and Chemicals Ltd., PPG Industries, Occidental Petroleum Corporation, Eastman Chemical Company, Shin-Etsu Chemical Co. Ltd., 3M, and Asahi Glass Co. Ltd., among others.
The key takeaways from the report
The report will provide detailed analysis of Global Methylene Chloride Market with respect to major segments such as application, and geography
The report will include the qualitative and quantitative analysis with market estimation over 2015-2024 and compound annual growth rate (CAGR) between 2016 and 2024
Comprehensive analysis of market dynamics including factors and opportunities of the Global Methylene Chloride Market
An exhaustive regional analysis of Global Methylene Chloride Market from 2015 to 2024 will included in the report
Profile of the key players in the Global Methylene Chloride Market, will be provided, which include key financials, product & services, new developments and business strategies
Scope of Global Methylene Chloride Market
Application Segments
Metal Cleaning
Paints & Varnishes
Pharmaceuticals
Food & Beverages
Chemical & Foam Manufacturing
Other Applications
Geographical Segments
North America
Europe

UK
Germany
Spain
Netherland
Rest of Europe

Asia-Pacific

China
Japan
India
Malaysia
South Korea
Rest of Asia-Pacific

RoW

South America
Middle East
Africa
Methylene Chloride Market Primary Interviews by Geography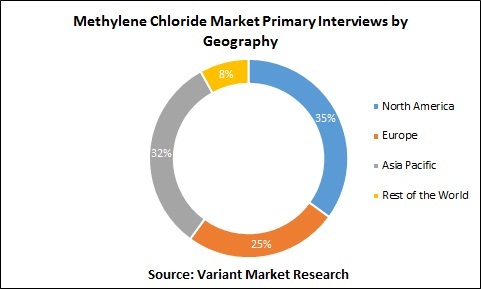 ---
Related Report
Graphite Market (By Product Type: Natural Graphite, and Synthetic Graphite; By End-User: Electrode, Refractory, Lubricants, Foundry, Battery, and Other End-Users; By Geography: North America, Europe, Asia-Pacific and Row) Global Scenario, Market Size, Outlook, Trend and Forecast, 2015 – 2024


- December 2017

Wind Turbine Composite Materials Market (By Type: Fiber, Resin, and Other Types; By Application: Nacelle, Blade, Tower, Base, and Other Applications; By Geography: North America, Europe, Asia-Pacific and Row)Global Scenario, Market Size, Outlook, Trend and Forecast, 2015 – 2024


- November 2017

Wax Market (By Product Type: Petroleum and Mineral Wax, Synthetic Wax, and Natural Wax; By Application: Candles, Packaging, Board Sizing, Rheology Surface Applications, Health Industries, Cosmetics, and Other Applications; By Geography: North America, Europe, Asia-Pacific and Row)Global Scenario, Market Size, Outlook, Trend and Forecast, 2015 – 2024


- November 2017

Construction Chemicals Market (By Type: Concrete and Mixture, Asphalt Additives, Adhesives and Sealant, Protective Coatings, and Others; By Geography: North America, Europe, Asia-Pacific and RoW) Global Scenario, Market Size, Outlook, Trend and Forecast, 2015-2024


- November 2017

Acrylic Surface Coating Market (By Substrate: Plastic, Concrete, Metal, and Other Substrates; By Technology: Waterborne, Solventborne, Powder, and Other Technologies; By Application: Construction, Automotive, General Industry, Furniture, and Other Applications; By Geography: North America, Europe, Asia-Pacific and RoW) Global Scenario, Market Size, Outlook, Trend and Forecast, 2015 – 2024


- November 2017