---
GlobalSolar Control GlassMarketis estimated to reach $9,288 million by 2024; growing at a CAGR of 9.4% from 2016 to 2024. Solar control glass is used to avoid excess heat from the sun entering indoors, allowing brightness of the light. It is used to keep indoor areas cooler and are obtained in various types such as transparent, mirrored, and tinted offered by glass industry. These glasses have various applications such as residential buildings, commercial buildings, and automotive. Environmental concerns and high price of ACs is expected to increase its adoption in construction sector. Due to growing construction projects in regions like Asia Pacific, solar control glass market is anticipated to grow over the forecast period.
Global Solar Control Glass Market Size and Forecast, 2015 - 2024 (US$ Million)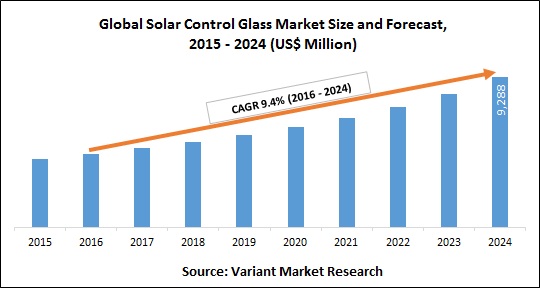 High growth potential in automotive industry, rising building and construction in emerging nations, and increasing awareness about CO2 releases from ACs are the factors driving the growth of the solar control glass market. Though, accessibility and price instability of raw material may hinder the growth of the market. Moreover, huge potential growth in emerging economies and rising government initiativesmight provide with several growth opportunities in the forecasted years.
The global solar control glass market is segmented on the basis of application, and geography. The market is segmented by application as commercial buildings, residential buildings, automotive, and other applications.
Global Solar Control Glass Market, by Application 2016 Vs 2024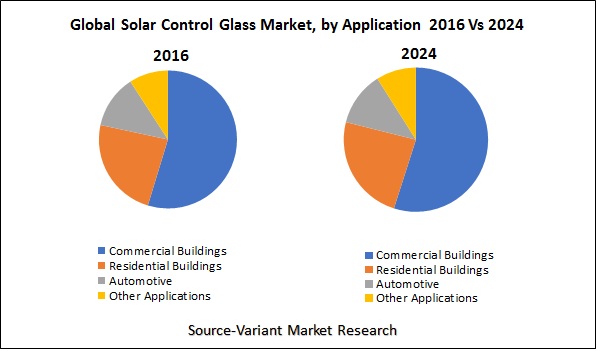 Based on geography, global solar control glass market is segmented into North America, Europe, Asia Pacific, and Rest of the World (RoW). North America is further bifurcated in U.S., Canada, and Mexico whereas Europe segment consist of UK, Germany, France, Italy, and Rest of Europe. Asia-Pacific is segmented into China, Japan, India, and Rest of Asia-Pacific while RoW is bifurcated into South America, Middle East, and Africa.
Global solar control glass market Regional Revenue % (2016 Vs 2024)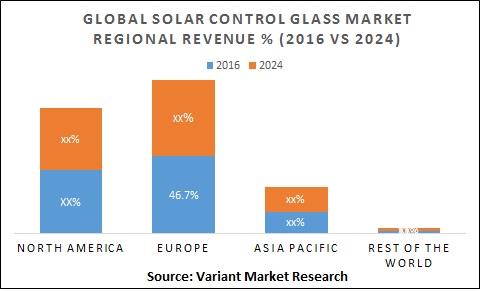 The key market players are AGC Glass Europe, Saint Gobain, Guardian Glass Company, PPG Industries Inc., Nippon Sheet Glass Co., Ltd., CSG Holding Limited, Asahi India Glass Ltd., Euroglas GmbH, Arcon Flachglas-Veredlung GmbH & Co. KG, and Cardinal Glass Industries, Inc., among others.
The key takeaways from the report
The report will provide detailed analysis of Solar Control Glass Market with respect to major segments such as application and geography
The report will include the qualitative and quantitative analysis with market estimation over 2015 – 2024 and compound annual growth rate (CAGR) between 2016 and 2024
Comprehensive analysis of market dynamics including factors and opportunities will be provided in the report
An exhaustive regional analysis of Solar Control Glass Market has been included in the report
Profile of the key players in the Solar Control Glass Market will be provided, which include key financials, product & services, new developments and business strategies
Scope of the Global Solar Control Glass Market
Application Segments
Commercial Buildings
Residential Buildings
Automotive
Other Applications
Geographical Segments
North America
Europe

UK
Germany
France
Italy
Rest of Europe

Asia-Pacific

China
Japan
India
Rest of Asia-Pacific

RoW

South America
Middle East
Africa
Global Solar Control Glass Market Primary Interviews by Geography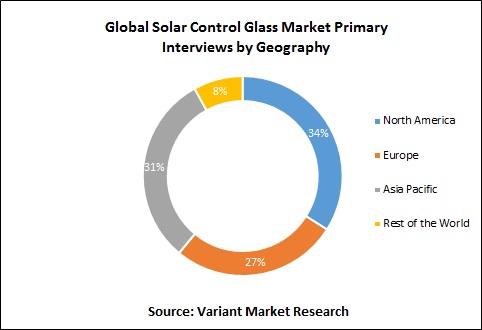 ---
Related Report
Graphite Market (By Product Type: Natural Graphite, and Synthetic Graphite; By End-User: Electrode, Refractory, Lubricants, Foundry, Battery, and Other End-Users; By Geography: North America, Europe, Asia-Pacific and Row) Global Scenario, Market Size, Outlook, Trend and Forecast, 2015 – 2024


- December 2017

Wind Turbine Composite Materials Market (By Type: Fiber, Resin, and Other Types; By Application: Nacelle, Blade, Tower, Base, and Other Applications; By Geography: North America, Europe, Asia-Pacific and Row)Global Scenario, Market Size, Outlook, Trend and Forecast, 2015 – 2024


- November 2017

Wax Market (By Product Type: Petroleum and Mineral Wax, Synthetic Wax, and Natural Wax; By Application: Candles, Packaging, Board Sizing, Rheology Surface Applications, Health Industries, Cosmetics, and Other Applications; By Geography: North America, Europe, Asia-Pacific and Row)Global Scenario, Market Size, Outlook, Trend and Forecast, 2015 – 2024


- November 2017

Construction Chemicals Market (By Type: Concrete and Mixture, Asphalt Additives, Adhesives and Sealant, Protective Coatings, and Others; By Geography: North America, Europe, Asia-Pacific and RoW) Global Scenario, Market Size, Outlook, Trend and Forecast, 2015-2024


- November 2017

Acrylic Surface Coating Market (By Substrate: Plastic, Concrete, Metal, and Other Substrates; By Technology: Waterborne, Solventborne, Powder, and Other Technologies; By Application: Construction, Automotive, General Industry, Furniture, and Other Applications; By Geography: North America, Europe, Asia-Pacific and RoW) Global Scenario, Market Size, Outlook, Trend and Forecast, 2015 – 2024


- November 2017