---
Soy-Based Chemicals Market Overview :
The Global Soy-Based Chemicals Market is estimated to reach $22.8 Billion by 2024; growing at a CAGR of 7.9% from 2016 to 2024.Soy based chemicals are substitutes to conventional chemicals those derived from crude oil or petroleum. Soy oil holds immense ability in the derivation of chemicals such as waxes, polyols, and isoflavones. The application of soy based chemicals has become very noteworthy owing to increasing pollution level. The soy based chemicals market is a module of bio-fuels setup, and this market is projected to show aninstant growth throughout the forecast period.
Global Soy Based Chemicals Market Size and Forecast, 2015 – 2024 (US$ Billion)

The major factor to drive the global soy based chemicals market is rising awareness about the benefits of bio-based products along with strict environmental regulations. Also, growing demand for bio-degradable plastics derived from soy based chemicals have supported the market growth. While, shortage of raw material required is the major hindrance for the growth of the market. Furthermore, ongoing R&D for better product quality, and rising demand for extensive usage of soy based chemicals in food & beverage industry is expected to pose numerous growth opportunities for the market in the coming years.
The global soy based chemicals market is segmented on the basis of type, application, and geography. The segmentation by type includes soy-oil, polyols, fatty acids, soy-wax, isoflavones, methyl soyate, and other types. Whereas by application, the segmentation is comprised of food & beverages, plastic and polymers, biodiesel, pulp& paper, cosmetics, and other applications.
Global Soy Based Chemicals Market, by Type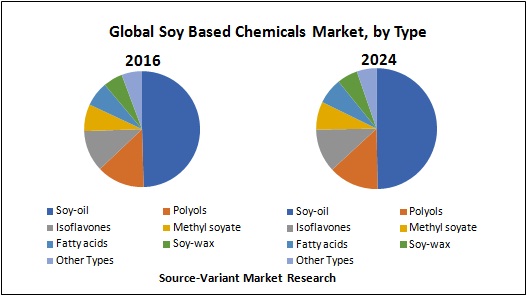 Based on geography, global soy based chemicals market is segmented into North America, Europe, Asia Pacific, and Rest of the World (RoW). North America is further bifurcated in U.S., Canada, and Mexico whereas Europe segment consists of UK, Germany, France, Italy, and Rest of Europe. Asia-Pacific is segmented into India, China, Japan, South Korea,and Rest of Asia-Pacific while RoW is bifurcated into South America, Middle East, and Africa.
Soy Based Chemicals Market Regional Revenue % (2016 Vs 2024)

The major companies operating in the global soy based chemicals market include The Dow Chemical Company, Soy Technologies LLC, BioBased Technologies LLC,Archer Daniels Midland Company, VertecBioSolvents Inc., Elevance Renewable Sciences Inc., Cara Plastics Inc., Soyaworld Inc., Cargill Inc., and Bunge Ltd., among others.
The key takeaways from the report
The report will provide detailed analysis of Soy Based Chemicals Market with respect to major segments such as type, and application
The report will include the qualitative and quantitative analysis with market estimation over 2015 – 2024 and compound annual growth rate (CAGR) between 2016 and 2024
Comprehensive analysis of market dynamics including factors and opportunities will be provided in the report
An exhaustive regional analysis ofSoy Based Chemicals Market has been included in the report
Profile of the key players in the Soy Based Chemicals Market will be provided, which include key financials, product & services, new developments and business strategies
Scope of the Global Soy-Based Chemicals Market
Type Segments
Soy-Oil
Polyols
Fatty Acids
Soy-Wax
Isoflavones
Methyl Soyate
Other Types
Application Segments
Food and Beverage
Plastic and Polymers
Biodiesel
Paper and Pulp
Cosmetics
Other Applications
Geographical Segments
North America
Europe

UK
Germany
France
Italy
Rest of Europe

Asia-Pacific

India
China
Japan
South Korea
Rest of Asia-Pacific

RoW

South America
Middle East
Africa
Global Soy Based Chemicals Market Primary Interviews, by Geography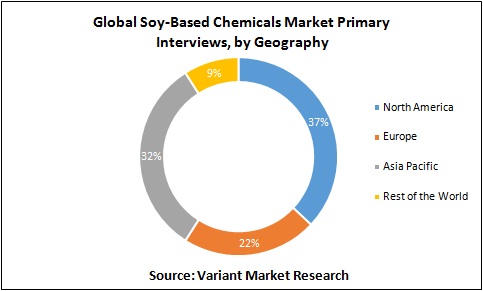 ---
GET MORE INFORMATION ABOUT THIS REPORT
---
Related Report