---
Global UV Curable Resins Market is estimated to reach $9,311 million by 2024; growing at a CAGR of 10.2% from 2016 to 2024. UV curable resins are the materials which are polymerized and cured in a very short time by the energy emitted from the ultraviolet irradiation devices. These resins are specially used as industrial materials for bonding, sealing, and coating. UV curable resins are derived from many renewable raw materials. LEO (low extractable and odor) resins are precisely formulated for usage in low migration, low odor inks & coatings applied in the food and pharmaceutical packaging. With advancements in technology, different types of UV curable resins are now offered in the market with various advantages such as reducing wastes, low temperature treatment, saving energy, and high productivity.
Global UV Curable Resins Market Size and Forecast, 2015 – 2024 (US$ Million)

High performance of UV curable resins, environmental alertness and strict rules, increasing adoption in the electronic and industrial coating segment, and increasing demand for green coatings are the factors driving the growth of UV curable resins market. Though, requirement of thermally dry delicate substrates, and huge setting-up cost may hinder the growth of the market. Moreover, rising growth predictions in digital printing, 3d printing, packaging, printed circuits, and barrier films applications would provide with several growth opportunities in the forecasted years.
The global UV curable resins market is segmented on the basis of application, end-use, and geography. By application, the segment comprises coatings, inks, adhesives, and other applications. While, end-use is further segmented into industrial coatings, graphic arts, electronics, and other end-uses.
Global UV Curable Resins Market, by Application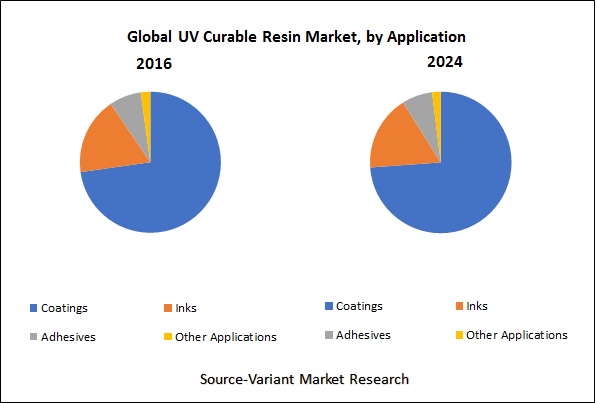 Based on geography, global UV curable resins market is segmented into North America, Europe, Asia Pacific, and Rest of the World (RoW). North America is further bifurcated in U.S., Canada, and Mexico whereas Europe segment consists of UK, Germany, Italy, Sweden, Belgium, and Rest of Europe. Asia-Pacific is segmented into India, China, Japan, South Korea, Taiwan and Rest of Asia-Pacific while RoW is bifurcated into South America, Middle East, and Africa.
UV Curable Resin Market Regional Revenue % (2016 Vs 2024)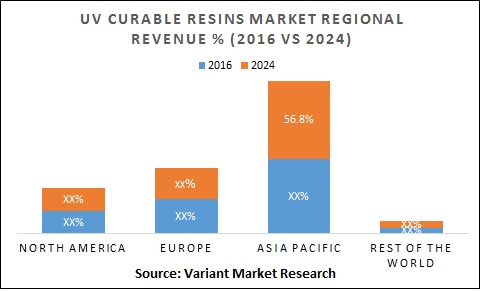 The key market players include Alberdingk Boley GmbH, Allnex Group, Nippon Synthetic Chemical Industry Co., Ltd., BASF SE, Covestro AG, Wanhua Chemical Group Co., Ltd., IGM Resins B.V., Eternal Materials Co., Ltd., SolTech Ltd., and Miwon Specialty Chemical Co., Ltd., among others.
The key takeaways from the report
The report will provide detailed analysis of UV Curable Resins Market with respect to major segments such as application, and end-user
The report will include the qualitative and quantitative analysis with market estimation over 2015 – 2024 and compound annual growth rate (CAGR) between 2016 and 2024
Comprehensive analysis of market dynamics including factors and opportunities will be provided in the report
An exhaustive regional analysis of UV Curable Resins Market has been included in the report
Profile of the key players in the UV Curable Resins Market will be provided, which include key financials, product & services, new developments and business strategies
Scope of the Global UV Curable Resins Market
Application Segments
Coatings
Inks
Adhesives
Other Applications
End-Use Segments
Industrial Coatings
Graphic Arts
Electronics
Other End-Users
Geographical Segments
North America
Europe

UK
Germany
Italy
Sweden
Belgium
Rest of Europe

Asia-Pacific

India
China
Japan
South Korea
Taiwan
Rest of Asia-Pacific

RoW

South America
Middle East
Africa
Global UV Curable Resin Market Primary Interviews, by Geography

---
Related Report
Graphite Market (By Product Type: Natural Graphite, and Synthetic Graphite; By End-User: Electrode, Refractory, Lubricants, Foundry, Battery, and Other End-Users; By Geography: North America, Europe, Asia-Pacific and Row) Global Scenario, Market Size, Outlook, Trend and Forecast, 2015 – 2024


- December 2017

Wind Turbine Composite Materials Market (By Type: Fiber, Resin, and Other Types; By Application: Nacelle, Blade, Tower, Base, and Other Applications; By Geography: North America, Europe, Asia-Pacific and Row)Global Scenario, Market Size, Outlook, Trend and Forecast, 2015 – 2024


- November 2017

Wax Market (By Product Type: Petroleum and Mineral Wax, Synthetic Wax, and Natural Wax; By Application: Candles, Packaging, Board Sizing, Rheology Surface Applications, Health Industries, Cosmetics, and Other Applications; By Geography: North America, Europe, Asia-Pacific and Row)Global Scenario, Market Size, Outlook, Trend and Forecast, 2015 – 2024


- November 2017

Construction Chemicals Market (By Type: Concrete and Mixture, Asphalt Additives, Adhesives and Sealant, Protective Coatings, and Others; By Geography: North America, Europe, Asia-Pacific and RoW) Global Scenario, Market Size, Outlook, Trend and Forecast, 2015-2024


- November 2017

Acrylic Surface Coating Market (By Substrate: Plastic, Concrete, Metal, and Other Substrates; By Technology: Waterborne, Solventborne, Powder, and Other Technologies; By Application: Construction, Automotive, General Industry, Furniture, and Other Applications; By Geography: North America, Europe, Asia-Pacific and RoW) Global Scenario, Market Size, Outlook, Trend and Forecast, 2015 – 2024


- November 2017