---
GlobalWater Treatment Chemicals Marketis estimated to reach $28.7 billion by 2024; growing at a CAGR of 6.2% from 2016 to 2024. In terms of volume, the market is expected to reach 13,833 kilo tons by 2024, at a CAGR of 5% from 2016 – 2024. Water treatment chemicals are used in the water treatment processes to reduce the suspended solids such as sand, clay, and dust which remain undissolved in water. Different types of chemicals such as, pH adjusters & softeners, coagulants, biocides & disinfectants, flocculants, corrosion inhibitors, and scale inhibitors are used in water treatment processes. Water treatment chemicals are adopted in various applications such as water reuse and recycling in municipal water, and industrial water due to global water scarcity, environmental concerns, and high water cost.
Global Water Treatment Chemicals Market Size and Forecast, 2015 - 2024 (US$ Billion)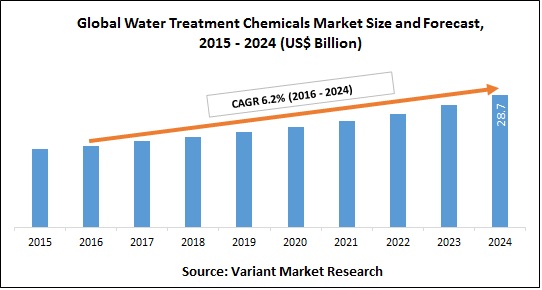 Strict regulatory and environmental concerns, high adoption for chemically treated water in several end-use sectors, high investment in industrial sector, and support in waste reduction are the factors driving the growth of the water treatment chemicals market Though, substitute water treatment technologies may hinder the growth of the market. Moreover, high adoption for specific formulations, and rapid urbanization & increasing population in the emerging economies might provide with several growth opportunities in the forecasted years.
The global water treatment chemicals market is segmented on the basis of type, application, and geography. The market is segmented by type as coagulants & flocculants, corrosion inhibitors, scale inhibitors, chelating agents, biocides & disinfectants, pH adjusters & stabilizers, anti-foaming agents, oxidants, oxygen scavengers, and other types. Further, by application, the market is segmented into power generation, municipal water treatment, chemical processing, pulp & paper, food & beverages, metal & mining, oil & gas, construction, petroleum refining, and other applications.
Global Water Treatment Chemicals Market, by Type 2016 Vs 2024

Based on geography, global water treatment chemicals market is segmented into North America, Europe, Asia Pacific, and Rest of the World (RoW). North America is further bifurcated in U.S., Canada, and Mexico whereas Europe segment consist of UK, Germany, Italy, France, and Rest of Europe. Asia-Pacific is segmented into China, Japan, India, South Korea, and Rest of Asia-Pacific while RoW is bifurcated into South America, Middle East, and Africa.
Global water treatment chemicals market Regional Revenue %(2016 Vs 2024)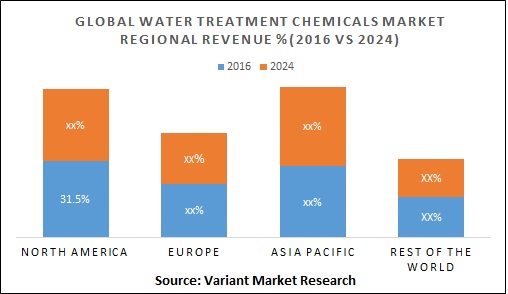 The key market players include BASF SE, Kemira Oyj, GE Osmonics, Inc., BWA Technology, Inc., Ecolab Inc., The Dow Chemical Company, Cortec Corporation, AkzoNobel, Buckman Laboratories International, Inc., and Solvay SA, among others.
The key takeaways from the report
The report will provide detailed analysis of Water Treatment Chemicals Market with respect to major segments such as type, and application
The report will include the qualitative and quantitative analysis with market estimation over 2015 – 2024 and compound annual growth rate (CAGR) between 2016 and 2024
Comprehensive analysis of market dynamics including factors and opportunities will be provided in the report
An exhaustive regional analysis of Water Treatment Chemicals Market has been included in the report
Profile of the key players in the Water Treatment Chemicals Market will be provided, which include key financials, product & services, new developments and business strategies
Scope of Water Treatment Chemicals Market
Type Segments
Coagulants & Flocculants
Corrosion Inhibitors
Scale Inhibitors
Chelating Agents
Biocides & Disinfectants
pH Adjusters & Stabilizers
Anti-Foaming Agents
Oxidants
Oxygen Scavengers
Other Types
Application Segments
Power Generation
Municipal Water Treatment
Chemical Processing
Pulp & Paper
Food & Beverages
Metal & Mining
Oil & Gas
Construction
Petroleum Refining
Other Applications
Geographical Segments
North America
Europe

UK
Germany
Italy
France
Rest of Europe

Asia-Pacific

China
Japan
India
South Korea
Rest of Asia-Pacific

RoW

South America
Middle East
Africa
Global Water Treatment Chemicals Market Primary Interviews by Geography

---
Related Report
Graphite Market (By Product Type: Natural Graphite, and Synthetic Graphite; By End-User: Electrode, Refractory, Lubricants, Foundry, Battery, and Other End-Users; By Geography: North America, Europe, Asia-Pacific and Row) Global Scenario, Market Size, Outlook, Trend and Forecast, 2015 – 2024


- December 2017

Wind Turbine Composite Materials Market (By Type: Fiber, Resin, and Other Types; By Application: Nacelle, Blade, Tower, Base, and Other Applications; By Geography: North America, Europe, Asia-Pacific and Row)Global Scenario, Market Size, Outlook, Trend and Forecast, 2015 – 2024


- November 2017

Wax Market (By Product Type: Petroleum and Mineral Wax, Synthetic Wax, and Natural Wax; By Application: Candles, Packaging, Board Sizing, Rheology Surface Applications, Health Industries, Cosmetics, and Other Applications; By Geography: North America, Europe, Asia-Pacific and Row)Global Scenario, Market Size, Outlook, Trend and Forecast, 2015 – 2024


- November 2017

Construction Chemicals Market (By Type: Concrete and Mixture, Asphalt Additives, Adhesives and Sealant, Protective Coatings, and Others; By Geography: North America, Europe, Asia-Pacific and RoW) Global Scenario, Market Size, Outlook, Trend and Forecast, 2015-2024


- November 2017

Acrylic Surface Coating Market (By Substrate: Plastic, Concrete, Metal, and Other Substrates; By Technology: Waterborne, Solventborne, Powder, and Other Technologies; By Application: Construction, Automotive, General Industry, Furniture, and Other Applications; By Geography: North America, Europe, Asia-Pacific and RoW) Global Scenario, Market Size, Outlook, Trend and Forecast, 2015 – 2024


- November 2017