---
Advanced Combat Helmet Market Overview :
Global Advanced Combat Helmet Market is expected to reach $3.0 Billion by 2024 from $1.6 Billion in 2016, growing at a CAGR of 7.9% from 2016 to 2024. By geography, Asia Pacific and North America are expected to grow at a CAGR of 9.5% and 7.6%, respectively, during the forecast period. Natick Contracting Division, supported by the US Army Soldier Systems Centre, has developed the new Advanced Combat Helmet (ACH). It has replaced the helmet known as Personnel Armor System Ground Troops (PASGT) and the old Kevlar helmet. The new ACH has provided to soldiers with new helmet that contains ballistic and impact protection, communication devices, night vision devices, nuclear, biological & chemical defence equipment and other items. Lighter than the previous PASGT infantry helmet, it also contains improved 4-point retention and pad suspension system. They have ability to adjust accordingly for proper fit and stability. The ACH weighs approximately 3 lbs for the medium size, 3.25 lbs for large size and slightly more than 3.6 lbs for the extra-large. Soldiers have to operate in a diverse range of operational environments and injury threats, these helmets can provide all the protection needed at any situation.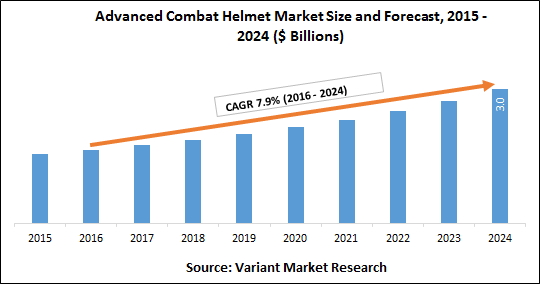 Technological advancements coupled with increasing safety concerns of soldiers and security personals due to mounting security threat in homeland as well as in across boarders are the major factors supporting the growth of the market. However, high cost of helmets and malfunctioning of few technologies could hinder the growth of the market. Furthermore emerging economies could provide opportunity in the upcoming years.
The market is segmented based on the application and geography. By application is further segmented into military & defence and law enforcement.
By geography the market is segmented into North America, Europe, Asia-Pacific and rest of the world (RoW). The U.S., Mexico and Canada are covered under North America wherein Europe covers U.K, Germany, Russia and others. Asia-Pacific covers China, India, Australia and others. Rest of the World (RoW) covers South America, Middle East and Africa.
Key market players include DuPont, Honeywell International Inc., Morgan Advanced Material PLC, BAE Systems, ArmorSource LLC, Ceradyne Inc., Point Blank Enterprises Inc., MKU Limited, Survitec Group and Eagle Industries.
The key takeaways from the report
The report will provide detailed analysis of Advanced Combat Helmet with respect to major segments such as applications of the market.
The report will include the qualitative and quantitative analysis with market estimation over 2015-2024 and compound annual growth rate (CAGR) between 2016 and 2024.
Comprehensive analysis of market dynamics including factors and opportunities.
An exhaustive regional analysis of Advanced Combat Helmet market.
Profile of key players of the Advanced Combat Helmet market, which include key financials, product & services and new developments.
Scope of Advanced Combat Helmet Market
Applications Segments
Military & Defence
Law Enforcement
Geography Segments
North America
Europe

Germany
France
United Kingdom
Spain
Others

Asia-Pacific

China
India
Japan
South Korea
Others

RoW

South America
Middle East
Africa
---
GET MORE INFORMATION ABOUT THIS REPORT
---
Related Report