---
Ammunition Market Overview :
Ammunition Market is estimated to reach $25 Billion by 2024 with CAGR of 6.0% between 2016 and 2024. Ammunitions are objects that can be shot from a weapon and are highly explosive. Ammunitions or cartridges are used in an assortment of firearms ranging from short pistols to heavy automatic weapons, also known as machine guns. Almost all the weapons require some kind of ammunition to operate. Standardized specifications for the size, shape and ballistic performance have been set for the majority of military and civilian ammunitions. Expansion rate, physical size, shape of the powder particles and the stability of propellant are important factors to be considered in the chemical formula used to produce ammunition. R&D is being conducted to develop smart ammunition and updated ammunition management system with improved cyber attack resistance. Ammunition can also be owned by civilians for personal safety or even for hunting. A number of nations as well as some of the U.S. states require ammunition purchasers to have valid identification cards or even a firearms license. This is to reduce the gun violence or gun assaults which pose a significant risk to life of common people.
Increased spending by government on military ammunition and rising threats from terrorist and cross-border disputes fuels the demand for the global ammunition market. Moreover, growing popularity of shooting as a sports activity and rising demand for ammunition used for training the various armed forces also boosts the growth of the market. However, lead-based ammunition used for hunting and shooting would pose danger to the environment and toxic to wildlife and decreased spending on defense budget by few developed countries could pose challenge for the market. Furthermore, green bullets, non-lethal weapons and ammunition, would provide opportunity growth for the market in the upcoming year.
The global Ammunition market is segmented based on the type, caliber, application and geography. By type, it is further segmented into full metal jacketed, tracer, incendiary, armour piercing and others. Caliber can be segmented into small caliber, medium caliber, mortar ammunition, artillery ammunition and shotgun shells. Furthermore, application is segmented into military, law enforcement and commercial.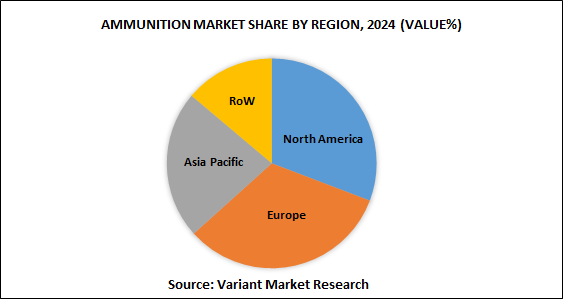 By geography the market is segmented into North America, Europe, Asia-Pacific and rest of the world (RoW). The U.S., Canada and Mexico are covered under North America wherein Europe covers Russia, U.K., Germany, France, Italy and Rest of Europe. Asia-Pacific covers China, India, Japan, South Korea and Rest of Asia Pacific. Rest of the World (RoW) covers South America, Middle East and Africa.
Key market players include BAE Systems, General Dynamics Corporation, Nammo AS, Maxam, Federal Premium Ammunition, Olin Corporation, Remington Arms Company, Inc., RUAG Holding A.G., Orbital ATK Inc., Fiocchi Munizioni S.p.A., Hornady Manufacturing Company, Inc., and Remington Arms Company.
The key takeaways from the report
The report will provide detailed analysis of Ammunition Market with respect to major segments such as type, caliber and application type of the market.
The report will include the qualitative and quantitative analysis with market estimation over 2015-2024 and compound annual growth rate (CAGR) between 2016 and 2024.
Comprehensive analysis of market dynamics including factors and opportunities.
An exhaustive regional analysis of Ammunition market.
Profile of key players of the Ammunition market, which include key financials, product & services and new developments.
Scope of Ammunition Market
Type Segments
Full Metal Jacketed
Tracer
Incendiary
Armour Piercing
Others
Caliber Segments
Small Caliber
Medium Caliber
Mortar Ammunition
Artillery Ammunition
Shotgun Shells
Application Segments
Military
Law Enforcement
Commercial
Geography Segments
North America
Europe

Russia
U.K.
Germany
France
Italy
Others

Asia-Pacific

China
India
Japan
South Korea
Others

RoW

South America
Middle East
Africa
---
GET MORE INFORMATION ABOUT THIS REPORT
---
Related Report