---
Armored Vehicle Market Overview :
Global Armored Vehicle Market is estimated to reach $38 billion by 2024; growing at a CAGR of 4.7% between 2016 and 2024. Armored vehicles are security vehicles used to transport under armed security or by replacing the standard windows with bulletproof glass motor vehicle with a high degree of security. Armored vehicles were solely owned and used by military, law enforcement, ministers and diplomates, but in the recent years, the vehicles are witnessing high demand from prominent corporate people, VIPs and celebrities. The ever-increasing security challenges are the main reasons for the various government bodies as well as civilians to adopt an armed vehicle. The armed vehicles used by civilians are either factory produced model car or retrofitted versions of series car. Drivers of such vehicles need specialized training in skillful driving owing to its high weight and difficulty in handling.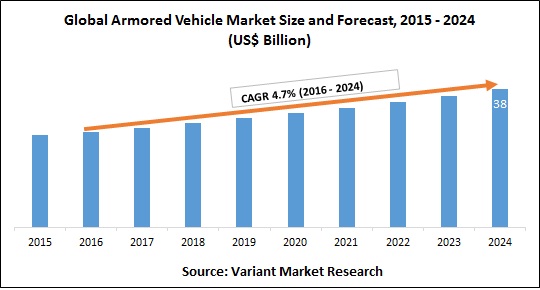 Increasing internal & external security threats and increasing violence in countries such as Syria, Iraq and other regions in the world are driving global armored vehicle market. Increasing defense expenditure especially in emerging economies and increasing popularity of rental & leasing of armored cars among civilians also supports the growth of the market. However, lack of standardization, regulatory rules and limited defense budgets may hinder the growth of the market. Furthermore, need for light weight armored vehicles and increasing demand from commercial sectors is likely to provide market opportunities in the coming years.
The global armored vehicle market is categorized into type, technology, application and geography. By type, the market is segmented into infantry fighting vehicles, main battle tanks, light protected vehicles, armored personnel carriers, armored amphibious vehicles, mine-resistant ambush protected and others. Technology segment is bifurcated into inter operable communication, electric armor, active protection systems, situational awareness, active mine protection, modular ballistic armor, and vehicle information integration. Furthermore, by applications, it is segmented into military, law enforcement and commercial.
By geography the global armored vehicle market is segmented into North America, Europe, Asia-Pacific and Rest of the World (RoW). The U.S., Canada and Mexico are covered under North America wherein Europe covers Russia, U.K., Germany, France, Italy and others. Asia-Pacific covers China, India, Japan and others. RoW covers South America, Middle East and Africa.
The key players in the armored vehicle market include International Armored Group, Lockheed Martin, Thales Group, General Dynamics Corporation, BAE Systems, Denel Land Systems, Oshkosh Defense, Rheinmetall Landsysteme GmbH, Elbit Systems Ltd. and INKAS Armored Vehicle Manufacturing, among others.
The key takeaways from the report
The report will provide detailed analysis of Armored Vehicle Market with respect to major segments such as type, technology and application
The report will include the qualitative and quantitative analysis with market estimation over 2015-2024 and compound annual growth rate (CAGR) between 2016 and 2024
Comprehensive analysis of market dynamics including factors and opportunities will be provided in the report
An exhaustive regional analysis of Armored Vehicle Market has been included in the report
Profile of the key players of the Armored Vehicle Market, will be provided, which include key financials, product & services, new developments and business strategies
Scope of Armored Vehicle Market
Type Segments
Infantry Fighting Vehicles
Light Protected Vehicles
Main Battle Tanks
Armored Personnel Carriers
Armored Amphibious Vehicles
Mine-Resistant Ambush Protected
Others
Technology Segments
Inter Operable Communication
Vehicle Information Integration
Active Protection Systems
Modular Ballistic Armor
Electric Armor
Situational Awareness
Active Mine Protection
Application Segments
Military
Law Enforcement
Commercial
Geography Segments
North America
Europe

Russia
U.K.
Germany
France
Italy
Others

Asia-Pacific
RoW

South America
Middle East
Africa
---
GET MORE INFORMATION ABOUT THIS REPORT
---
Related Report