---
LiDAR Market Overview :
Global LiDAR Market Report, published by Variant Market Research, forecast that the global market is expected to reach $1636 million by 2024; growing at a CAGR of 20.8% from 2016 to 2024. LiDAR, which stands for Light Detection and Ranging, is a remote sensing technology, which uses light in the form of pulsed laser to measure various targets. A LiDAR can generate pulses of laser light to a surface, and may go up to 150,000 pulses per second and airborne LiDAR instrument uses a laser scanner with up to 400,000 pulses of light per second. LiDAR is commonly used in making high resolution maps with increased application in archaeology, geography, geology, seismology, forestry, airborne laser swath mapping (ALSM) and among others.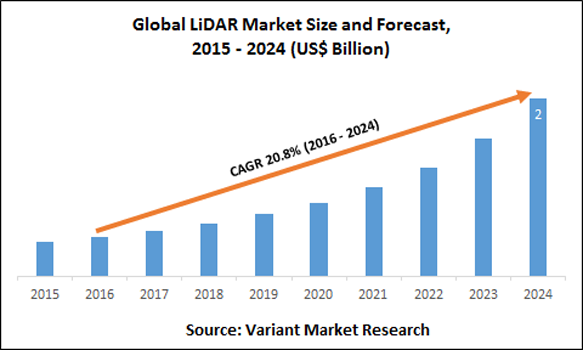 Rising technological advancements, increasing use of drones and adoption of LiDAR in various government sectors are expected to drive the LiDAR market. Moreover, development in driverless cars and rise in 3D printing is also expected to fuel the market. However lack of skilled personals and high cost of the instrument may hinder the growth of the market. Untapped markets in developing countries could provide an opportunity for the market.
The LiDAR market is segmented based on the product, component, end-user, application and geography. Product can be segmented into terrestrial, aerial, mobile, and short range. Component type is further segmented into laser, inertial navigation system, Camera, GPS/GNSS receiver, and Micro electro mechanical system. Furthermore, application is segmented into Corridor mapping, Seismology, Exploration and Detection and Others. End-user can be segmented into defense and aerospace, civil engineering, archaeology, forestry and agriculture, mining industry and transportation.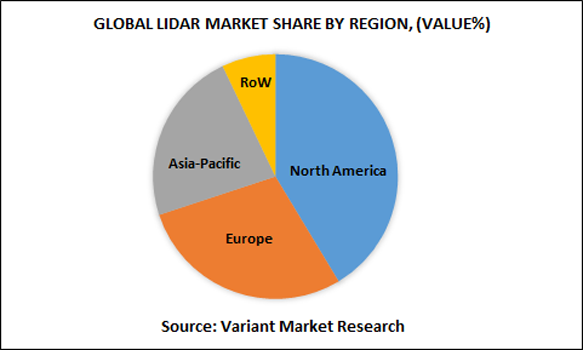 By geography the market is segmented into North America, Europe, Asia-Pacific and RoW. The U.S., Mexico and Canada are covered under North America wherein Europe covers France, Germany, United Kingdom, Spain and others. Asia-Pacific covers China, India, Japan, South Korea and others. Rest of the World (RoW) covers South America, Middle East and Africa.
The key market players include Hokuyo Automatic Co Ltd., Velodyne LiDAR, Quanergy, Phoenix Aerial Systems, 3D Laser Mapping, Quantum Spatial, Airborne Imaging Inc., Avent LiDAR technology, GeoDigital and Leica GeoSystems AG.
The key takeaways from the report
The report will provide detailed analysis of LiDAR market with respect to major segments such as product, component, application and end-user of the market.
The report will include the qualitative and quantitative analysis with market estimation over 2015-2024 and compound annual growth rate (CAGR) between 2016 and 2024.
Comprehensive analysis of market dynamics including factors and opportunities.
An exhaustive regional analysis of LiDAR in Healthcare market.
Profile of key players of the LiDAR market, which include key financials, product & services and new developments.
Scope of LiDAR Market
Product Type Segments
Terrestrial
Aerial
Mobile
Short Range
Component Type Segments
Laser
Inertial Navigation System
Camera
GPS/GNSS Receiver
Micro Electro Mechanical System (MEMS)
Application Segments
Corridor Mapping
Seismology
Exploration and Detection
Others
End-User Segments
Defence and Aerospace
Civil Engineering
Archaeology
Forestry and Agriculture
Mining Industry
Transportation
Geographical Segments
North America
Europe

Germany
France
United Kingdom
Spain
Others

Asia-Pacific

China
India
Japan
South Korea
Others

RoW

South America
Middle East
Africa
---
GET MORE INFORMATION ABOUT THIS REPORT
---
Related Report