---
Military Personal Protective Equipment Market Overview :
Global Military Personal Protective Equipment Market is estimated to reach $24.5 billion by 2024 with CAGR of 6.5% between 2016 and 2024. Numerous terrorist activities and military conflicts have highlighted the importance of personal protective wears for dealing with events involving biological, chemical, radiological or nuclear agents. Military personal protective equipments are designed to provide protection from serious illness or injuries caused from interaction with physical, chemical, radiological, electrical, mechanical or any bio-hazards matter. No single combination of protective equipment can protect against all hazards. Numerous companies globally continue to work to provide accurate personal protective wears, as more nations are becoming industrialized and prosper; the need to develop for personal protective equipment is higher, from fighters to industrial workers. Various personal protective equipment designed for safety include eye protection, hand and foot protection, face protection, head protection and among others.
Increasing awareness about safety and security of military personals along with initiative by government in procurement of personal protective wears is expected to fuel the growth of the military personal protective equipment market. Moreover, high conflicts at borders among various countries and increasing threat of terrorism are also expected to boost the growth of the market. However, high cost incurred for the wellbeing and for security procedures is expected to hinder the growth of the market. Furthermore, technological advancements, light weight body armor and personal protective equipment for female military personals due to increasing number of females joining the armed forces would provide opportunity for the growth in the upcoming years.
The market is segmented based on the product, application and geography. By product type, it is further segmented into advanced combat helmet (ACH), pelvic protection systems (PPS), life safety jacket, body armor (BA), improved outer tactical vest (IOTV), military combat eye protection (MCEP) and others. Furthermore, applications are segmented into army, air force, navy and others.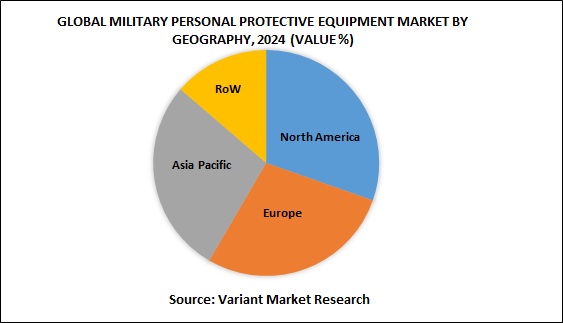 By geography the market is segmented into North America, Europe, Asia-Pacific and Rest of the World (RoW). The U.S., Canada and Mexico covered under North America wherein Europe covers U.K., Germany, Italy, France and others. Asia-Pacific covers India, China, Japan and others. Rest of the World (RoW) covers South America, Middle East and Africa.
Key market players include BAE Systems, 3M Ceradyne, Honeywell Advanced Fibres and Composites, Cigweld Pty Ltd., Gateway Safety, Inc., Lindstrom Group, Uvex Safety Group, DuPont, Eagle Industries Unlimited Inc., and Revision Military Inc.
The key takeaways from the report
The report will provide detailed analysis of Military Personal Protective Equipment Market with respect to major segments such as product and application of the market.
The report will include the qualitative and quantitative analysis with market estimation over 2015-2024 and compound annual growth rate (CAGR) between 2016 and 2024.
Comprehensive analysis of market dynamics including factors and opportunities.
An exhaustive regional analysis of Military Personal Protective Equipment market.
Profile of key players of the Military Personal Protective Equipment market, which include key financials, product & services and new developments.
Scope of Military Personal Protective Equipment Market
Product Segments
Advanced Combat Helmet (ACH)
Pelvic Protection Systems (PPS)
Life Safety Jacket
Body Armor (BA)
Improved Outer Tactical Vest (IOTV)
Military Combat Eye Protection (MCEP)
Others
Application Segments
Army
Air Force
Navy
Others
Geography Segments
North America
Europe

U.K.
Germany
Italy
France
Others

Asia-Pacific
RoW

South America
Middle East
Africa
---
GET MORE INFORMATION ABOUT THIS REPORT
---
Related Report