---
Waste-derived Biogas Market Overview :
Global Waste-derived Biogas market is estimated to reach $20.92 billion by 2025; growing at a CAGR of 10.5% from 2017 to 2025.Biogas is a mixture of various gasses produced after organic materials (animal and plant products) are decomposed by bacteria in an oxygen-free atmosphere, this process is known as anaerobic digestion. It uses anaerobic digestion to recycle the organic materials, turning them into biogas, that contains both energy and valuable soil products. Biogas can be produced from numerous raw materials such as plant materials, green waste, manure, municipal waste, waste, sewage, and food waste. It is a renewable source of energy and typically has a lower carbon footprint. The formation of biogas varies depending on the basis of the anaerobic digestion procedure.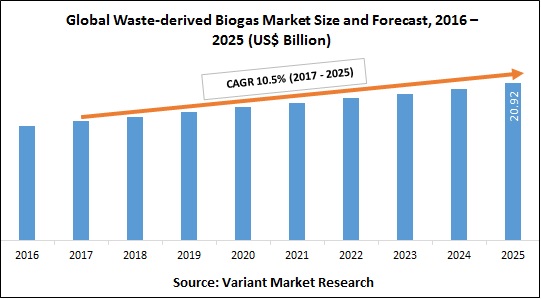 The growth of the global waste-derived biogas market is mainly driven by factors such as increasing awareness for excessive use of fuels and environmental safety, and rising concerns to overuse of fossil fuels. Additionally, increasing government stringent emission laws have also stimulated the market growth. However, high initial investment for the manufacturing set up is the restraint of the market. Moreover, growing need for renewable energy resources owing to decreasing fossil fuel resources coupled with increasing population would provide lucrative opportunities to the market.
The waste-derived biogas market is mainly classified on the basis of type, application and geography. Type segment comprises sewage, landfill gas, agricultural waste, and industrial wastewater. By application, the market is segmented into on-site electricity production, transportation fuel, and municipal electricity production.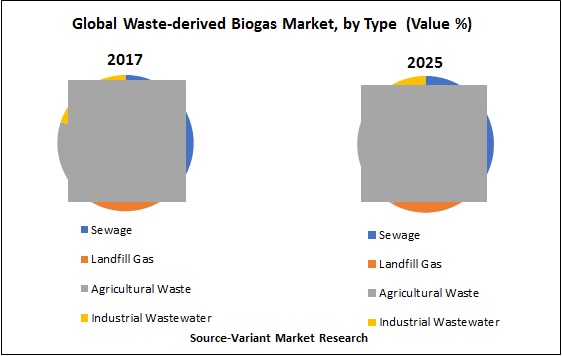 By geography, global waste-derived biogas market is segmented into North America, Europe, Asia-Pacific and Rest of the World (RoW). North America is further bifurcated in U.S. and Rest of North America, whereas Europe consists of UK, Germany, France, Italy and Rest of Europe. Asia-Pacific is segmented into China, Japan and Rest of Asia-Pacific while RoW is bifurcated into South America, Middle East, and Africa.
Major companies operating in the global market include Biogas Technology Ltd, Biogen (UK) Ltd., Cargill, Incorporated, EnergySolutions, Siemens AG, GENERAL ELECTRIC, Environmental Products & Technologies Corporation, Environmental Energy & Engineering Co., Chevron Corporation, and AAT GmbH, among others
The key takeaways from the report
The report will provide detailed analysis of Global Waste-derived Biogas market with respect to major segments such as type, application and geography.
The report will include the qualitative and quantitative analysis with market estimation over 2016 – 2025 and compound annual growth rate (CAGR) between 2017 and 2025
Comprehensive analysis of market dynamics including factors and opportunities will be provided in the report
An exhaustive regional analysis of Global Waste-derived Biogas market has been included in the report
Profile of the key players in the Global Waste-derived Biogas market will be provided, which include key financials, product & services, new developments and business strategies
Scope of the Global Waste-derived Biogas market
Type Segments
Sewage
Landfill Gas
Agricultural Waste
Industrial Wastewater
Application Segments
On-Site Electricity Production
Transportation Fuel
Municipal Electricity Production
Geographical Segments
North America
Europe

UK
Germany
France
Italy
Rest of Europe

Asia-Pacific

India
China
Japan
South Korea
Rest of Asia-Pacific

RoW

South America
Middle East
Africa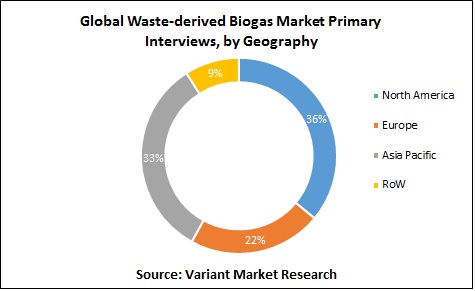 ---
GET MORE INFORMATION ABOUT THIS REPORT
---
Related Report