---
Meat Substitute Market Overview :
Global Meat Substitute Market is estimated to reach $7,275 million by 2025; growing at a CAGR of 7.0% from 2017 to 2025.Meat substitutes are products that look like actual meat in terms of flavor, appearance and taste, but are healthful as competed to meat. It is considered as the highest quality protein source not only due to its nutritional characteristics, especially proteins but also owing to its appealing taste. Public consuming meat on a daily basis are more prone to health-related complications such as atherosclerosis and obesity. Some of the meat substitute widely used are tofu, tempeh, seitan, gluten-free, textured vegetable protein, vegan meat, jackfruit, mushrooms, lentils, beans and legumes, among others. Tofu is among the most popular meat substitute and is broadly consumed as a substitute for chicken, beef, pork, and other meats.
The primary factors driving the growth of the global meat substitute market include growing health concerns about meat consumption coupled with many animal disease outbreaks in the recent past, health advantages of meat substitute, increasing consciousness about the benefits of a vegan diet such as lower heart problems, reduced obesity & diabetes, improved cardiovascular health, and lower cholesterol risk. Though, variety of low-cholesterol meat products accessible in the market with lean meats may restraint the market growth. Yet, high growth potential in the Asia Pacific market would generate profitable opportunities for the global meat substitute market.
The global meat substitute market is classified on the basis of product type, category and geography. By product type, the market is segmented into tofu based, tempeh based, TVP based, seitan based, quorn based, and other product types. Category segment is bifurcated into frozen, refrigerated, and shelf-stable.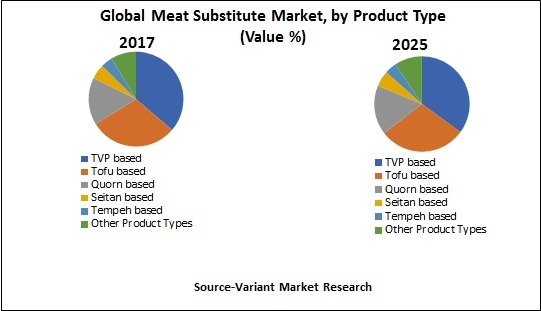 Based on geography, global meat substitute market is segmented into North America, Europe, Asia-Pacific, and Rest of the World (RoW). North America is further bifurcated in U.S., Canada, and Mexico whereas Europe consists of UK, Germany, Spain, France, and Rest of Europe. Asia-Pacific is segmented into China, Japan, India, and Rest of Asia-Pacific. while RoW is bifurcated into South America, Middle East, and Africa.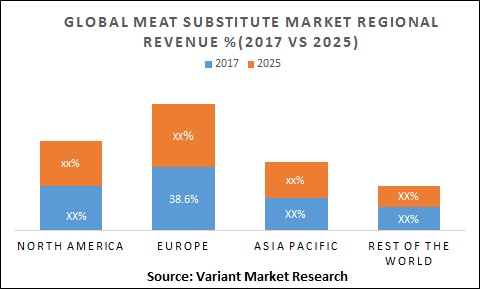 Key players profiled in the report include Kellogg NA Co., MGP Ingredients, Inc., Sonic Biochem Extractions Ltd., Amy's Kitchen, Inc., Beyond Meat, Marlow Foods Ltd, Boulder Brands USA Inc., Meatless BV, Quorn, and VBites Foods Limited, among others.
The key takeaways from the report
The report will provide detailed analysis of Global Meat Substitute Market with respect to major segments such as product type, and category
The report will include the qualitative and quantitative analysis with market estimation over 2016 – 2025 and compound annual growth rate (CAGR) between 2017 and 2025
Comprehensive analysis of market dynamics including factors and opportunities will be provided in the report
An exhaustive regional analysis of Global Meat Substitute Market has been included in the report
Profile of the key players in the Global Meat Substitute Market will be provided, which include key financials, product & services, new developments and business strategies
Scope of the Global Meat Substitute Market
Product Type Segments
Tofu Based
Tempeh Based
TVP Based
Seitan Based
Quorn Based
Other Product Types
Category Segments
Frozen
Refrigerated
Shelf-Stable
Geographical Segments
North America
Europe

UK
Germany
Spain
France
Rest of Europe

Asia-Pacific

China
Japan
India
Rest of Asia-Pacific

RoW

South America
Middle East
Africa
---
GET MORE INFORMATION ABOUT THIS REPORT
---
Related Report