---
Global Nutraceuticals Market Report, published by Variant Market Research, forecast that the global market is expected to reach $340 billion by 2024; growing at a CAGR of 7.2% from 2016 to 2024. Nutraceuticals are products derived from food sources which contain additional health benefits in comparison to basic nutritional food value. The nutraceuticals market majorly comprises food, beverage, and dietary supplements. The ingredients used for manufacturing nutraceuticals product are vitamins, minerals, proteins, amino acids, fibers, and others. The consumers have become more health conscious than earlier with an increased demand for nutraceuticals product. Rise in disposable income and growing consumer awareness towards the health benefits of nutraceuticals product illustrate increased nutraceuticals market trends.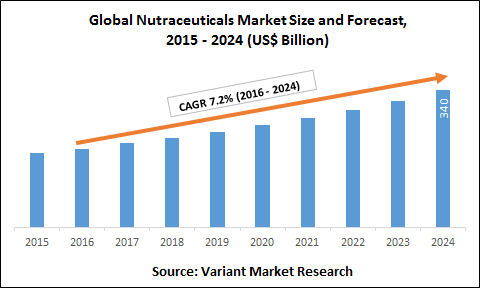 Rise in healthcare expenditure, increased usage of nutraceuticals product as a substitute to prescription and OTC drugs and augmented demand for nutritional diet are the major factors driving the global nutraceuticals market. However, high price and lack of consumer awareness may hinder the market growth in the coming years. Technological advancement and practice of nutraceuticals across new application areas would provide new business opportunities for the market in near future.
The global nutraceuticals market has been bifurcated by product type and geography. By product type, the market is segmented into functional food, dietary supplements, functional beverages, and personal care & pharmaceutical. The functional food segment accounted for the largest market share in 2016, driven by increased consumer spending on functional food which has amplified its demand globally. Geographically, the market is categorised into North America, Europe, Asia-Pacific and Rest of the world (RoW).
The functional food segment is further divided into omega fatty acid fortified food, probiotics fortified food, branded wheat flour market, branded ionized salt, and others. The functional beverages segment is classified into fruit & vegetable juices and drinks, dairy & dairy alternative drinks, noncarbonated drinks, and others. The dairy supplements segment is divided into proteins & peptides, herbals, vitamins & minerals and others.
Based on geography, the global nutraceuticals market has been segmented into North America, Europe, Asia-Pacific and (RoW). The U.S., Mexico and Canada are covered under North America wherein Europe covers UK, France, Italy, and others. Asia-Pacific covers China, India, Japan, and others. Rest of the World (RoW) covers South America, Middle East and Africa.
Major companies operating in the nutraceuticals market are Cargill Incorporated, General Mills, Inc., DuPont, Royal DSM N.V., Nestle S.A., BASF SE, Archer Daniels Midland Company (ADM), Groupe Danone S.A., PepsiCo, and Aland (Jiangsu) Nutraceutical Co., Ltd, among others.
The key takeaways from the report
The report will provide detailed analysis of the Nutraceuticals Market with respect to major segments such as product type, and geography
The report will include the qualitative and quantitative analysis with market estimation over 2015-2024 and compound annual growth rate (CAGR) between 2016 and 2024
Comprehensive analysis of market dynamics including factors and opportunities will be provided in the report
An exhaustive regional analysis of the Nutraceuticals Market from 2015 to 2024 has been included in the report
Profile of the key players in the Nutraceuticals Market, will be provided, which include key financials, product & services, new developments and business strategies
Scope of Nutraceuticals Market
Product Type Segments
Personal Care and Pharmaceuticals
Functional Food

Omega Fatty Acid Fortified Food
Branded Wheat Flour Market
Probiotics Fortified Food
Branded Ionized Salt
Others
Dietary Supplements

Vitamins & Minerals
Proteins & Peptides
Herbals
Others
Functional Beverages

Dairy & Dairy Alternative Drinks
Noncarbonated Drinks
Fruit & Vegetable Juices And Drinks
Others
Geographical Segments
RoW

South America
Middle East
Africa
---
Related Report
Fast Food Market (By Product Type: Burger/Sandwich, Chicken, Pizza/Pasta, Asian/Latin American Food, Sea-Food, And Other Foods; By Geography: North America, Europe, Asia-Pacific and RoW) Global Scenario, Market Size, Outlook, Trend and Forecast, 2015-2024


- September 2017

Baby Drinks Market Global Scenario, Market Size, Outlook, Trend And Forecast, 2015 – 2024


- November 2017

Probiotics Market (Yeast, Lactobacillus, Spore Formers, Streptococcus, Bifidobacterium; Liquid Drops, Sticks And Sachets, Capsules, Tablets-Swallowable, Tablets-Chewable; Probiotic Dietary Supplements, Probiotic Food And Beverages, Animal Feed Probiotics; Human Probiotics, And Animal Probiotics; North America, Europe, Asia-Pacific and RoW) Global Scenario, Market Size, Outlook, Trend and Forecast, 2015-2024


- September 2017

Seasonings and Spices Market (By Product Type: Salt, Salt Substitute, Pepper, Dried Herbs, Individual & Mixed Spices, And Others; By Distribution Channels: Supermarkets and Hypermarkets, E-Retailers, Convenience Stores, Food and Drink Specialists, General Merchandise Retailers, and Others; By Geography: North America, Europe, Asia-Pacific, and RoW) Global Scenario, Market Size, Outlook, Trend and Forecast, 2015-2024


- August 2017

Instant Beverage Premix Market (By Product Type: Instant Coffee, Instant Tea, Instant Milk, Instant Health Drinks, Soups, and Others; By Geography: North America, Europe, Asia-Pacific, and RoW) Global Scenario, Market Size, Outlook, Trend and Forecast, 2015-2024


- August 2017