---
Instant Beverage Premix Market Overview :
Global Instant Beverage Premix Market is estimated to reach $111.3 billion by 2024; growing at a CAGR of 5.9% from 2016 to 2024. Instant beverage premix are granule forms of various beverages, that can be used for preparation in a very short span. Beverages play a significant role, as they aid in keeping hydrated, prevents various health conditions and purely contribute to the over-all nutritional well-being. Changing consumer's health and lifestyle trends have led to the innovation and development market-focused and appealing beverages. A wide range of high quality ingredients and custom premixes are available in the market.
Global Instant Beverage Premix Market Size and Forecast, 2015 - 2024 (US$ Billion)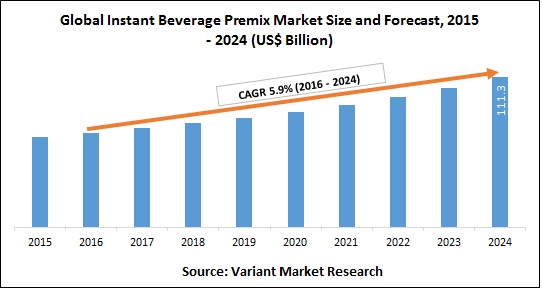 Increasing disposable income and busy lifestyles and schedules of corporate consumers are the key factors driving the growth of the instant beverage premix market. Moreover, increased rate of adoption in instant coffee premix among corporates and rising healthcare awareness is also boosting the growth of the market. Though, stringent government rules & regulations for approval of ingredients and availability of counterfeit products may restrain the growth of the market. Furthermore, market expansion with innovative marketing strategies and availability of customized flavors may provide several growth opportunities in the coming years.
The global Instant beverage premix market is segmented into product type and geography. Product type is segmented into instant coffee, instant tea, instant milk, instant health drinks, soups, and others.
By geography, the market has been bifurcated into North America, Europe, Asia-Pacific, and Rest of the World (RoW). The U.S., Canada, and Mexico are covered under North America wherein Europe covers UK, Germany, France, Italy, and others. Asia-Pacific covers China, Japan, India, and others. RoW covers South America, Middle East, and Africa.
Global Instant Beverage Premix market share by region, 2024 (value%)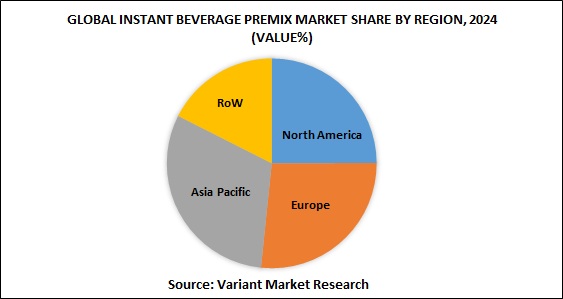 They key players in the market include PepsiCo Inc., Starbucks Corp., Suntory Beverages & Food. Ltd., Ajinomoto General Foods Inc., Keurig Green Mountain, Inc., Monster Beverage Company, The Republic of Tea, Inc., Ito En, Ltd., Dunkin' Brands Group, Inc., and The Coca-Cola Company, among others.
The key takeaways from the report
The report will provide a detailed analysis of Global Instant Beverage Premix Market with respect to major segments such as product type and geography
The report will include the qualitative and quantitative analysis with market estimation over 2015-2024 and compound annual growth rate (CAGR) between 2016 and 2024
Comprehensive analysis of market dynamics including factors and opportunities will be provided in the report
An exhaustive regional analysis of Global Instant Beverage Premix Market from 2015 to 2024 has been included in the report
Profile of the key players in the Global Instant Beverage Premix Market will be provided, which include key financials, product & services, new developments and business strategies
Scope of the Global Instant Beverage Premix Market
Product Segments
Instant Coffee
Instant Tea
Instant Milk
Instant Health Drinks
Soups
Other Products
Geography Segments
Europe

UK
Germany
France
Italy
Others
Asia-Pacific
RoW

South America
Middle East
Africa
---
GET MORE INFORMATION ABOUT THIS REPORT
---
Related Report