---
E-Prescribing Market Overview :
Global E-Prescribing Market is estimated to reach $2,418 Million by 2024; growing at a CAGR of 20.1% from 2016 to 2024. E-Prescribing is a process of electrically generating the prescription order and transiting it directly to the pharmacy. E-Prescribing aids in improving accuracy, quality of care and emphasis on patient safety. Medical errors including medication error have raised serious concern about patient's safety. These errors primarily occur due to wrong dosage, hand-writing illegibility, and others. Government bodies of various countries are expediting the adoption of e-prescribing and electronic medical records and forming a national health information infrastructure. In US, the Medicare Modernization Act (MMA) of 2003, have gave momentum for the inclusion of electric prescribing to reduce medication errors and promoting the awareness of its benefits for enhancing the patient's safety.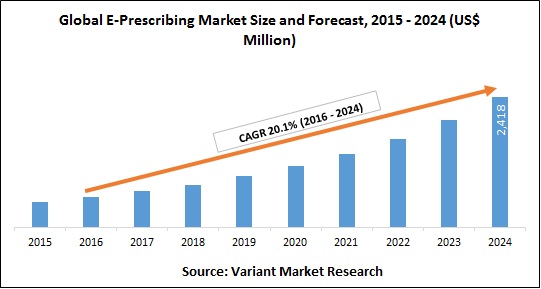 Improving healthcare infrastructure, collaboration of software companies with healthcare centers, and government initiative programs to reduce the risk of medical errors are the key factors supporting the growth of the global e-prescribing market. Increasing effort on reducing abuse of controlled substances is also boosting the adoption of e-prescribing. However, high cost of these systems and lack of knowledge and resources in rural and remote areas may hinder the growth of the market. Furthermore, market expansion and growing need for electronic healthcare records could provide growth opportunities for the players in the coming years.
The global e-prescribing market is bifurcated into component, product type, delivery mode, usage mode, end-user, and geography. Component segment in sub-segmented into software, hardware, and services. Product type is categorized into integrated system, and stand-alone system. Delivery mode is segmented into web-based, on-premise/licensed, and cloud-based. Furthermore, usage mode is bifurcated into hand-held devices, and PC-based. End user is categorized as hospital, and office-based physician.
By geography, the market has been bifurcated into North America, Europe, Asia-Pacific and Rest of the World (RoW). The U.S., Canada, and Mexico are covered under North America wherein Europe covers Germany, UK, France, Netherlands, and others. Asia-Pacific covers China, Japan, India, and others. RoW covers South America, Middle East, and Africa.
The major players in the market are Medical Information Technology, Inc., RelayHealth, LLC, Allscripts Healthcare Solution, Inc., eClinicalworks, Cerner Corporation, Henry Schein, Inc., Practice Fusion, Inc., HealthFusion, Inc., DrFirst Inc., and Aprima Medical Software, Inc., among others.
The key takeaways from the report
The report will provide a detailed analysis of Global E-Prescribing Market with respect to major segments such as component, product type, delivery mode, usage mode, and end user
The report will include the qualitative and quantitative analysis with market estimation over 2015-2024 and compound annual growth rate (CAGR) between 2016 and 2024
Comprehensive analysis of market dynamics including factors and opportunities will be provided in the report
An exhaustive regional analysis of Global E-Prescribing Market from 2015 to 2024 has been included in the report
Profile of the key players in the Global E-Prescribing Market will be provided, which include key financials, product & services, new developments and business strategies
Scope of the Global E-Prescribing Market
Component Segment
Software
Hardware
Services
Product Type Segment
Integrated System
Stand-Alone System
Delivery Mode Segment
Web-Based
On-Premise/Licensed
Cloud-Based
Usage mode Segment
Hand-Held Devices
PC-Based
End-User Segment
Hospital
Office-Based Physician
Geography Segment
Europe

Germany
UK
France
Netherlands
Others
Asia-Pacific
RoW

South America
Middle East
Africa
---
GET MORE INFORMATION ABOUT THIS REPORT
---
Related Report