---
IoT Healthcare Market Overview :
Global IoT Healthcare Market is estimated to reach $205 billion by 2024; growing at a CAGR of 20.2% from 2016 to 2024. Internet-connected objects using Internet of Things (IoT) network collect and exchange data. The healthcare industry is one of the fastest to adopt the IoT. Integrate medical devices to improve the quality and effectiveness of service, especially for those who require constant supervision, elderly patients. IoT is also used to keep a tab on the locations of patients, personals and medical devices. Other benefits provided by IoT in healthcare are predicting the arrival of patients in Post-Anesthesia Care Unit (PACU), degree of hygiene among the healthcare workers; improve patient's journey and remote monitoring.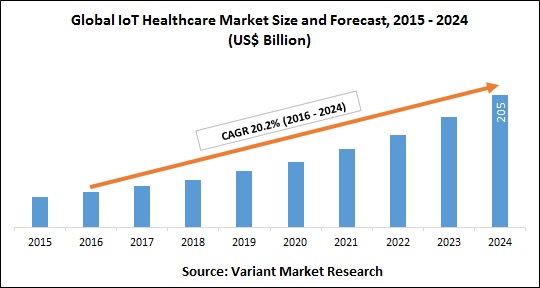 Rising technological advancements, high demand for cost-effective treatment and accessibility to high speed internet are expected to drive the IoT healthcare market. Moreover, increasing need for remote patient monitoring and fitness & wellness tracker for athletes are also expected to fuel the market. Inadequate of IoT technical skills and security of data may hinder the growth of market. Increasing research and development and untapped markets would provide an opportunity for this market.
The IoT Healthcare market is segmented based on the component type, delivery mode, application, end-user and geography. Component type is further segmented into wireless sensor networks, embedded sensor networks, automation systems, control systems, other components types. Delivery mode segment is bifurcated into web-based, on-premises, and cloud-based. Furthermore, application is segmented into telemedicine, clinical operations and workflow management, connected imaging, impatient monitoring, medication management and others. End-user can be segmented into hospitals, surgical center and clinics, clinical research organization, research and diagnostic laboratory and others.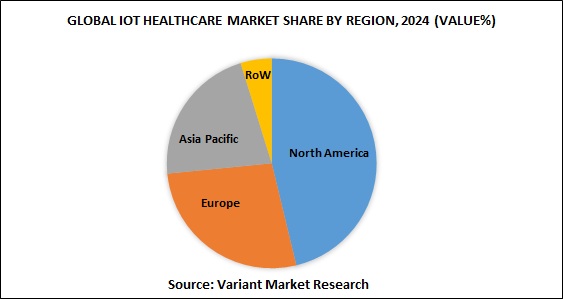 By geography, the global market is segmented into North America, Europe, Asia-Pacific and RoW. The U.S., Mexico, and Canada are covered under North America wherein Europe covers France, Germany, UK, and others. Asia-Pacific covers China, India, Japan, and others. Rest of the World (RoW) covers South America, Middle East, and Africa.
The key market players include Apple Inc., Cisco Systems Inc., GE Healthcare Ltd., Google (Alphabet), International Business Machines Corporation, Medtronic PLC, Microsoft Corporation, Qualcomm Life Inc., Proteus Digital Health, and St. Jude Medical Inc.
The key takeaways from the report
The report will provide detailed analysis of Global IoT Healthcare Market with respect to major segments such as component type, delivery mode, application and end-user
The report will include the qualitative and quantitative analysis with market estimation over 2015-2024 and compound annual growth rate (CAGR) between 2016 and 2024
Comprehensive analysis of market dynamics including factors and opportunities will be provided in the report
An exhaustive regional analysis of Global IoT Healthcare Market will be included in the report
Profile of the key players of the Global IoT Healthcare Market, will be provided, which include key financials, product & services and new developments.
Scope of IoT Healthcare Market
Component Type Segments
Wireless Sensor Networks
Embedded Sensor Networks
Automation Systems
Control Systems
Other Component Types
Delivery Mode Segments
Web-Based
On-Premises
Cloud-Based
Application Segments
Telemedicine
Clinical Operations and Workflow Management
Connected Imaging
Impatient Monitoring
Medication Management
Other Applications
End-User Segments
Hospital, Surgical Centre & Clinics
Clinical Research Organization
Research and Diagnostic Laboratory
Other End-Users
Geographical Segments
North America
Europe

Germany
France
U.K.
Others

Asia-Pacific
RoW

South America
Middle East
Africa
---
GET MORE INFORMATION ABOUT THIS REPORT
---
Related Report