---
Neurostimulation Devices Market Overview :
Global Neurostimulation devices Market is estimated to reach $10.2 Billion by 2024; growing at a CAGR of 12.7% from 2016 to 2024. Neurostimulation devices aids to provide control and give expected result by using the electrical stimulation of specific nerves in the body. Additionally, it also aids to reduce the pain of paralyzed patients. These devices are operationally set in the patient body and function is done by thin wires or leads. Neurostimulator devices comprise spinal cord stimulators, vagus nerve stimulators, sacral nerve stimulators, deep brain stimulators, and cortical stimulators. Neurostimulation devices are highly beneficial in reducing pain of neurological disorders such as chronic pain, epilepsy, major depression, and parkinson's disease. Growing population and increasing demand for neurostimulation devices in the healthcare sector are boosting the growth of the market.
Global Neurostimulation devices Market Size and Forecast, 2015 - 2024 (US$ Billion)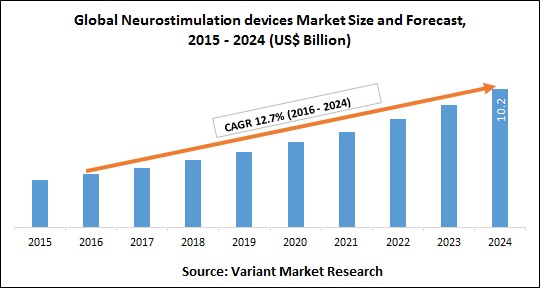 Increasing demand from healthcare sector due to rise in neurological diseases and increasing population are the factors supporting the growth of the market. Moreover, growing demand for add-on therapy and advanced products offered by players also boosts the market. However, high cost for neurological treatment may hinder the growth of the market. Additionally, product innovation and rising R&D activity in healthcare sector would provide growth opportunities for the market in the upcoming years.
The global neurostimulation devices market has been segmented as device type, application, and geography. Device type is bifurcated into implantable devices (cochlear implants, deep brain stimulation, spinal cord stimulation, vagus nerve stimulation, sacral nerve stimulation, gastric electric stimulation, and others) and external devices (transcranial magnetic stimulation (TMS), transcutaneous electrical nerve stimulation (TENS), and others). By application, the segmentations are parkinson's disease, pain management, epilepsy, hearing loss, gastroparesis, urinary and fecal incontinence, depression, and others.
Global Neurostimulation devices market share by region, 2024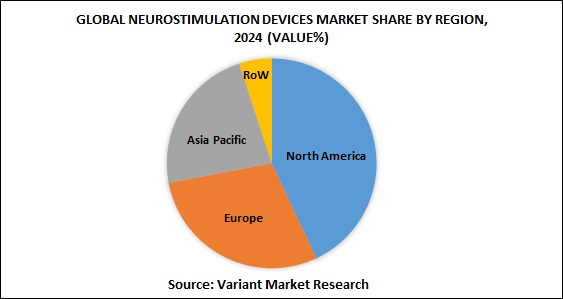 By geography, the market has been bifurcated into North America, Europe, Asia-Pacific, and Rest of the World (RoW). The U.S., Canada, and Mexico are covered under North America wherein Europe covers UK, Germany, France, and others. Asia-Pacific covers China, Japan, India, and others. RoW covers South America, Middle East, and Africa.
The major players in the market include DePuy Synthes Companies, Cyberonics, Inc., Nevro Corporation, St. Jude Medical, Inc., BioControl Medical, Synapse Biomedical, Inc., Neuropace, Inc., Boston Scientific Corporation, NDI Medical, LLC, and NeuroSigma, Inc., among others.
The key takeaways from the report
The report will provide a detailed analysis of Global Neurostimulation Devices Market with respect to major segments such as device type, application, and geography
The report will include the qualitative and quantitative analysis with market estimation over 2015-2024 and compound annual growth rate (CAGR) between 2016 and 2024
Comprehensive analysis of market dynamics including factors and opportunities will be provided in the report
An exhaustive regional analysis of Global Neurostimulation Devices Market from 2015 to 2024 has been included in the report
Profile of the key players in the Global Neurostimulation Devices Market will be provided, which include key financials, product & services, new developments and business strategies
Scope of the Global Neurostimulation Devices Market
Device Type Segments
Implantable Devices

Cochlear Implants
Deep Brain Stimulation
Spinal Cord Stimulation
Vagus Nerve Stimulation
Sacral Nerve Stimulation
Gastric Electric Stimulation
Others
External Devices

Transcranial Magnetic Stimulation (TMS)
Transcutaneous Electrical Nerve Stimulation (TENS)
Others
Application Segments
Parkinson's Disease
Pain Management
Epilepsy
Hearing Loss
Gastroparesis
Urinary and Fecal Incontinence
Depression
Others
Geography Segments
North America
Europe
Asia Pacific
RoW

South America
Middle East
Africa
---
GET MORE INFORMATION ABOUT THIS REPORT
---
Related Report