---
Obesity Surgery Devices Market Overview :
Global Obesity Surgery Devices Market is estimated to reach $3,567 Million by 2024; growing at a CAGR of 9.5% from 2016 to 2024. Obesity is chronic metabolic and genetic disease which involves excess fat deposition in the body. It is mainly caused by reduced physical exercises, increased fatty intake, and genetic inheritance. Obesity surgery treats obesity by removing portion of the stomach or decrease in size of stomach through application of sleeve gastrectomy or gastric bands. According to WHO, in 2014, over 1.9 billion adults globally, were found to be overweight, among which, 600 million were obese. Moreover, 41 million children below the age of 5 were found to be obese. Obesity surgeries has an advantageous effects on many medical conditions such as diabetes, acid reflux, low back pain, sleep apnea, urinary stress incontinence, hypertension, and polycystic ovary syndrome (PCOS).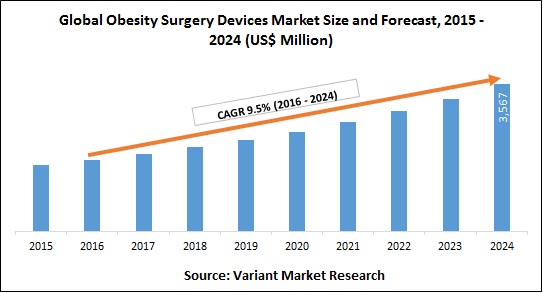 Increase in disposable income, increasing uptake of fast food, global obesity endemic, and increasing prevalence of childhood obesity are the factors propelling the growth of the obesity surgery devices market. Rising awareness among overweight people in developed regions about various ill effects of obesity, and increasing demand for less invasive procedures and obesity treatment might provide with several growth opportunities in the forecasted years. However, selective nature of obesity surgery and high procedural costs may hinder the growth of the market.
The global obesity surgery devices market is segmented as procedure, devices and geography. The market is segmented by procedure as Roux-en-Y gastric bypass, sleeve gastrectomy, adjustable gastric banding, biliopancreatic diversion with as duodenal switch, and others. Furthermore, devices segment is bifurcated as staples, gastric bands, gastric electrical stimulator, intragastric balloon, and others.
Based on geography, global obesity surgery devices market is segmented into North America, Europe, Asia-Pacific, and Rest of the World (RoW). North America is further bifurcated in U.S., Canada, and Mexico whereas Europe segment consist of UK, Russia, Germany, France, Italy, and others. Asia-Pacific is segmented into India, China, Japan, South Korea, and others while RoW is bifurcated into South America, Middle East, and Africa.
The key market players include Allergan Inc., Johnson and Johnson, Cousin Biotech, Mediflex Surgical Products, Aspire Bariatrics, Inc., Spatz FGIA Inc., TransEnterix Inc., Medtronic Inc., EnteroMedics Inc., and IntraPace Inc., among others.
The key takeaways from the report
The report will provide detailed analysis of Obesity Surgery Devices Market with respect to major segments such as procedure, and devices
The report will include the qualitative and quantitative analysis with market estimation over 2015-2024 and compound annual growth rate (CAGR) between 2016 and 2024
Comprehensive analysis of market dynamics including factors and opportunities will be provided in the report
An exhaustive regional analysis of Obesity Surgery Devices Market has been included in the report
Profile of the key players in the Obesity Surgery Devices Market will be provided, which include key financials, product & services, new developments and business strategies
Scope of Obesity Surgery Devices Market
Procedure Segments
Roux-en-Y Gastric Bypass
Sleeve Gastrectomy
Adjustable Gastric Banding
Biliopancreatic Diversion with As Duodenal Switch
Other Procedures
Devices Segments
Staples
Gastric Bands
Gastric Electrical Stimulator
Intragastric Balloon
Other Devices
Geographical Segments
North America
Europe

UK
Russia
Germany
France
Italy
Others

Asia-Pacific

India
China
Japan
South Korea
Others

RoW

South America
Middle East
Africa
---
GET MORE INFORMATION ABOUT THIS REPORT
---
Related Report