---
Physiotherapy Equipment Market Overview :
Global Physiotherapy Equipment Market is estimated to reach $27.6 billion by 2024; growing at a CAGR of 7.1% from 2016 to 2024. Physiotherapy is a popular pain-relieving procedure that uses several equipment and methods to provide relief from pain and strengthens the muscle or bone. It also helps in restoring body functions and movement. It promotes the movement of damaged organs and improves lifespan of the person by means of mechanical force and movement therapy. The treatment of physiotherapy comprises different equipment such as electrotherapy equipment, magnetotherapy equipment, laser therapy equipment, ultrasound machines, and shockwave therapy. These tools and equipment help in the treatment of body pain, post-surgical recovery, or any other type of discomfort.
Global Physiotherapy Equipment Market Size and Forecast, 2015 - 2024 (US$ Billion)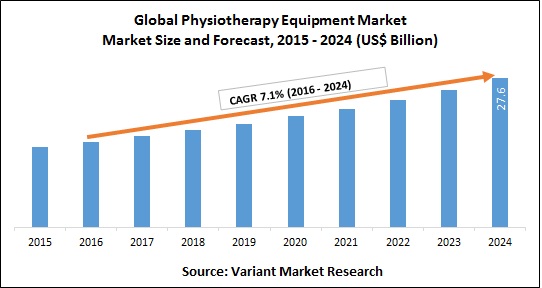 The growing geriatric population base suffering from functional disabilities is one of the major reason that drive the growth of the global physiotherapy equipment market. Moreover, increasing healthcare reforms, novel technological advancements, rising number of the physiotherapy clinics, growing occurrences of cardiovascular and neurological disorders also boost the growth of the market. However, high maintenance charge of the equipment and lack of a skilled professionals may hinder the growth of the market. Furthermore, increasing healthcare awareness in emerging markets and advancements in equipment technology such as, implanted devices, robotic assisted systems, exoskeletons, and interactive video systems would provide new business opportunities for the market.
The global physiotherapy market has been segmented on the basis of product, application, end-user, and geography. By product type, the market is categorized into equipment (hydrotherapy, cryotherapy, continuous passive motion (CPM), electric stimulation, heat therapy, therapeutic exercises, ultrasound and others) and accessories (orthoses and others). Application is sub-segmented into musculoskeletal, neurology, cardiovascular and pulmonary, pediatric and others. Furthermore, end-user is categories into hospitals, clinics and others.
Global Physiotherapy equipment market share by region, 2024 (value%)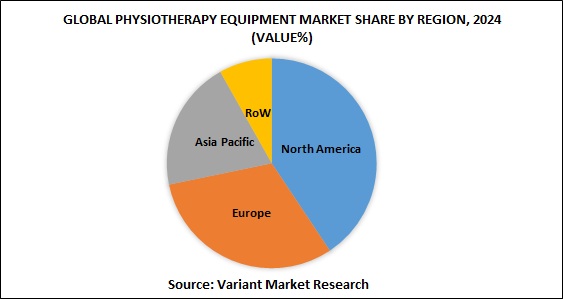 By geography, the global physiotherapy equipment market has been categorized into North America, Europe, Asia-Pacific, and Rest of the World (RoW). The U.S., Canada, and Mexico are covered under North America wherein Europe covers Germany, UK, France, Italy, and others. Asia-Pacific covers India, Japan, China, South Korea, and others. Rest of the World (RoW) covers South America, Middle East and Africa.
Major companies operating in the global physiotherapy equipment market include Enraf-Nonius B.V., Patterson Companies Inc., Whitehall Manufacturing Inc., EMS Physio Ltd., BTL Industries, Inc., Isokinetics, Inc., Algeo Limited, DJO Global, Inc., Dynatronics Corporation, Inc., and HMS Medical System among others.
The key takeaways from the report
The report will provide detailed analysis of Physiotherapy Equipment Market with respect to major segments such as product, application, end-user, and geography
The report will include the qualitative and quantitative analysis with market estimation over 2015-2024 and compound annual growth rate (CAGR) between 2016 and 2024
Comprehensive analysis of market dynamics including factors and opportunities will be provided in the report
An exhaustive regional analysis of Physiotherapy Equipment Market has been included in the report
Profile of the key players of the Physiotherapy Equipment Market will be provided, which include key financials, product & services, new developments and business strategies
Scope of Physiotherapy Equipment Market
Product Segments
Equipment

Hydrotherapy
Cryotherapy
Continuous Passive Motion (CPM)
Electric Stimulation
Heat Therapy
Therapeutic Exercises
Ultrasound
Others
Application Segments
Musculoskeletal
Neurology
Cardiovascular and Pulmonary
Pediatric
Others
End-User Segments
Geography Segments
North America
Europe

Germany
UK
France
Italy
Others

Asia-Pacific

India
Japan
China
South Korea
Others

RoW

South America
Middle East
Africa
---
GET MORE INFORMATION ABOUT THIS REPORT
---
Related Report