---
Preimplantation Genetics Diagnosis (PGD) Market Overview :
Global Preimplantation Genetics Diagnosis (PGD) Market is estimated to reach $140 Million by 2024; growing at a CAGR of 6.2% from 2016 to 2024. Preimplantation genetics diagnosis (PGD) is a technique used for genetic profiling of embryos before implantation to identify genetic defects in embryos or even of oocytes. It enables to identify defects in embryos and aids in selecting health embryos that are further used for implanting in the uterus. It reduces the frequency of unprompted abortion and doubles the chances of delivering genetically healthy baby. This technique can selectively avoid the passing of hereditary disorders that prevails in the family into a newborn baby. Currently, PGD is the only technique available which are used to avoid highly affected embryo before implantation.
Global Preimplantation Genetics Diagnosis (PGD) Market Size and Forecast, 2015 - 2024 (US$ Million)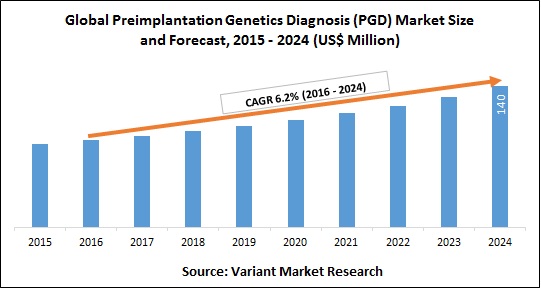 Declining fertility rate globally, development of advanced technologies in the field of genetic analysis, and growing occurrence of genetic disorders are the drivers boosting the growth of the global preimplantation genetics diagnosis market. Moreover, increasing rate in the adoption of IVF, and rising possibility of genetic abnormalities in embryos with progressing maternal age also supports the growth of the market. However, stringent government regulations, and social-economic concerns would severally hamper the adoption among end users. Furthermore, increasing R&D and market expansion would provide future scope for the market in the coming years.
The global preimplantation genetics diagnosis (PGD) is segmented on the basis of test type and geography. Test type is further bifurcated as gender selection, chromosomal abnormalities, single gene disorders, HLA typing, aneuploidy, X-linked diseases, and other types.
Global Preimplantation Genetics Diagnosis (PGD) market share by region, 2024 (value%)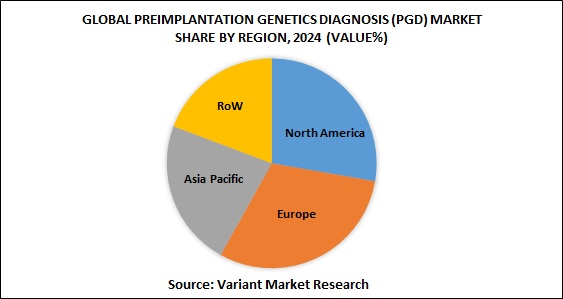 Based on geography, global market is segmented into North America, Europe, Asia Pacific, and Rest of the World (RoW). North America is further bifurcated in U.S., Canada and Mexico whereas Europe consist of UK, Germany, France, and others. Asia-Pacific is segmented into India, China, Japan, and others, while RoW is bifurcated into South America, Middle East and Africa.
The key market players include Abbott Laboratories, Natera, Inc., PerkinElmer, Inc., Illumina, Inc., F. Hoffmann-La Roche AG, Thermo Fisher Scientific, Inc., Agilent Technologies, Inc., PerkinElmer, Inc., Cooper Surgical, Inc., and Beijing Genomics Institute (BGI), among others.
The key takeaways from the report
The report will provide detailed analysis of Preimplantation Genetics Diagnosis (PGD) Market with respect to major segments such as test type, and geography
The report will include the qualitative and quantitative analysis with market estimation over 2015-2024 and compound annual growth rate (CAGR) between 2016 and 2024
Comprehensive analysis of market dynamics including factors and opportunities will be provided in the report
An exhaustive regional analysis of Preimplantation Genetics Diagnosis (PGD) Market has been included in the report
Profile of the key players in the Preimplantation Genetics Diagnosis (PGD) Market will be provided, which include key financials, product & services, new developments and business strategies
Scope of Preimplantation Genetics Diagnosis (PGD) Market
Test Type Segments
Gender Selection
Chromosomal Abnormalities
Single Gene Disorders
HLA Typing
Aneuploidy
X-Linked Diseases
Other Test Types
Geographical Segments
North America
Europe
Asia Pacific
RoW

South America
Middle East
Africa
---
GET MORE INFORMATION ABOUT THIS REPORT
---
Related Report