---
Biological Drugs Market Overview :
Global Biological Drugs Market is estimated to reach $394 billion by 2024; growing at a CAGR of 10.3% from 2016 to 2024. Biological drugs are complex molecules manufactured by using living plant or animal cells or micro-organisms. They include a wide range of products derived from animals, humans or microorganisms by using biotechnology. Unlike other drugs, biologic products must remain constant by quality and purity throughout the process as they are highly sensitive to very minute changes during the process. Hence, it is very essential for the biological drugs to be manufactured in very controlled environment to ensure predictable outcomes. Moreover, biological drugs have aided in altering the treatment of many serious and chronic illnesses to a great extent. They are one of the most advanced therapies available and have the ability to treat cancer, ulcerative colitis, rheumatoid arthritis, and other autoimmune diseases.
Global Biological Drugs Market Size and Forecast, 2015 - 2024 (US$ Billion)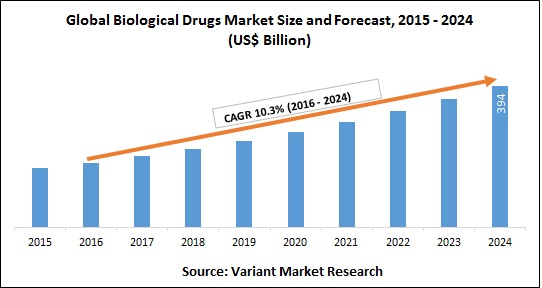 Growing elderly population, increasing prevalence of lifestyle and chronic diseases, and rising investments in various R&D programs are boosting the growth of the global biological drugs market. Moreover, government initiatives supporting the usage of biological drugs also drives the growth of the market. However, high costs of these drugs and possibility of adverse effects may hinder the growth of the market. Furthermore, technological advancements and cost reduction might provide significant scope for the market in future years.
The global biological drugs market is categorized into product type and geography. By product type, the market is segmented into therapeutic protein (Enbrel, Lantus, Neulasta, Avones, Novolog, Rebif, Humalog, Aranesp, Epogen, Levemir, Victoza, Betaseron, Neupogen, Eylea And Others), monoclonal antibody (Humira, Remicade, Rituxan, Avastin, Herceptin, Lucentis, And Others) and vaccine (Prevnar 13, Gardasil, Fluzone, Varivax, Cervarix, And Others).
Global Biological Drugs market share by region, 2024 (value%)

By geography, the market has been bifurcated into North America, Europe, Asia-Pacific, and Rest of the World (RoW). The U.S., Canada, and Mexico are covered under North America wherein Europe covers UK, Germany, France Italy, and others. Asia-Pacific covers China, Japan, India, South Korea, and others. RoW covers South America, Middle East, and Africa.
They key companies operating in this market include Baxter International Inc., Bristol-Myers Squibb Company, Merck & Co., Inc., Amgen Inc., Biogen Inc., GlaxoSmithKline Plc, Novartis AG, Eli Lilly and Co., Pfizer Inc., and Abbott Laboratories, among others.
The key takeaways from the report
The report will provide a detailed analysis of Global Biological Drugs Market with respect to major segments such as product type and geography
The report will include the qualitative and quantitative analysis with market estimation over 2015-2024 and compound annual growth rate (CAGR) between 2016 and 2024
Comprehensive analysis of market dynamics including factors and opportunities will be provided in the report
An exhaustive regional analysis of Global Biological Drugs Market from 2015 to 2024 has been included in the report
Profile of the key players in the Global Biological Drugs Market will be provided, which include key financials, product & services, new developments and business strategies
Scope of the Global Biological Drugs Market
Product Type Segments
Therapeutic Protein

Enbrel
Lantus
Neulasta
Avones
Novolog
Rebif
Humalog
Aranesp
Epogen
Levemir
Victoza
Betaseron
Neupogen
Eylea
Other Therapeutic Proteins
Monoclonal Antibody


Humira
Remicade
Rituxan
Avastin
Herceptin
Lucentis
Other Monoclonal Antibodies
Vaccine


Prevnar 13
Gardasil
Fluzone
Varivax
Cervarix
Other Vaccines
Geography Segments
Europe

UK
Germany
France
Italy
Others
Asia-Pacific

India
China
Japan
South Korea
Others

RoW

South America
Middle East
Africa
---
GET MORE INFORMATION ABOUT THIS REPORT
---
Related Report