---
Biopharmaceuticals Market Overview :
Global Biopharmaceuticals Market is estimated to reach $405 billion by 2024; growing at a CAGR of 9.3% from 2016 to 2024. Biopharmaceuticals are medical drugs produced by the means of biotechnology methods comprising recombinant DNA techniques, purification processes, and hybridoma techniques. A potentially provocative technique of producing biopharmaceuticals involves transgenic organisms, mainly plants and animals, that have been genetically improved to produce drugs. They are proteins in nature including antibodies and nucleic acids (DNA, RNA or antisense oligonucleotides) used for vivo diagnostic purpose and therapeutic.Biopharmaceuticals are used in the treatment of several chronic diseases such as metabolic, neurological, cardiovascular, cancer, and other intermittent diseases for which there remain no available treatments.
Global Biopharmaceuticals Market Size and Forecast, 2015 - 2024 (US$ Billion)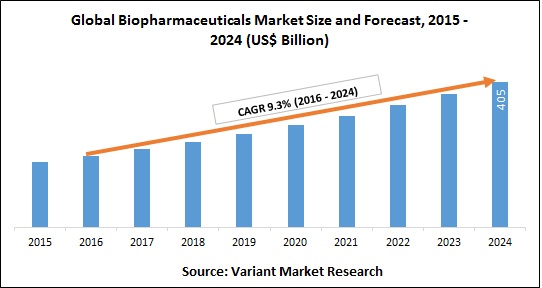 Major factors driving the growth of global biopharmaceuticals market include enhancedefficiency over conventional drug, higher prevalence of diseases such as autoimmune diseases and cancer, and technological advancements. However, factors such as, entry of low-cost biosimilars, high costs of biopharmaceuticals, and risk of adverse effect posed by biopharmaceuticals may hinder the growth of the market. Furthermore, increasing research & development effort for product innovation, increasing government spending on pharmaceutical companies for the development of more effective products to treat life-threating diseases, and rising perveance of herbal medicine would provide the new business opportunities for the market in the coming years.
The global biopharmaceuticals market has been segmented into type, therapeutic application, and geography. By type, it is segmented into monoclonal antibodies, recombinant proteins, granulocyte colony-stimulating factor (G-CSF), interferon, recombinant human insulin, erythropoietin, vaccines, growth hormones, purified proteins, and others. Therapeutic application is further bifurcated into oncology, inflammatory infectious diseases, metabolic disorders, cardiovascular diseases, and others.
Global Biopharmaceuticals market share by region, 2024 (value%)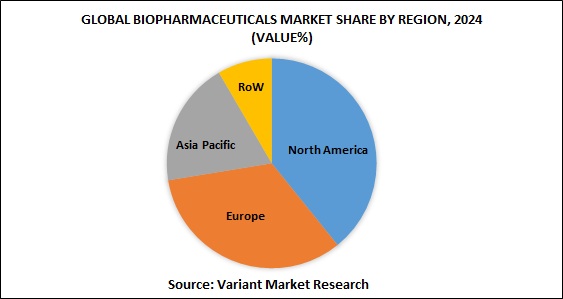 By geography, the biopharmaceuticals market has been categorized into North America, Europe, Asia-Pacific, and Rest of the World (RoW). The U.S., Canada, and Mexico are covered under North America wherein Europe covers Germany, UK, France, Italy, and others. Asia-Pacific covers India, Japan, China, and others. Rest of the World (RoW) covers South America, Middle East, and Africa.
Major companies operating in the global biopharmaceuticals market include Roche Holding AG, Bayer AG, Abbott Laboratories, Biocon Ltd, Eli Lilly and Company, Ranbaxy Laboratories Ltd., Pfizer Inc., Novartis AG, Genentech, Inc., and Johnson & Johnson, Inc, among others.
The key takeaways from the report
The report will provide detailed analysis of Biopharmaceuticals Market with respect to major segments such as type, therapeutic application, and geography
The report will include the qualitative and quantitative analysis with market estimation over 2015-2024 and compound annual growth rate (CAGR) between 2016 and 2024
Comprehensive analysis of market dynamics including factors and opportunities will be provided in the report
An exhaustive regional analysis of Biopharmaceuticals Market has been included in the report
Profile of the key players of the Biopharmaceuticals Market will be provided, which include key financials, product & services, new developments and business strategies
Scope of Biopharmaceuticals Market
Type Segments
Monoclonal Antibodies
Recombinant Proteins
Granulocyte Colony-Stimulating Factor (G-CSF)
Interferon
Recombinant Human Insulin
Erythropoietin
Vaccines
Growth Hormones
Purified Proteins
Other Types
Therapeutic Application segments
Oncology
Inflammatory Infectious Diseases
Metabolic Disorders
Cardiovascular Diseases
Other Therapeutic Applications
Geography Segments
North America
Europe

Germany
UK
France
Italy
Others

Asia-Pacific
RoW

South America
Middle East
Africa
---
GET MORE INFORMATION ABOUT THIS REPORT
---
Related Report