---
Cleanroom Technology Market Overview :
Global Cleanroom Technology Market is estimated to reach $5,171 million by 2024, growing at a CAGR of 5.1% from 2016 to 2024. Cleanroom technology provides safety and hygienic environment to hospitals, scientific research centers, manufacturers, pharmaceutical, among others. Cleanroom technology aides to protect the room from environmental pollutants for instances dust, chemical vapors, aerosol particles, and others. The technology also provide safety environment for innovative production in various field such as, semiconductor, biotechnology, precision machinery, among others. Growing demand for cleanroom technology in the pharmaceutical, biotech, and medical device industry fuels the growth of the market.
Global Cleanroom Technology Market Size and Forecast, 2015 - 2024 (US$ Million)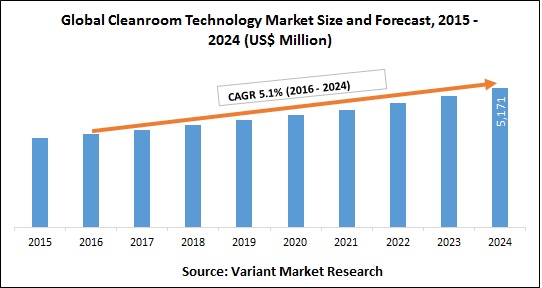 Increasing regulatory framework and rising demand from various sectors such as healthcare and pharmaceutical are the factors supporting the growth of the global cleanroom technology market. Moreover, growing demand for the quality product and increasing awareness of benefits of cleanroom technology are boosting the growth of the market. However, high maintenance and installation cost of cleanroom technology would restrict the growth of the market. Additionally, rising demand for customized cleanroom would provide several growth opportunities for the global cleanroom technology market in the upcoming years.
The global cleanroom technology market has been segmented into type, construction, application, and geography. By type, the segment is bifurcated into equipment (fan filter unites (FFU), HVAC systems, laminar air flow systems and biosafety cabinets, HEPA filters, air diffusers & showers, and others) and consumables (safety consumables (apparel, gloves and others) and cleaning consumables (vacuum systems, wipes, disinfectants and others)). Construction is categorized into standard/drywall cleanrooms, hardwall cleanrooms, softwall cleanrooms and terminal boxes/pass through cabinets. Furthermore, applications is segmented into biotechnology, pharmaceuticals, medical devices, and others.
Global Cleanroom Technology market share by region, 2024 (value%)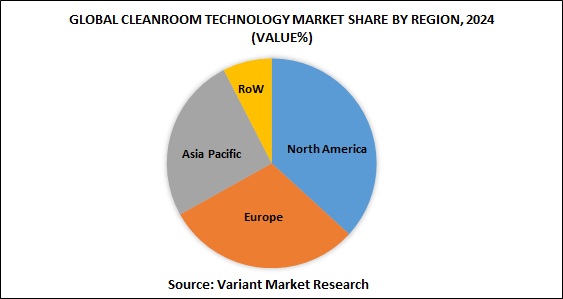 By geography, the market has been bifurcated into North America, Europe, Asia-Pacific and Rest of the World (RoW). The U.S., Canada, Mexico are covered under North America wherein Europe covers U.K., Germany, France, and others. Asia-Pacific covers China, Japan, India, and others. RoW covers South America, Middle East, and Africa.
The key players operating in the global cleanroom technology market are Kimberly-Clark Corporation, Alpiq Group, Taikisha, Ltd., Illinois Tool Works, E.I. du Pont de Nemours and Company, Clean Air Products, Ardmac Ltd., Azbil Corporation, M+ W Group, and Royal Imtech N.V., among others.
The key takeaways from the report
The report will provide a detailed analysis of Global Cleanroom Technology Market with respect to major segments such as type, construction, application, and geography
The report will include the qualitative and quantitative analysis with market estimation over 2015-2024 and compound annual growth rate (CAGR) between 2016 and 2024
Comprehensive analysis of market dynamics including factors and opportunities will be provided in the report
An exhaustive regional analysis of Global Cleanroom Technology Market from 2015 to 2024 has been included in the report
Profile of the key players in the Global Cleanroom Technology Market will be provided, which include key financials, product & services, new developments and business strategies
Scope of the Global Cleanroom Technology Market
Type Segments
Equipment

HVAC Systems
HEPA Filters
Air Diffusers & Showers
Fan Filter Unites (FFU)
Laminar Air Flow Systems and Biosafety Cabinets
Others
Cleaning Consumables


Wipes
Vacuum Systems
Disinfectants
Others
Construction Segments
Hardwall Cleanrooms
Softwall Cleanrooms
Standard/Drywall Cleanrooms
Terminal Boxes/Pass Through Cabinets
Application Segments
Biotechnology
Pharmaceuticals
Medical Devices
Others
Geography Segments
North America
Europe
Asia Pacific
RoW

South America
Middle East
Africa
---
GET MORE INFORMATION ABOUT THIS REPORT
---
Related Report