---
Global Depression Drug Market is estimated to reach $18 billion by 2024; growing at a CAGR of 2.6% from 2016 to 2024. Depression has emerged as one of the most common yet serious mental disorders among people globally. Depression is caused by combination of genetics, biological, environment and psychological factors. According to WHO published in 2016, estimated 350 million people have been affected and depression can lead to suicide. Over 800000 people die due to suicide every year, making it the second leading cause of death in 15-29 year olds. Depression is more common in women than men. Depression drugs works by fixing chemical imbalance, especially, lack of serotonin in the brain. Although effective treatments are available, many individuals with depression do not have access to treatment or do not take treatment, mainly due to lack of knowledge and social stigma.
People moving from rural to urban areas and their suddenly changing lifestyle is one of the major factors driving the growth of depression drug market globally. People move from rural to urban areas and sudden changes take place in their life in terms of job, the standard of living, dressing, and lifestyle among others. They find it difficult to match with the lifestyle of the people living in urban areas which leads to depression among them. These cases are found majorly among women primarily in developing countries. Growing geriatric population and rise in the number of generic drug market are some of the other factors driving the growth of depression drug market.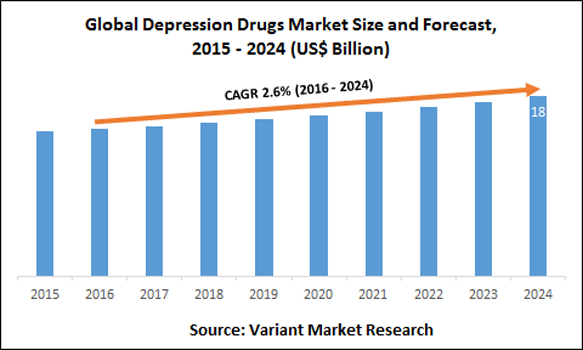 Growing geriatric population, increase in the knowledge regarding depression and rising number of generic drug market are expected to drive the market. Moreover, support from government organizations could also support the growth of the market. However, lack of resources, lack of trained healthcare providers and social stigma could be a barrier for the growth of the market. Research and development and Untapped markets could provide an opportunity for the market in upcoming years.
The market is segmented based on the product type, application and geography. Product type is further segmented into Tricyclice Antidepressants, Serotonin-Norepinephrine Inhibitors, Atypical Antipsychotics, Selective Serotonin Reuptake Inhibitors, Benzodiazepines, Tetracyclic Antidepressants, Monoamine Oxidase Inhibitors and others. Furthermore, application is segmented into clinics and hospitals and research centers. Based on geography, the depression drug market is segmented into North America, Europe, Asia-Pacific and Rest of World. The U.S., Mexico and Canada are covered under North America wherein Europe covers France, Germany, UK, Spain and rest of Europe. Asia-Pacific covers China, India, Japan, South Korea and Rest of Asia Pacific. Rest of the World (RoW) covers South America, Middle East and Africa.
The key takeaways from the report
The report will provide detailed analysis of Depression Drugs Market with respect to major segments such as product type and application
The report will include the qualitative and quantitative analysis with market estimation over 2015-2024 and compound annual growth rate (CAGR) between 2016 and 2024
Comprehensive analysis of market dynamics including factors and opportunities is inluded in the report
An exhaustive regional analysis of Depression Drugs Market will be provided in the report
Profile of the key players in the Depression Drugs Market will be provided, which include key financials, product & services, new developments and business strategies
Scope of Depression Drugs Market
Product Type Segments
Tricyclice Antidepressants
Serotonin-Norepinephrine Inhibitors
Atypical Antipsychotics
Selective Serotonin Reuptake Inhibitors
Benzodiazepines, Tetracyclic Antidepressants
Monoamine Oxidase Inhibitors
Others
Application Segments
Clinics and Hospitals
Research centres
Geographical Segments
North America
Europe

Germany
France
United Kingdom
Spain
Others

Asia-Pacific

China
India
Japan
South Korea
Others

RoW

South America
Middle East
Africa
---
Related Report
Regenerative Medicine Market Global Scenario, Market Size, Outlook, Trend and Forecast, 2015 – 2024


- November 2017

Cold Pain Therapy Market (By Product: OTC-Based Products (Pharmaceuticals And Medical Devices) And Prescription Based Products (Motorized Devices and Non-Motorized Devices); By Application: Musculoskeletal Disorder, Sport Medicine, Post-Operative, Post-Trauma, And Physical Therapy; By Geography: North America, Europe, Asia-Pacific and RoW) Global Scenario, Market Size, Outlook, Trend and Forecast, 2015-2024


- September 2017

Orthopedic Soft Tissue Repair and Sports Medicine Market (By Surgical Procedures: ACL/PCL, Meniscal Repair, Rotator Cuff, Shoulder Labarum, Hip Arthroscopy, Biceps Tenodesis; By Injury Location: Knee, Hip, Shoulder, And Others; By Geography: North America, Europe, Asia-Pacific and RoW) Global Scenario, Market Size, Outlook, Trend and Forecast, 2015-2024


- September 2017

Sleeping Aids Market (By Product Type: Mattresses and Pillows, Sleep Laboratories, Medication, Sleep Apnea Devices; By Sleep Disorder: Insomnia, Sleep Apnea, Restless Legs Syndrome, Narcolepsy, Sleep Walking; By Geography: North America, Europe, Asia-Pacific and RoW) Global Scenario, Market Size, Outlook, Trend and Forecast, 2015-2024


- September 2017

Uveitis Treatment Market (By Type: Anterior Uveitis, Posterior Uveitis, Intermediate Uveitis, And Panuveitis; By Treatment Type: Anti-Inflammatory Medications, Antibiotic/Antiviral Medications, And Immunosuppressive Medications; By Geography: North America, Europe, Asia-Pacific, and RoW) Global Scenario, Market Size, Outlook, Trend and Forecast, 2015-2024


- September 2017