---
Membrane Technology in Pharma, Biopharma, And Life Science Market Overview :
Global Membrane Technology in Pharma, Biopharma, and Life Science Market is estimated to reach $16,375 million by 2024; growing at a CAGR of 9.3% from 2016 to 2024. Membrane technology is a separation process by using specific semi-permeable membrane filters to fractionate or concentrate a liquid converted into two liquids forms. It has transformed from laboratory development to demonstrated industrial applications. Membranes are used extensively for, potable water production, desalination, water reclamation, treating industrial effluents, and reuse. Applications of membrane technology in pharmaceutical, biopharmaceutical and life sciences industries include, drug screening, cell culturing, lab-scale DNA & protein analysis, separation & examination, and virus removal. Nowadays, novel development in membrane technology has provided stimulus growth in membrane industry essentially submerged filtration for treating municipal water.
Global Membrane Technology in Pharma, Biopharma, And Life Sciences Market Size and Forecast, 2015 - 2024 (US$ Million)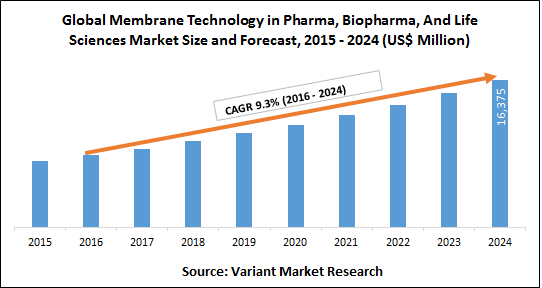 Rising usage of single-use disposables technology, increasing use of membrane filtration, and purification of macromolecular mixture in food as well as drug industries are the major factors driving the growth of the membrane technology market. Moreover, stringent regulation, technological advancements also boosts the growth of the market. However, high capital investments and operational cost may be hindering the growth of the market. Furthermore, growing level of production, increasing financing in R&D activities in the field of pharmaceutical, bioscience, and life science would provide attractive business opportunity in the near future.
The global market is segmented based on the application, technology, and geography. Application segment is bifurcated into pharmaceuticals, biopharmaceuticals, and life sciences. By technology segment, the market is further segmented into ultrafiltration, microfiltration, nanofiltration, chromatography, and others.
Global Membrane Technology in Pharma, Biopharma, And Life Sciences market share by region, 2024 (value%)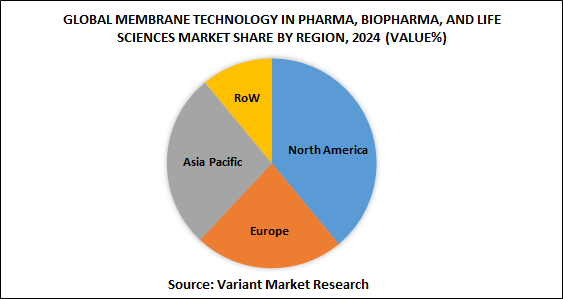 By geography the market is segmented into North America, Europe, Asia-Pacific and Rest of the World (RoW). The U.S., Mexico and Canada are covered under North America wherein Europe covers U.K., Germany, France, Spain, and others. Asia-Pacific covers China, India, Japan, South Korea, and others. Rest of the world (RoW) covers South America, Middle East, and Africa.
Key market players include, GE Healthcare Life Sciences, Pall Corporation, Amazon Filters Ltd., Advantec MFS Inc., Sartorius AG, 3M Company, Novasep, Inc., Merck Millipore, TriSep Corporation, and Koch Membrane Systems Inc., among others.
The key takeaways from the report
The report will provide detailed analysis of Membrane Technology in Pharma, Biopharma, And Life Sciences Market with respect to major segments such as application, technology, and geography
The report will include the qualitative and quantitative analysis with market estimation over 2015-2024 and compound annual growth rate (CAGR) between 2016 and 2024
Comprehensive analysis of market dynamics including factors and opportunities will be provided in the report
An exhaustive regional analysis of Membrane Technology in Pharma, Biopharma, And Life Sciences Market has been included in the report
Profile of the key players of the Membrane Technology in Pharma, Biopharma, And Life Sciences Market will be provided, which include key financials, product & services, new developments, and business strategies
Scope of Global Membrane Technology in Pharma, Biopharma, And Life Sciences
Application Segments
Pharmaceuticals
Biopharmaceuticals
Life Sciences
Technology Segments
Ultrafiltration
Microfiltration
Nanofiltration
Chromatography
Others
Geography Segments
North America
Europe

U.K.
Germany
France
Spain
Others

Asia-Pacific

China
India
Japan
South Korea
Others

RoW

South America
Middle East
Africa
---
GET MORE INFORMATION ABOUT THIS REPORT
---
Related Report