---
Global Agriculture Robots Market is estimated to reach $5 billion by 2024; growing at a CAGR of 23.4% from 2016 to 2024. Robotics and automation are playing a significant role in terms of agriculture production needs. Agriculture robots are meant to perform various tasks those are difficult for humans to succeed. Robots in agriculture can increase yield with reduced resources and attract more people into farming as an exciting high-tech profession. Additionally, heavy chemicals or drugs dispensers, manure or fertilizers spreaders are usually harmful for humans. So robots can have direct contact with these harmful substances under controlled conditions. Moreover, the technology of robots are spreading all over the world, as it provides an opportunity of replacing human operators by providing high yield, effective solutions and return on investments.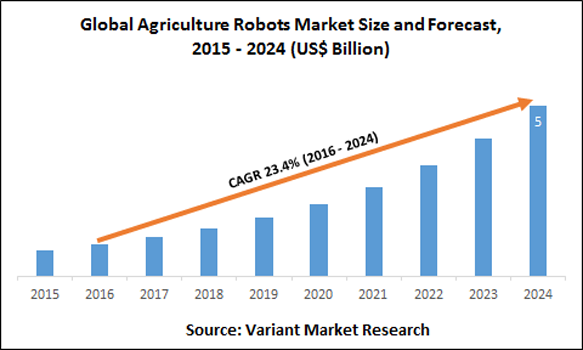 Increasing population coupled with shortage of food globally and high pressure on farmers to produce more grains of better quality in a limited time are fuelling the growth of the agriculture robots market. Moreover, low availability of skilled agriculture labour and high labour cost are also expected to support the growth of the market. However, high cost of robots, lack of technical knowledge and high maintenance cost may hinder the growth of the market. Robots with new applications and untapped markets would provide the growth opportunities of the market.
The agriculture robots market is segmented based on the type, application and geography. By type is further segmented into UAV, driverless tractor, milking robots, machines and others. Furthermore, application is segmented into field farming, dairy management, indoor farming, horticulture and others.
By geography the market is segmented into North America, Europe, Asia-Pacific and rest of the world (RoW). The U.S., Mexico and Canada are covered under North America wherein Europe covers United Kingdom, Germany, Italy, France and others. Asia-Pacific covers China, Japan, India and others. Rest of the world (RoW) covers South America, Middle East and Africa.
The Key market players in agriculture robots are Deere & Company, AGCO Corporation, Harvest Automation, Inc., AutoProbe Technologies LLC, Agribotix LLC., Naio Technology, GEA Group, KC Drone Co., MafRodaAgrobotics and BouMatic Robotics BV, among others.
The key takeaways from the report
The report will provide detailed analysis of Agriculture Robots Market with respect to major segments such as type and application
The report will include the qualitative and quantitative analysis with market estimation over 2015-2024 and compound annual growth rate (CAGR) between 2016 and 2024
Comprehensive analysis of market dynamics including factors and opportunities is included in the report
An exhaustive regional analysis of Agriculture Robots Market will be provided in the report
Profile of the key players in the Agriculture Robots Market will be provided, which include key financials, product & services, new developments and business strategies
Scope of Agriculture Robots Market
Type Segments
Driverless Tractor
Milking Robots
UAV
Machines
Others
Application Segments
Dairy Management
Indoor Farming
Field Farming
Horticulture
Others
Geographical Segments
North America
Europe

Germany
France
United Kingdom
Italy
Others

Asia-Pacific
RoW

South America
Middle East
Africa
---
Related Report
Photonics IC (PIC) Market Global Scenario, Market Size, Outlook, Trend and Forecast, 2015 – 2024


- December 2017

Wafer Level Packaging Market Global Scenario, Market Size, Outlook, Trend and Forecast, 2015 – 2024


- December 2017

Graphene Electronics Market Global Scenario, Market Size, Outlook, Trend and Forecast, 2015 – 2024


- December 2017

Explosive Ordnance Disposable (EOD) Equipment Market Global Scenario, Market Size, Outlook, Trend and Forecast, 2015 – 2024


- December 2017

Nanosensors Market Global Scenario, Market Size, Outlook, Trend and Forecast, 2015 – 2024


- December 2017