---
Global Collaborative Robots Market is expected to reach $1.3 Billion by 2024 from $0.1 Billion in 2016, growing at a CAGR of 33.2% from 2016 to 2024.Collaborative robots are designed to assist humans or work along with humans. These robots are made by combination of precision and speed of machine and flexibility of humans. Automotive and electronics sectors are the two which could greatly benefit from collaborative robots. These robots are affordable and easily trained and can perform short runs, repetitive and boring jobs. At hospitals and healthcare centers, use of such collaborative robots could increase the quality of patient care, reduce waste and save hospital costs. For instance, two Belgian hospitals are deploying humanoid robots at their reception desk to welcome patients and visitors. Collaborative robots are now used to helping humans at various places such as offices, labs, homes, warehouse, and farms among others.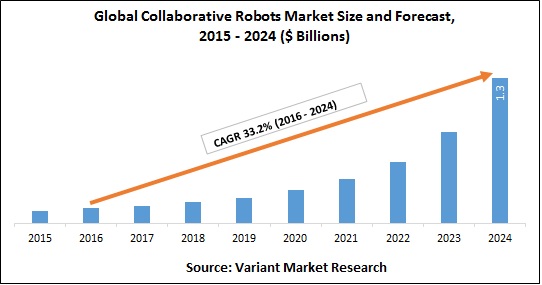 Technological advancements and adoption of robots in various sectors could fuel the growth of the market. Moreover, increasing use of robots in automotive, plastic industry and electronic assembly coupled with rising labor cost and lack of skilled labors could support the growth of the market. However, economic slowdown in major countries and slow rate of cycle time in making new addition of new functionalities could limit the growth of the market. Furthermore, opportunities from non-industrial sector could provide growth in the upcoming years.
The market is segmented based on the payload, application, industry and geography. By payload, it is further segmented into up to 5kg, 6-10kg and above 10kg. Furthermore, applications are segmented into packaging, assembly, handling, quality testing, machine tending, welding and others. Industry can be segmented into automotive, plastic & polymers, food & beverage, aerospace, metal & machining and others.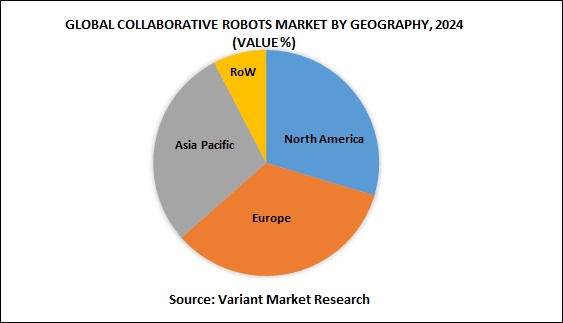 By geography, the market is segmented into North America, Europe, Asia-Pacific and Rest of the World (RoW). The U.S., Canada and rest of North America are covered under North America wherein Europe covers U.K., Germany, France, Italy and Rest of Europe. Asia-Pacific covers India, China, Japan and Rest of Asia Pacific. Rest of the World (RoW) covers South America, Middle East and Africa.
Key players in the market include Robert Bosch GmbH, Kawasaki Heavy Industries, Ltd., Energid Technologies Corporation, ABB Ltd., Universal Robots A/S, F&P Robotics AG., KUKA AG, Rethink Robotics, Precise Automation Inc., and FANUC Corporation
The key takeaways from the report
The report will provide detailed analysis of Collaborative Robots with respect to major segments such as payload, application, industry type and geography of the market.
The report will include the qualitative and quantitative analysis with market estimation over 2015-2024 and compound annual growth rate (CAGR) between 2016 and 2024.
Comprehensive analysis of market dynamics including factors and opportunities.
An exhaustive regional analysis of Collaborative Robots market.
Profile of key players of the Collaborative Robots, which include key financials, product & services and new developments.
Scope of Collaborative Robots Market
Payload Segments
up to 5kg
6-10kg
above 10kg
Application Segments
Packaging
Assembly
Handling
Quality Testing
Machine Tending
Welding
Others
Industry Segments
Automotive
Plastic & Polymers
Food & Beverage
Aerospace
Metal & Machining
Others
Geography Segments
North America

US
Canada
Rest of North America

Europe

U.K.
Germany
France
Italy
Others

Asia-Pacific
RoW
---
Related Report
Photonics IC (PIC) Market Global Scenario, Market Size, Outlook, Trend and Forecast, 2015 – 2024


- December 2017

Wafer Level Packaging Market Global Scenario, Market Size, Outlook, Trend and Forecast, 2015 – 2024


- December 2017

Graphene Electronics Market Global Scenario, Market Size, Outlook, Trend and Forecast, 2015 – 2024


- December 2017

Explosive Ordnance Disposable (EOD) Equipment Market Global Scenario, Market Size, Outlook, Trend and Forecast, 2015 – 2024


- December 2017

Nanosensors Market Global Scenario, Market Size, Outlook, Trend and Forecast, 2015 – 2024


- December 2017