---
Digital Pen Market Overview :
Global Digital Pen Market is estimated to reach $4,260 million by 2024; growing at a CAGR of 17.8% from 2016 to 2024. A digital pen also called as smart pen or electric pen, is used to transmit writings into digital media. It is an input device and aids in human computer interaction in a great way. It aids in digitalizing, storing and transferring of written data into computers. A digital pen usually comes with USB which lets the notes to be uploaded to a computer. They are capable of storing up to 50 pages of A4 size texts. Most of the digital pens have handwriting recognition software that helps the user to convert the handwritten notes into typed text. Moreover, some of the advanced high-end digital pens are wireless, which uses Bluetooth technology to transfer the data into computers.
Global Digital Pen Market Size and Forecast, 2015 - 2024 (US$ Million)

Technological advancements, availability of pens with advanced features, increased use of these pens in arts and designing, and adoption of digital learning are the major factors driving the growth of the global digital pen market. However, high cost of these pens may hamper the adoption among end users. Furthermore, market expansion and advanced technologies with improved feature might provide several market scopes for the future.
The global digital pen market is categorized into platform, technology, application, and geography. Platform is bifurcated into android, windows, and IOS. Technology is segmented into camera, accelerometer, active, position, trackball, and others. Furthermore, application is bifurcated into communication, education, clinical documentation, billing and back office, and others.
Global Digital Pen Market share by region, 2024 (value%)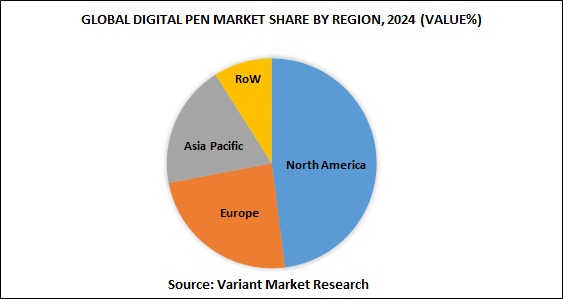 By geography, the market has been bifurcated into North America, Europe, Asia-Pacific, and Rest of the World (RoW). The U.S., Canada, and Mexico are covered under North America wherein Europe covers UK, Germany, France, Italy, and others. Asia-Pacific covers China, Japan, India, South Korea, and others. RoW covers South America, Middle East, and Africa.
Key players in the market include Toshiba Corporation, E-pens Ltd., Apple Inc., Canon Inc., Wacom Co. Ltd., Hewlett-Packard Company, Logitech International S.A., Hanvon Technology Co.Ltd., Moleskine S.p.A, and Anoto Group AB, among others.
The key takeaways from the report
The report will provide a detailed analysis of Global Digital Pen Market with respect to major segments such as platform, technology, and application
The report will include the qualitative and quantitative analysis with market estimation over 2015-2024 and compound annual growth rate (CAGR) between 2016 and 2024
Comprehensive analysis of market dynamics including factors and opportunities will be provided in the report
An exhaustive regional analysis of Global Digital Pen Market from 2015 to 2024 has been included in the report
Profile of the key players in the Global Digital Pen Market will be provided, which include key financials, product & services, new developments and business strategies
Scope of the Global Digital Pen Market
Platform Segments
Technology Segments
Camera
Accelerometer
Active
Position
Trackball
Other Technologies
Application Segments
Communication
Education
Clinical Documentation
Billing and Back Office
Other Applications
Geography Segments
Europe

UK
Germany
France
Italy
Others
Asia-Pacific

China
Japan
India
South Korea
Others

RoW

South America
Middle East
Africa
---
GET MORE INFORMATION ABOUT THIS REPORT
---
Related Report