---
Lithium-Ion Battery Market Overview :
Global Lithium-Ion Battery Market is estimated to reach $56 billion by 2024; growing at a CAGR of 10.6% from 2016 to 2024. Lithium-Ion batteries are primary batteries in which lithium compound acts as an Anode. A lithium cell can produce voltage from 1.5 V to about 3 V based on the types of materials used. These batteries have a potential to achieve very high energy and power densities in high-density battery applications such as automotive and standby power. Lithium-ion batteries are now widely implemented as the power or energy source for everything from portable electronics to electric vehicles. Increasing adoption of smartphones, tablets, and digital cameras among individuals has led to an improved demand for lithium-ion batteries.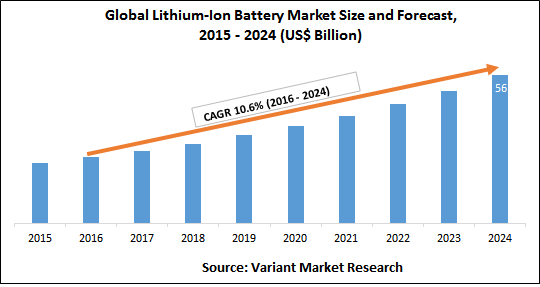 Rise in demand for electronic devices such as smartphones and tablets, and strict government regulations to reduce pollution level are the major factors driving the global lithium-ion battery market. Moreover, increasing demand for electric vehicles has also supplemented the growth of lithium-Ion batteries. However, high cost and risk of fire in electronic devices may hinder the market growth in the coming years. Growth in automobile industry would increase the demand for lithium-Ion batteries, to be used in electric vehicles.
The global lithium-ion battery market has been segmented on the basis of material type, industry vertical, and geography. By material type, the market is further segmented into cathode, electrolytic solution, anode, and others. By industry vertical, the market is bifurcated into electronics, automotive, industrial, and others.
Based on geography, the global lithium-ion battery market has been segmented into North America, Europe, Asia-Pacific and Rest of the World (RoW). The U.S., Mexico and Canada are covered under North America wherein Europe covers UK, France, Germany, and others. Asia-Pacific covers China, India, Japan, and others. RoW covers South America, Middle East and Africa.
Major companies operating in the lithium-Ion battery market are Samsung SDI Co. Ltd., LG Chem Power (LGCPI), LITEC Co., Ltd., A123 Systems, LLC., Automotive Energy Supply Corporation, Panasonic Corporation, Toshiba Corporation, Hitachi Chemical Co., Ltd., China BAK Battery Co. Ltd., and GS Yuasa International Ltd., among others.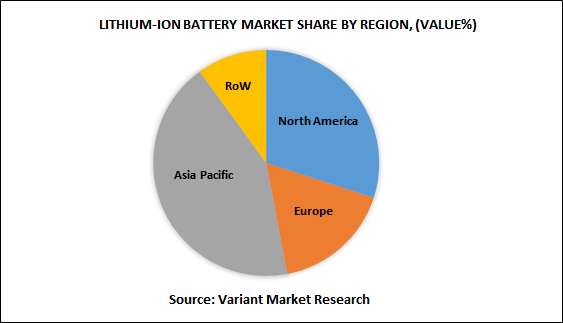 The key takeaways from the report
The report will provide detailed analysis of Lithium-Ion Battery Market with respect to major segments such as material type, and industry vertical
The report will include the qualitative and quantitative analysis with market estimation over 2015-2024 and compound annual growth rate (CAGR) between 2016 and 2024
Comprehensive analysis of market dynamics including factors and opportunities will be provided in the report
An exhaustive regional analysis of Lithium-Ion Battery Market has been included in the report
Profile of the key players in the Lithium-Ion Battery Market, will be provided, which include key financials, product & services, new developments and business strategies
Scope of Lithium-Ion Battery Market
Material Type Segments
Cathode
Electrolytic solution
Anode
Others
Industry Vertical Segments
Electronics
Automotive
Industrial
Others
Geographical Segments
North America
Europe
Asia-Pacific
RoW

South America
Middle East
Africa
---
GET MORE INFORMATION ABOUT THIS REPORT
---
Related Report