---
Magneto Resistive RAM (MRAM) Market Overview :
Global Magneto Resistive RAM (MRAM) Market is estimated to reach $807 million by 2024 with CAGR of 40.9% between 2016 and 2024. Combination of magnetic and electronics have led to the development of spintronics, that has created MRAM memory with characteristics of non-volatile, high density, radiation hardness, high endurance and high speed operations. Magneto Resistive RAM (MRAM) is a non-volatile RAM memory technology that uses magnetic properties to store data. MRAM retains data even if the power goes off and requires only a small amount of electricity to store data. By replacing DRAM with MRAM, would prevent data loss and enable computers instantly, without software to boot up. MRAMs have applications in industrial automation, gaming, communication, and transportation, among others.
Global Magneto Resistive RAM (MRAM) Market Size and Forecast, 2015 - 2024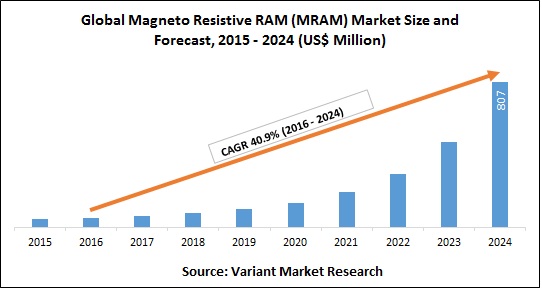 Increasing demand for flexible and wearable electronics from emerging economies are the key factors supporting the growth of the MRAM market. Moreover, characteristics such as high endurance, high reading and writing capacity, high speed and less electricity consumption of MRAM drives the demand in the market. However, high cost associated to manufacturing of these devices may hinder the growth of the market. Furthermore, aerospace, military, cellular stations, smartcards would provide opportunity in the upcoming years.
The MRAM market is segmented based on the product, application and geography. By product, it is further segmented into toggle magneto resistive RAM and second-generation magneto resistive RAM (STT MRAM). Application can be segmented into automotive, enterprise storage, consumer electronics, robotics, aerospace & defense and others.
Global Magneto Resistive RAM (MRAM) market share by region, 2024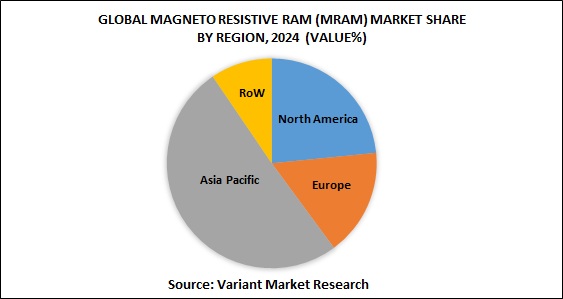 By geography the MRAM market is segmented into North America, Europe, Asia-Pacific and Rest of the World (RoW). The U.S., Canada and Mexico are covered under North America wherein Europe covers U.K., Germany, France, Italy and others. Asia-Pacific covers China, Japan, India and others. Rest of the World (RoW) covers South America, Middle East and Africa
Key players of MRAM market include Nippon Electric Company Ltd., Avalanche Technologies, Everspin Technologies Inc., NVE Corporation, Honeywell International Inv., Toshiba, Intel Corp., Samsung Electronics Co. Ltd., Hewlett-Packard Enterprise, Infineon Technologies, and NXP Semiconductors, and among others.
The key takeaways from the report
The report will provide detailed analysis of Magneto Resistive RAM (MRAM) Market with respect to major segments such as product and application
The report will include the qualitative and quantitative analysis with market estimation over 2015-2024 and compound annual growth rate (CAGR) between 2016 and 2024
Comprehensive analysis of market dynamics including factors and opportunities will be included in the report
An exhaustive regional analysis of Magneto Resistive RAM (MRAM) market will be provided in the report
Profile of the key players of the Magneto Resistive RAM (MRAM) market, will be provided, which include key financials, product & services, new developments, and business strategies
Scope of Magneto Resistive RAM (MRAM) Market
Product Segments
Toggle Magneto Resistive RAM
Second-Generation Magneto Resistive RAM (STT MRAM)
Application Segments
Automotive
Enterprise Storage
Consumer Electronics
Robotics
Aerospace & Defense
Others
Geography Segments
North America
Europe

United Kingdom
Germany
France
Italy
Others

Asia-Pacific
RoW

South America
Middle East
Africa
---
GET MORE INFORMATION ABOUT THIS REPORT
---
Related Report