---
Photomask Market Overview :
Global Photomask Market is estimated to reach $3,841.9 Million by 2025; growing at a CAGR of 2.4% from 2017 to 2025. Photomask is a metal covered glass substrate with transparent openings. The metal works as an absorption layer for light at different wavelengths. It is tool used for productions of components including electronic devices (semiconductors), displays, PCB, and MEMS. It is a master copy for the patterning. Photomasks are used for prototyping in all kind of fields of research and for high end production of semiconductor devices and electronic components. Photomask based UV lithography is still the workhorse for micro-fabrication. The process of developing photomask has become more complex as a new generation of ICs have nearby 25-60 layers. ICs are being used on a big scale in electronic devices such as smartphones and other consumer devices.
Increasing demand of semiconductor and IC manufacturing and development of chips with high circuit densities are the factors driving the growth of the photomask market. However, thermal expansion effects on photomask may hinder the growth of the market. Moreover, innovation in processor technology by companies might provide with several growth opportunities in the forecasted year.
The global photomask market is segmented on the basis of type, technology, trade and geography. The type market is segmented by reticles and masters. Moreover, trade segment consists of captive and merchant. Further, the market is segmented by technology e-beam, emulsion and laser.
Based on geography, global photomask market is segmented into North America, Europe, Asia-Pacific, and Rest of the World (RoW). North America is further bifurcated into U.S., Canada, and Mexico whereas Europe segment consist of UK, Russia, Germany, France, Italy, and Rest of Europe. Asia-Pacific is segmented into India, China, Japan, South Korea, and Rest of Asia-Pacific while RoW is bifurcated into South America, Middle East, and Africa.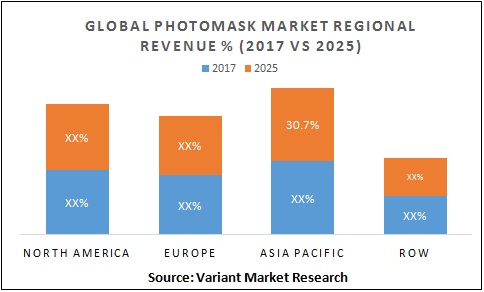 The key market players include KLA-Tencor Corporation, Photronics, Inc., Lasertec Corporation, LG INNOTEK, Applied Materials, Inc., NIPPON FILCON CO., LTD., TOPPAN PRINTING CO., LTD., HOYA Corporation, SK-Electronics Co., Ltd., among others.
The key takeaways from the report
The report will provide detailed analysis of Global Photomask Market with respect to major segments such as type, technology, trade and geography.
The report will include the qualitative and quantitative analysis with market estimation over 2016 – 2025 and compound annual growth rate (CAGR) between 2017 and 2025
Comprehensive analysis of market dynamics including factors and opportunities will be provided in the report
An exhaustive regional analysis of Global Photomask Market has been included in the report
Profile of the key players in the Global Photomask Market will be provided, which include key financials, product & services, new developments and business strategies
Scope of the Global Photomask Market
Type Segments
Trade Segments
Technology Segments
Geographical Segments
North America
Europe

UK
Spain
Germany
France
Italy
Rest of Europe

Asia-Pacific

India
China
Japan
Rest of Asia-Pacific

RoW

South America
Middle East
Africa
---
GET MORE INFORMATION ABOUT THIS REPORT
---
Related Report