---
Power Electronics Market Overview :
Global Power Electronics Market is estimated to reach $27 billion by 2024; growing at a CAGR of 8.6% from 2016 to 2024. Power electronics is a device that transfers power from a source to a load in an efficient and robust manner to ensure convenient utilization. It is majorly used to control the transformation of electric power from one form to another using diodes, thyristors and transistors. Electric vehicles and renewable energy plant systems pose a huge demand for power electronics to improve switching speed and avoid power loss. Power electronics are also used in various consumer electronic applications such as air refrigerator, conditioners, and inverters. Increasing demand for electric vehicles and aggrandized need for high voltage operating devices have led to an improved demand for power electronics across various industries such as energy & power, automotive, and consumer electronics.
Rise in adoption of power electronics in electric vehicles, and aggrandized need for power management devices are the major factors driving the global power electronics market. Moreover, enhanced efficiency and improved durability of power electronics is also boosting the market growth. However, current leakage at high temperature would act as a restraint for the market. Government initiatives in smart grid and HVDC are expected to generate several growth opportunities for the market in the upcoming years.
The global power electronics market has been segmented on the basis of type, device, application, and geography. By type, the market is further segmented into power module, power IC, and power discrete. By device type, the market is categorized into power diodes, bipolar-junction transistor, thyristor, insulated-gate bipolar transistor, and metal-oxide-semiconductor field-effect transistor. By application, the market is segregated into industrial system, energy & power, inverter & UPS, consumer electronics, and others.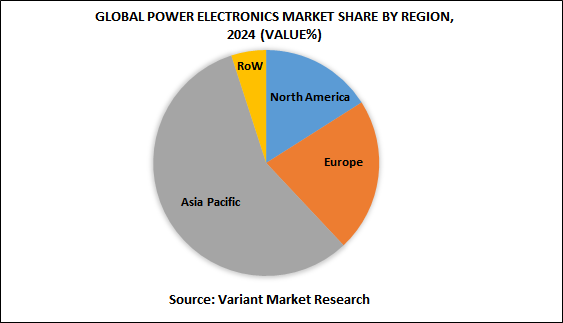 Based on geography, the global power electronics market has been segmented into North America, Europe, Asia-Pacific and (RoW). The U.S., Mexico and Canada are covered under North America wherein Europe covers UK, France, Germany, Italy, and others. Asia-Pacific covers China, India, Japan, South Korea, and others. Rest of the World (RoW) covers South America, Middle East and Africa.
Major companies operating in the power electronics market are Mitsubishi Electric Corp., ABB Group, Toshiba Corporation, Infineon Technologies AG, Fuji Electric Co. Ltd., Rockwell Automation, Inc., STMicroelectronics, Microsemi Corporation, Texas Instruments, Inc., and Renesas Electronics Corporation, among others.
The key takeaways from the report
The report will provide detailed analysis of the Power Electronics Market with respect to major segments such as type, device, and application
The report will include the qualitative and quantitative analysis with market estimation over 2015-2024 and compound annual growth rate (CAGR) between 2016 and 2024
Comprehensive analysis of market dynamics including factors and opportunities of the Power Electronics Market
An exhaustive regional analysis of the Power Electronics Market from 2015 to 2024 has been included in the report
Profile of the key players in the Power Electronics Market, will be provided, which include key financials, product & services, new developments and business strategies
Scope of Power Electronics Market
Type Segments
Power Module
Power IC
Power Discrete
Device Segments
Power Diodes
Bipolar-Junction Transistor
Thyristor
Insulated-Gate Bipolar Transistor
Metal-Oxide-Semiconductor Field-Effect Transistor
Application Segments
Industrial System
Energy & Power
Inverter & UPS
Consumer Electronics
Others
Geographical Segments
North America
Europe
Asia-Pacific

India
China
Japan
South Korea
Others

RoW

South America
Middle East
Africa
---
GET MORE INFORMATION ABOUT THIS REPORT
---
Related Report