---
Global Automotive Head-up Display Market is estimated to reach $2,786 million by 2024; growing at a CAGR of 23.1% between 2016 and 2024. Automotive head-up display (HUD) is any transparent display that shows data without need of drivers or users to look away from their usual frame. There can by two types of HUDs in automobiles, a windshield, where a projected image on it will reflect to the user and a combiner, which can be separated and retracted from the windshield. HUDs have been widely used in aviation sector but now it's been also used in automotive sectors such as sports, luxury and premium cars, to enhance the security need and safety & comfort. The HUDs will also be introduced in SUVs and mid-size cars in upcoming years. HUDs will feature not only the speed and warning signals, but also display the navigation information or advanced driver assistance system (ADAS) data, allowing the user to access the critical points while focusing on their drive.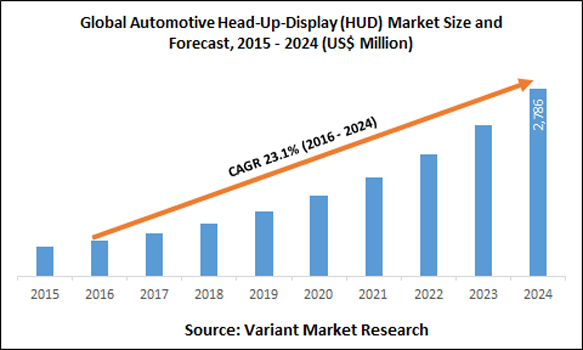 Rising knowledge about the HUD devices, increasing disposable income globally and high demand for mid-sized cars & luxury cars are expected to fuel the growth of the market. Moreover, new product innovations and mergers & acquisitions along with entry of new players are also expected to boast the market. However, high cost in R&D and downsizing of technology may hinder the growth of market. Furthermore, voice controlled HUDs and untapped markets would provide an opportunity for the growth of the HUD market.
The automotive head-up display market is segmented based on the product type, application and geography. Product type is further segmented into Windshield HUD and Combiner HUD. Furthermore, application is segmented into premium cars, sports cars, luxury cars and others (low priced cars and other automobiles).
By geography the automotive head-up display market is segmented into North America, Europe, Asia-Pacific and RoW. The U.S., Mexico and Canada are covered under North America wherein Europe covers France, Germany, United Kingdom, Spain and others. Asia-Pacific covers China, India, Japan, South Korea and others. Rest of the world (RoW) covers South America, Middle East and Africa.
The key players of the market are Panasonic Corporation, Nippon Seiki, Delphi Automotive, Continental AG, Denso Corporation, Microvision Inc., Yazaki Corporation, Visteon Corporation, Pioneer Corporation and BMW AG, among others.
The key takeaways from the report
The report will provide detailed analysis of Automotive Head-up Display Market with respect to major segments such as product type and application
The report will include the qualitative and quantitative analysis with market estimation over 2015-2024 and compound annual growth rate (CAGR) between 2016 and 2024
Comprehensive analysis of market dynamics including factors and opportunities is included in the report
An exhaustive regional analysis of Automotive Head-up Display Market will be provided in the report
Profile of key players of the Automotive Head-up Display Market will be provided, which include key financials, product & services, new developments and business strategies
Scope of Automotive Head-Up-Display Market
Product Type Segments
Windshield HUD
Combiner HUD
Application Segments
Premium Cars
Sports Cars
Luxury Cars
Others (low priced cars and other automobiles)
Geographical Segments
North America
Europe

Germany
France
United Kingdom
Spain
Others

Asia-Pacific

China
India
Japan
South Korea
Others

RoW

South America
Middle East
Africa
---
Related Report
Automotive MEMS Sensors Market Global Scenario, Market Size, Outlook, Trend And Forecast, 2015 – 2024


- December 2017

Automotive Lightweight Materials Market Global Scenario, Market Size, Outlook, Trend and Forecast, 2015 – 2024


- December 2017

Motorcycle HUD Market Global Scenario, Market Size, Outlook, Trend and Forecast, 2015 – 2024


- December 2017

ADAS Market Global Scenario, Market Size, Outlook, Trend and Forecast, 2015 – 2024


- December 2017

Automotive Adhesive and Sealants Market (By Application: BIW, UTH and Power Train, Paint Shop, Assembly; By Type: Epoxy, Acrylics, Polyurethanes, Rubber, PVC, Silicones, Hot Melts; By Geography: North America, Europe, Asia-Pacific and RoW) Global Scenario, Market Size, Outlook, Trend and Forecast, 2015 – 2024


- October 2017