---
Marine Propulsion Engine Market Overview :
Global Marine Propulsion Engine Market is estimated to reach $15 billion by 2024; growing at a CAGR of 4.6% between 2016 and 2024. Marine propulsion is a system that creates thrust and enables ships to maneuver themselves in water. Several innovations have led to the development of advanced mode of propulsion engine that would ensure safety of the marine ecosystem coupled with cost efficiency. Various types of propulsion engines are used in ships, among which diesel propulsion is most commonly used, converting thermal forces into mechanical energy. Introduction of liquefied natural gas (LNG) fuel engine in ships have also gained popularity in recent times due to their low emission and cost advantages. Over the years, numerous norms have directed the shipping industry to reduce the emission of greenhouse gases, contamination of marine water and others. For instance, The International Convention for the Prevention of Population from Ships (MARPOL) aims to regulate by preventing both accidental as well as pollution from routine operations such as contamination by chemical spill, oils, garbage and sewage, among others.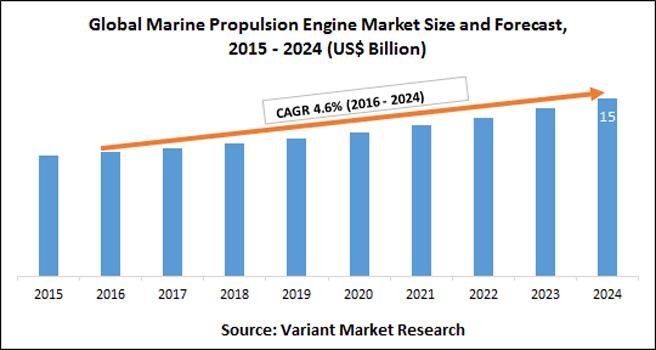 Increasing investments & rapid innovations along with rising international trade between various countries fuel the growth of the global marine propulsion engine market. Moreover, rising focus on renewable energy sources owing to the depletion of conventional reserves and ever-increasing demand for crude oil also support the growth of the market. However, stringent rules & regulations over the alarmingly rising greenhouse gas & marine contamination, and high investment cost are expected to pose challenge for the market. Furthermore, rising emphasis on the use of renewable energy resources, biofuel & synthetic fuel and increasing spending on defense sector to strengthen their coastline security would provide growth opportunities is the coming years.
The global marine propulsion engine market is categorized on the basis of power source, ship type and geography. By power source, the market is segmented into steam turbine, gas turbines, natural gas, diesel, and others. Furthermore, by ship type, it is segmented into cargo ship, tanker, bulk carrier, offshore vessels, passenger ships and others.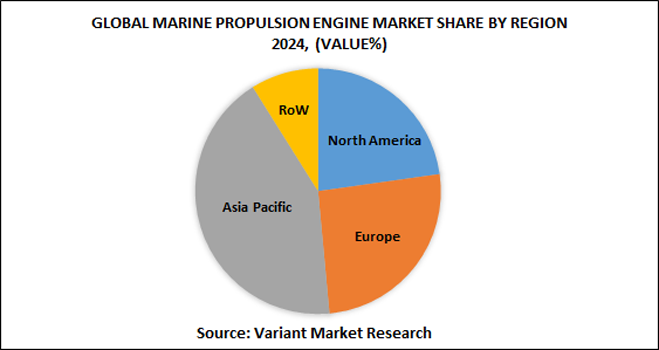 By geography, the marine propulsion engine market is segmented into North America, Europe, Asia-Pacific and Rest of the World (RoW). The U.S., Canada and Mexico are covered under North America wherein Europe covers Germany, UK, Italy, Norway and others. Asia-Pacific covers China, Japan, South Korea and others. RoW covers South America, Middle East and Africa.
The key players in the market include Caterpillar, Cummins, Inc., Rolls-Royce plc., Wartsila, MAN Diesel & Turbo, Hyundai Heavy Industries Co. Ltd., Mitsubishi Heavy Industries, Ltd., Scania, Yanmar Co. Ltd., and Daihatsu Diesel Mfg. Co. Ltd., among others.
The key takeaways from the report
The report will provide detailed analysis of Marine Propulsion Engine Market with respect to major segments such as power source and ship type
The report will include the qualitative and quantitative analysis with market estimation over 2015-2024 and compound annual growth rate (CAGR) between 2016 and 2024
Comprehensive analysis of market dynamics including factors and opportunities will be provided in the report
An exhaustive regional analysis of Marine Propulsion Engine Market has been included in the report
Profile of the key players in the Marine Propulsion Engine Market will be provided, which include key financials, product & services, new developments, and business strategies
Scope of Marine Propulsion Engine Market
Power Source Segments
Gas Turbine
Steam Turbine
Diesel
Natural Gas
Others
Ship Type Segments
Passenger Ships
Cargo Ship
Bulk Carrier
Tanker
Offshore Vessels
Others
Geography Segments
North America
Europe

Germany
UK
Italy
Norway
Others

Asia-Pacific

China
Japan
South Korea
Others

RoW

South America
Middle East
Africa
---
GET MORE INFORMATION ABOUT THIS REPORT
---
Related Report