---
The Global Usage-Based Insurance Market is estimated to reach $252.8 Billion by 2024; growing at a CAGR of 38.1% from 2016 to 2024. Usage-based insurance (UBI) is a form of vehicle insurance, where the premiums are based on the type of road, distance covered, and driving behavior of consumers. It is also called telematics-based insurance and can either be Pay as You Drive, Pay How You Drive, or Manage How You Drive insurance, depending upon the comfort and preference of consumers. Accurate and timely data collection and lower fuel consumption are the major benefits of telematics based insurance which would show an increased market trend in the coming years, allowing the market competitors improve their position.
Global Usage-Based Insurance Market Size and Forecast, 2015 – 2024 (US$ Billion)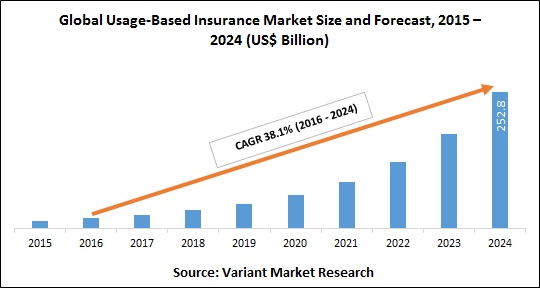 The factors that drives the growth of global usage-based insurance market are lower accident and vehicle theft possibilities, enhanced customer loyalty, and reduced claims costs. Also, detection of stolen vehicles through telematics device installed in the vehicle and personalized revenue generating value added services within insurance plans to serve consumer interests more effectively also supplements the market growth. However, high telematics installation cost and privacy concerns may restrain the market in the coming years. Moreover, technological advancement to make the process easier with reduced service rate is expected to pose new growth opportunities for the market in the future years.
Global Usage-Based Insurance Market, by Type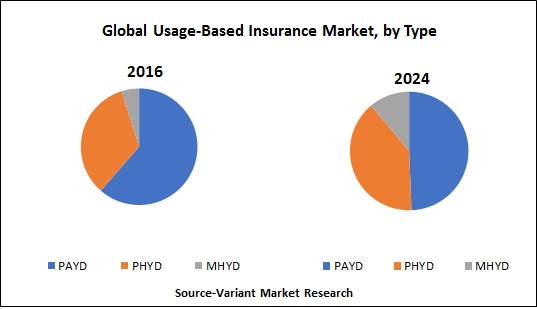 The global usage-based insurance market is segmented on the basis of type, technology, and geography. By type, the market is segmented into pay-as-you-drive (PAYD), pay-how-you-drive (PHYD), and manage-how-you-drive (MHYD). By technology, the market is bifurcated as OBD-II, smartphone, hybrid, and black box.
Global Usage-Based Insurance Market Segmentation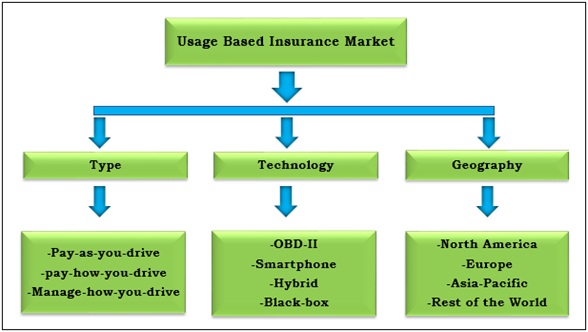 Based on geography, usage-based insurance is segmented into North America, Europe, Asia-Pacific, and Rest of the World (RoW). North America is further bifurcated in U.S., and Rest of North America whereas Europe consists of UK, Germany, France, Italy, and Rest of Europe. Asia-Pacific is segmented into Australia, Japan, and Rest of Asia-Pacific while RoW is bifurcated into South America, Middle East, and Africa.
GLOBAL USAGE-BASED INSURANCE MARKET Regional Revenue % (2016 Vs 2024)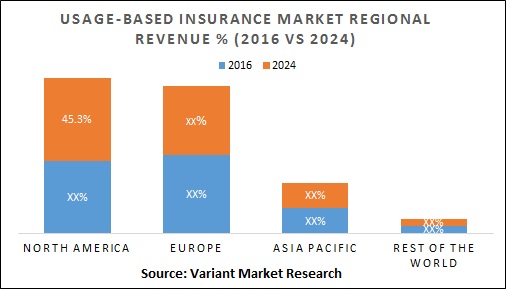 Italy dominates the European usage-based insurance market generating the maximum revenue of the region. Also, the country accounted for 33.1% of the global usage-based insurance market share in 2016. Growing awareness among consumers and technological advancement is boosting the UBI market in the country. The Italy UBI market is expected to grow at a CAGR of 35.5% during the forecast period 2016 – 2024.
Italy Usage-Based Insurance Market, 2015- 2024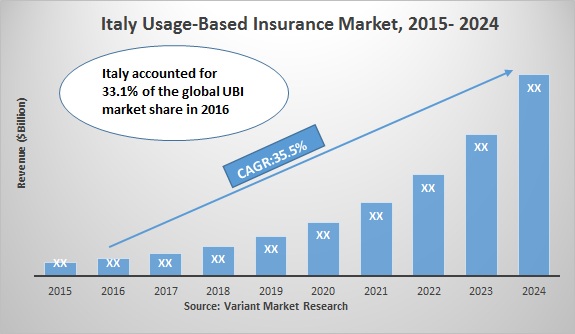 Market players have used various strategies such as partnership and expansion to gain competition in the market. The partnerships are majorly being done with the telematics services providers to enhance technical support and services to consumers. The key companies operating in the market include Allianz SE, Insure The Box Ltd., Allstate Corporation, AXA S.A., Mapfre S.A., Progressive Corporation, Desjardins Insurance, Aviva plc., Metromile, and Generali Group, among others.
The key takeaways from the report
The report will provide detailed analysis of Global Usage-Based Insurance Market with respect to major segments such as type, technology, and geography
The report will include the qualitative and quantitative analysis with market estimation over 2015 – 2024 and compound annual growth rate (CAGR) between 2016 and 2024
Comprehensive analysis of market dynamics including factors and opportunities will be provided in the report
An exhaustive regional analysis of Global Usage-Based Insurance Market has been included in the report
Profile of the key players in the Global Usage-Based Insurance Market will be provided, which include key financials, product & services, new developments and business strategies
Scope of the Global Usage-Based Insurance Market
Type Segments
Pay-As-You-Drive (PAYD)
Pay-How-You-Drive (PHYD)
Manage-How-You-Drive (MHYD)
Technology Segments
OBD-II
Smartphone
Hybrid
Black Box
Geographical Segments
North America

U.S.
Rest of North America

Europe

UK
Germany
France
Italy
Rest of Europe

Asia-Pacific

Australia
Japan
Rest of Asia-Pacific

RoW

South America
Middle East
Africa
Global Usage-Based Insurance Market Primary Interviews, by Geography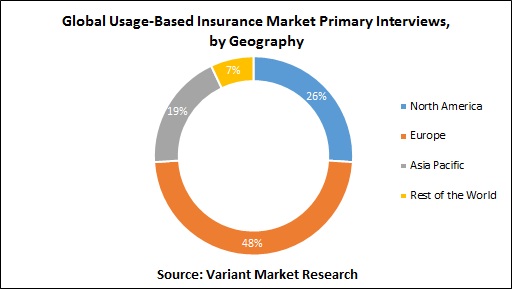 ---