---
Baby Diapers Market Overview :
Global Baby Diapers Market is estimated to reach $72 billion by 2024; growing at a CAGR of 5.1% from 2016 to 2024. A diaper is made up of absorbent materials and worn by infants as underpants. Growing advancement has led to the development of modern disposable diapers with specially designed layers consisting of fibers that absorb liquid and retains for longer. An ideal diaper for babies must contain solutions for skin hydration, PH of the diaper and skin breathability. Efforts are being taken by major manufacturers for developing diapers with maximum biodegradability to prevent environmental contamination. Moreover, innovative disposable diapers with constant release of barrier creams would provide better care to the skin of infants.
Global Baby Diapers Market Size and Forecast, 2015 - 2024 (US$ Billion)

Increasing disposable income, rising awareness about hygiene of babies, and growing number of women in workforce are the key factors supporting the growth of the baby diapers market. Increasing popularity of baby pants and rising promotions and improvements in raw materials also supports the growth of the market. However, high cost and low rate of degradation of these diapers may hamper the adoption of diapers among various end-users. Development of smart and eco-friendly diapers and untapped markets would provide numerous growth opportunities for the market in the coming years.
The global baby diapers market is categorized into product type, baby weight, absorption level, and geography. Product type is classified into cloth diaper (1-part diaper (one-piece diaper and snap-in diaper) and 2-part diaper (fitted diaper, prefold diaper and pocket diaper)), disposable diaper (1-part diaper and 2-part diaper), and other diapers (bio-degradable diaper, cloth swim diaper and cloth training pant). Baby weight is bifurcated into 0-2 kg, 2-4 kg, 3-6 kg, 5-8 kg, 7-13 kg, 9-14 kg and over 14 kg. Furthermore, absorption level is segmented into low absorption and high absorption.
Global Baby Diapers market share by region, 2024 (value%)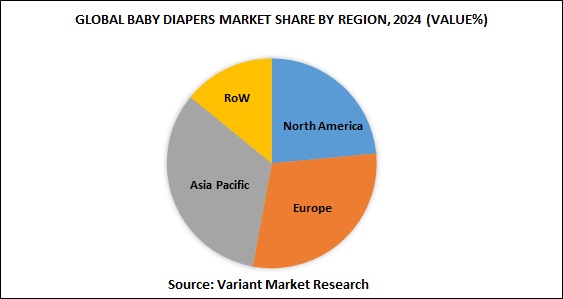 By geography, the market has been bifurcated into North America, Europe, Asia-Pacific, and Rest of the World (RoW). The U.S., Canada, and Mexico are covered under North America wherein Europe covers UK, Germany, France, Italy, Spain, and others. Asia-Pacific covers China, Japan, India, Indonesia, and others. RoW covers South America, Middle East, and Africa.
The key players operating in the market include Johnson & Johnson, Unicharm Corporation, Kao Corporation, Procter & Gamble Company, Bumkins Inc., Diapees and Wipees, Svenska Cellulosa Aktiebolaget SCA, Fujian Hengan Group Ltd., Ontex International N.V, and American Baby Company, among others.
The key takeaways from the report
The report will provide a detailed analysis of Global Baby Diapers Market with respect to major segments such as product, baby weight, absorption level, and geography
The report will include the qualitative and quantitative analysis with market estimation over 2015-2024 and compound annual growth rate (CAGR) between 2016 and 2024
Comprehensive analysis of market dynamics including factors and opportunities will be provided in the report
An exhaustive regional analysis of Global Baby Diapers Market from 2015 to 2024 has been included in the report
Profile of the key players in the Global Baby Diapers Market will be provided, which include key financials, product & services, new developments, and business strategies
Scope of the Global Baby Diapers Market
Product Type Segments
Cloth Diaper

1-Part Diaper

One-Piece Diaper
Snap-In Diaper

2-Part Diaper

Fitted Diaper
Prefold Diaper
Pocket Diaper

Disposable Diaper

1-Part Diaper
2-Part Diaper

Other Diapers

Bio-Degradable Diaper
Cloth Swim Diaper
Cloth Training Pant
Baby Weight Segments
0-2 Kg
2-4 Kg
3-6 Kg
5-8 Kg
7-13 Kg
9-14 Kg
Over 14 Kg
Absorption Level Segments
Low Absorption
High Absorption
Geography Segments
Europe

UK
Germany
France
Italy
Spain
Other
Asia-Pacific

China
Japan
India
Indonesia
Others

RoW

South America
Middle East
Africa
---
GET MORE INFORMATION ABOUT THIS REPORT
---
Related Report