---
Military Vetronics Market Overview :
Global Military Vetronics Market is estimated to reach $9 billion by 2024 with CAGR of 6.5% between 2016 and 2024. Vetronics is a hybrid of technology, electronics and vehicle, designed mainly for the military domain. The changing battlefield conflicts requires real-time information, voice communication, video and data, anywhere in the world faster than before. Vetronics have become a significant component of the fighting vehicles for its efficiency on the battlefield. It enables inter and intra-vehicular information exchange which augments the overall effectiveness during the time of emergency. Vetronics technology has emerged over the years and enables various capabilities such as mission recorder, advanced communication devices, radars, network sensor suites, satellite communications and others.
Global Military Vetronics Market Size and Forecast, 2015 - 2024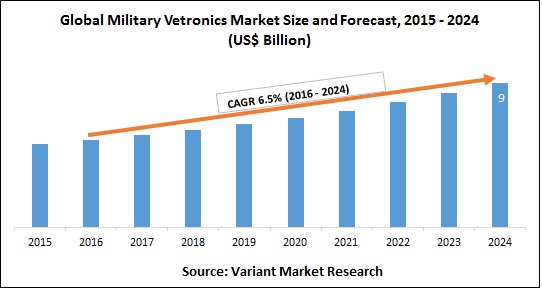 Increasing modernization of military along with expanding trade opportunities fuels the growth of the global military vetronics market. Moreover, adoption of IoT & big data, need for drones & unmanned aerial vehicles for surveillance coupled with rising demand for counter IED and armored vehicles also support the growth of the market. However, decreasing defense budget and demilitarization initiatives by developed countries may restrain the growth of the market. Furthermore, increasing spending on military information technology and increasing defense budgets by emerging economies would provide growth opportunities in the coming years.
The global military vetronics market is categorized on the basis of system, type and geography. By system, the market is segmented into control & data distribution systems (communications, data recorder, data storage, turret control and others), displays systems (navigation, observation and others), power systems, vehicle management systems (smoke & fire protection, surveillance, vehicle health management and others) and others. Furthermore, by type, it can be segmented into light protected vehicles, infantry fighting vehicles, armored personal carriers, unmanned ground vehicles and armored amphibious vehicles.
Global MILITARY VETRONICS Market Share by Region, 2024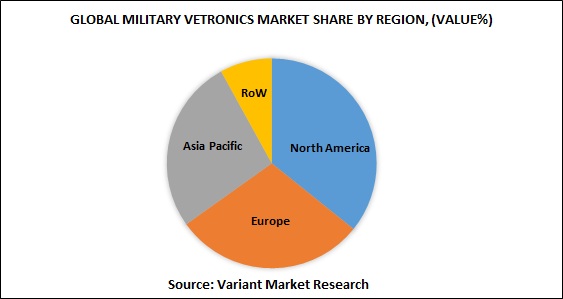 By geography, the military vetronics market is segmented into North America, Europe, Asia-Pacific and Rest of the World (RoW). The U.S., Canada and Mexico are covered under North America wherein Europe covers Russia, U.K., Germany, France and Rest of Europe. Asia-Pacific covers China, India, Japan and Rest of Asia Pacific. Rest of the World (RoW) covers South America, Middle East and Africa.
Key players in the military vetronics market include BAE Systems, Lockheed Martin Corporation, General Dynamics, Harris Corporation, GE Intelligent Platforms, Kongsberg Gruppen, Bharat Electronics, Rheinmetall Defense, Thales Group and SAAB A.B., among others.
The key takeaways from the report
The report will provide detailed analysis of Military Vetronics Market with respect to major segments such as system and types
The report will include the qualitative and quantitative analysis with market estimation over 2015-2024 and compound annual growth rate (CAGR) between 2016 and 2024
Comprehensive analysis of market dynamics including factors and opportunities will be provided in the report
An exhaustive regional analysis of Military Vetronics Market will be included in the report
Profile of the key players in the Military Vetronics Market, will be provided, which include key financials, product & services, new developments and business strategies
Scope of Military Vetronics Market
Systems Segments
Control & Data Distribution Systems

Communications
Data Recorder
Data Storage
Turret Control
Others
Displays Systems


Navigation
Observation
Others
Vehicle Management Systems

Smoke & Fire Protection
Surveillance
Vehicle Health Management
Others
Types Segments
Light Protected Vehicles
Infantry Fighting Vehicles
Armored Personal Carriers
Unmanned Ground Vehicles
Armored Amphibious Vehicles
Geography Segments
North America
Europe

Russia
U.K.
Germany
France
Others

Asia-Pacific
RoW

South America
Middle East
Africa
---
GET MORE INFORMATION ABOUT THIS REPORT
---
Related Report