---
Biomass Pellets Market Overview :
Global Biomass Pellets Market is estimated to reach $25.7 billion by 2024; growing at a CAGR of 11.7% from 2016 to 2024.Biomass pellets are the biofuels, generally obtained from biomass or complex organic matters and used as a heating fuel in various industries. The use of these pellets as a power source and for heating has increased immensely during recent years with many industrial and household facilities using boilers or pellet stoves over old-style equipment. These pellets are usually derived from many sources including the sawdust, timber industry, woody plants, sugarcane crop, and switch grass. These are also considered as ideal substitute for traditional fossil fuels for power generation and heating purposes.
Global Biomass Pellets Market Size and Forecast, 2015 - 2024 (US$ Billion)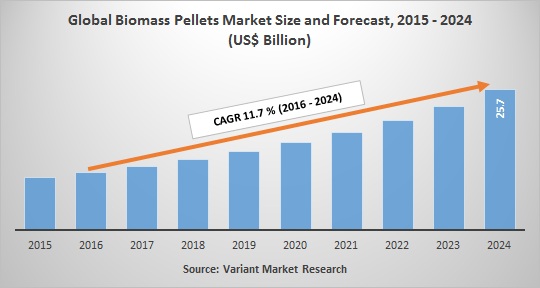 The rising demand for nonconventional or other sources of energy and rising disposable income are anticipated to drive the market within the forecast period. In addition, the rapid exhaustion of fossil fuels and increasing global warming are also anticipated to support the growth of the market. However, expensive raw materials and the process of extraction are expected to hinder the growth of the market. On the other hand, use of these materials for power generation is expected to provide more opportunities to the market players in the coming years.
The global biomass pellets market has been segmented into application and geography. On the basis of application, the market has been segmented as heating sector and power sector.
Global Biomass Pellets Market by Application, 2016 Vs 2024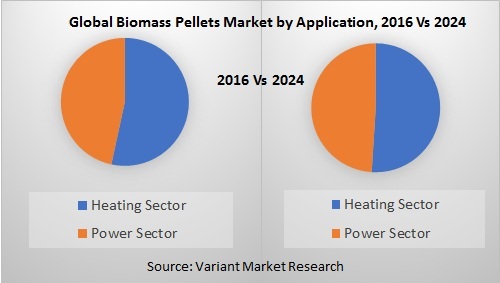 Based on geography, the global biomass pellets market is segmented into North America, Europe, Asia Pacific, and Rest of the World (RoW). North America is further bifurcated in U.S., Canada, and Mexico whereas Europe segment consist of Germany, Sweden, UK, Denmark, Italy, France, Rest of Europe. Asia-Pacific is segmented into Japan, China, South Korea, Rest of Asia-Pacific, while RoW is bifurcated into South America, Middle East, and Africa.
Global biomass pellets market Regional Revenue % (2016 Vs 2024)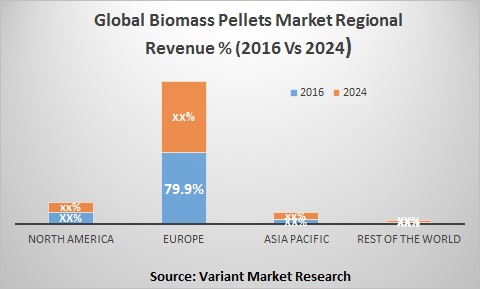 The key players operating in the market are Forest Energy Corporation, Energex Corporation, New England Wood Pellet, Forth Energy Ltd., Helius Energy, International WoodFuels, LLC, Woodstone, MGT Power, Westervelt Renewable Energy, LLC, and Drax Biomass Inc., among others.
The key takeaways from the report
The report will provide detailed analysis of Biomass Pellets Marketwith respect to major segments such as application and geography
The report will include the qualitative and quantitative analysis with market estimation over 2015 - 2024 and compound annual growth rate (CAGR) between 2016 and 2024
Comprehensive analysis of market dynamics including factors and opportunities will be provided in the report
An exhaustive regional analysis of Biomass Pellets Market has been included in the report
Profile of the key players in the Biomass Pellets Marketwill be provided, which include key financials, product & services, new developments and business strategies
Scope of the Global Biomass Pellets Market
Application Segments
Heating Sector
Power Sector
Geographical Segments
North America
Europe

Germany
Sweden
UK
Denmark
Italy
France
Rest of Europe

Asia-Pacific

Japan
China
South Korea
Rest of Asia-Pacific

RoW

South America
Middle East
Africa
Global Biomass Pellets Market Primary Interviews by Geography

---
GET MORE INFORMATION ABOUT THIS REPORT
---
Related Report