---
Global Energy Management System Market is estimated to reach $134 billion by 2024; growing at a CAGR of 17.9% from 2016 to 2024. Energy management system is a system used to regulate, monitor, and improve the performance of the transmission system and generation. This is computer supported system, which Improve complete transmission grid and meet strict security necessities, which is also known as EMS/SCADA or SCADA/EMS. Benefits of using EMS are increased energy-efficiency, reduction in carbon foot print and price, among others. Rising commercialization of innovative products and technological developments such as integration of SCADA, rising need in industrial sectors, such as in power and manufacturing, for monitoring and valuation of consumption pattern, is anticipated to drive the market over the forecasted period.
Global Energy Management System Market Size and Forecast 2015–2024

Growing responsiveness regarding carbon footprint management, increasing energy usage and price instability, obligatory rules and guidelines, and rising inclination towards effective energy management are the factors driving the growth of the energy management system market. Though, inadequate financial resources, and huge initial cost may hinder the growth of the market. Moreover, increasing number of smart cities ventures in emerging countries, and renewal of old infrastructure might provide with several growth opportunities in the forecasted year.
The global energy management system market is segmented into type, vertical, end user, components, and geography. The energy management system market is segmented by type as industrial energy management system (IEMS), building energy management system (BEMS), and home energy management system (HEMS). Moreover, market is segmented by vertical as power and energy, manufacturing, retail and offices, telecom and IT, healthcare, and other verticals. Further, end user includes commercial and residential. The market is segmented by components into sensors, controllers, software, and other components.
Global Energy Management System Market by Type 2016 Vs 2024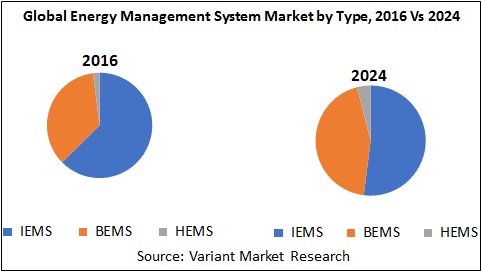 Based on geography, global energy management system market is segmented into North America, Europe, Asia Pacific, and Rest of the World (RoW). North America is further bifurcated into U.S., Canada, and Mexico whereas Europe segment consist of UK, Russia, Germany, France, Italy, and Rest of Europe. Asia-Pacific is segmented into India, China, Japan, South Korea, and Rest of Asia-Pacific while RoW is bifurcated into South America, Middle East, and Africa.
Global Energy Management System Market Regional Revenue 2016 Vs 2024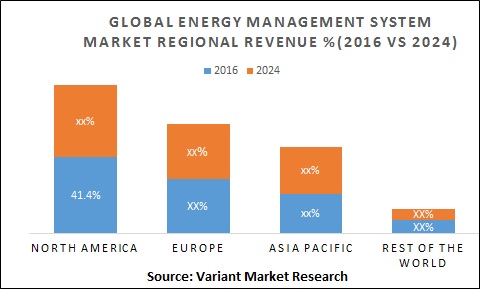 The key market players include Cisco Systems, Inc., Honeywell International, Inc., Asea Brown Boveri (ABB) Ltd., General Electric Company, Schneider Electric SE, Siemens AG, International Business Machine Corporation, Eaton Corporation PLC, CA Technologies, and Emerson Electric Company, among others.
The key takeaways from the report
The report will provide detailed analysis of Energy Management System Market with respect to major segments such as type, vertical, end user, and components
The report will include the qualitative and quantitative analysis with market estimation over 2015 – 2024 and compound annual growth rate (CAGR) between 2016 and 2024
Comprehensive analysis of market dynamics including factors and opportunities will be provided in the report
An exhaustive regional analysis of Energy Management System Market has been included in the report
Profile of the key players in the Energy Management System Market will be provided, which include key financials, product & services, new developments and business strategies
Scope of the Global Energy Management System Market
Type Segments
Industrial Energy Management System (IEMS)
Building Energy Management System (BEMS)
Home Energy Management System (HEMS)
Vertical Segments
Power and Energy
Manufacturing
Retail and offices
Telecom and IT
Healthcare
Other Verticals
End User Segments
Component Segments
Sensors
Controllers
Software
Other Components
Geographical Segments
North America
Europe

UK
Russia
Germany
France
Italy
Rest of Europe

Asia-Pacific

India
China
Japan
South Korea
Rest of Asia-Pacific

RoW

South America
Middle East
Africa
Global Energy Management System Market Primary Interviews by Geography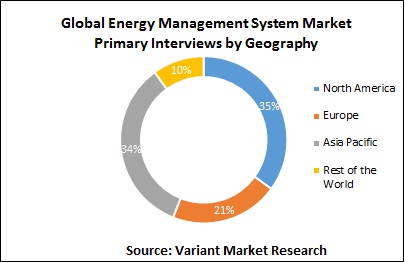 ---
Related Report
Heat Exchanger Market (By Type: Shell and Tube, Plate & Frame, Air Cooled, Printed Circuit; By Application: Chemical, Petrochemicals and O&G;, HVAC & Refrigeration, Food and Beverages, Power Generation; By Material: Steel and Non-Steel; By Geography: North America, Europe, Asia-Pacific and RoW) Global Scenario, Market Size, Outlook, Trend and Forecast, 2015 – 2024


- November 2017

Petroleum (Pet) Coke Market Global Scenario, Market Size, Outlook, Trend and Forecast, 2015 – 2024


- April 2018

Solar Control Films Market (By Type: Clear Films, Dyed Films, Vacuum Coated Films, Safety Films, Decorative Films, IR Films, and Sputtered Films; By Application: Commercial Building, Residential Building, Automotive, Marine, and Other Applications; By Geography: North America, Europe, Asia-Pacific and RoW) Global Scenario, Market Size, Outlook, Trend and Forecast, 2015 – 2024


- November 2017

Waste Heat Recovery System Market (By Application: Steam and Power Generation, Pre-Heating, and Other Applications; By End-User: Petroleum Refining, Chemical, Cement, Metal Production and Casting, Natural Gas Compression, Paper and Pulp, and Other End-Users; By Geography: North America, Europe, Asia-Pacific and RoW) Global Scenario, Market Size, Outlook, Trend and Forecast, 2015 – 2024


- November 2017

Wind Tower Market Global Scenario, Market Size, Outlook, Trend and Forecast, 2015 – 2024


- April 2018