---
Global Heat Exchanger Market is estimated to reach $25,042 million by 2024; growing at a CAGR of 8.1% from 2016 to 2024. A heat exchanger is an equipment used to transfer heat energy between two different fluids or a fluid and a solid object, that may be parted by a wall to prevent mixing. The fluids or solutions used in these heat exchangers are separated by a wall to prevent mixing or they can be in direct contact. Moreover, usually they have no external heat or work interactions to allow only the required heat to enter the system. Major applications or usage of heat exchangers include cooling or heating of a fluid stream and condensation and evaporation of multicomponent or even single stream.
Global Heat Exchanger Market Size and Forecast, 2015 - 2024 (US$ Million)

One of the major factor that is driving the market's growth is the growing use of heat exchangers in many plants such as water treatment, to increase the efficiency of plant and also to optimize the temperature of water. It has also been observed that the increased manufacturing activities, growth in the oil and gas production and growing population will further propel the growth of global heat exchanger market. On the other hand, changing prices of raw material are expected to hamper the growth of the market. Industrial growth would provide various opportunities to the market in the coming years.
The global heat exchanger market has been segmented into type, application, material, and geography. On the basis of type, market has been divided into shell and tube, plate & frame, air cooled, printed circuit, and other types. On the basis of application, the market has been segmented as chemical, petrochemicals and O&G, HVAC & Refrigeration, food and beverages, power generation, and other applications. Further, material segment includes steel and non-steel.
Global Heat Exchanger Market by Type, 2016 Vs 2024

Based on geography, global heat exchanger market is segmented into North America, Europe, Asia Pacific, and Rest of the World (RoW). North America is further bifurcated in U.S., Canada, and Mexico whereas Europe segment consist of Germany, France, Italy, and Rest of Europe. Asia-Pacific is segmented into India, China, Japan, and Rest of Asia- Pacific, while RoW is bifurcated into South America, Middle East, and Africa.
Global Heat Exchanger Market Regional Revenue % (2016 Vs 2024)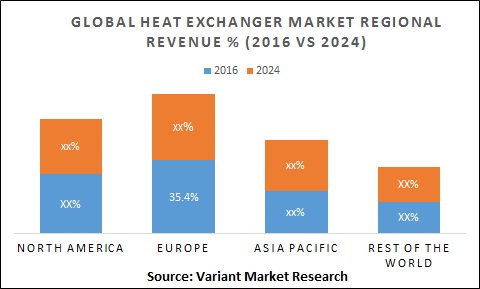 The key players operating in the market are Doosan Heavy Industries & Construction, Alfa Laval, Kelvion, FUNKE Wärmeaustauscher Apparatebau, Larsen & Toubro, SPX FLOW, The Japan Steel Works, Thermowave, Dover, and Xylem, among others.
The key takeaways from the report
The report will provide detailed analysis of Heat Exchanger Market with respect to major segments such as type, application, and material
The report will include the qualitative and quantitative analysis with market estimation over 2015 - 2024 and compound annual growth rate (CAGR) between 2016 and 2024
Comprehensive analysis of market dynamics including factors and opportunities will be provided in the report
An exhaustive regional analysis of Heat Exchanger Market has been included in the report
Profile of the key players in the Heat Exchanger Market will be provided, which include key financials, product & services, new developments and business strategies
Scope of the Global Heat Exchanger Market
Type Segments
Shells and Tube
Plate & Frame
Air cooled
Printed Circuit
Other Types
Application Segments
Chemicals
Petrochemicals and O&G
HVAC & Refrigeration
Food and Beverages
Power Generation
Other Applications
MaterialSegments
Geographical Segments
North America
Europe

Germany
France
Italy
Rest of Europe

Asia-Pacific

India
China
Japan
Rest of Asia-Pacific

RoW

South America
Middle East
Africa
Global Heat Exchanger Market Primary Interviews by Geography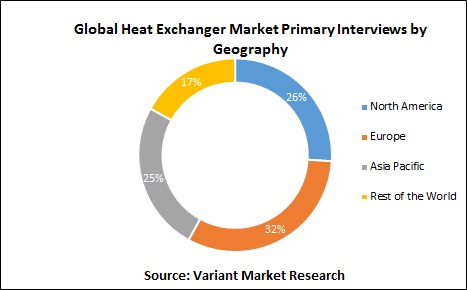 ---
Related Report
Energy Management System Market (By Type: IEMS, BEMS, and HEMS; By Vertical: Power and Energy, Manufacturing, Retail and Offices, Telecom and IT, Healthcare, and Other Verticals; By End User: Commercial, and Residential; By Components: Sensors, Controllers, Software, and Other Components; By Geography: North America, Europe, Asia-Pacific and RoW) Global Scenario, Market Size, Outlook, Trend and Forecast, 2015 – 2024


- November 2017

Petroleum (Pet) Coke Market Global Scenario, Market Size, Outlook, Trend and Forecast, 2015 – 2024


- December 2017

Solar Control Films Market (By Type: Clear Films, Dyed Films, Vacuum Coated Films, Safety Films, Decorative Films, IR Films, and Sputtered Films; By Application: Commercial Building, Residential Building, Automotive, Marine, and Other Applications; By Geography: North America, Europe, Asia-Pacific and RoW) Global Scenario, Market Size, Outlook, Trend and Forecast, 2015 – 2024


- November 2017

Waste Heat Recovery System Market (By Application: Steam and Power Generation, Pre-Heating, and Other Applications; By End-User: Petroleum Refining, Chemical, Cement, Metal Production and Casting, Natural Gas Compression, Paper and Pulp, and Other End-Users; By Geography: North America, Europe, Asia-Pacific and RoW) Global Scenario, Market Size, Outlook, Trend and Forecast, 2015 – 2024


- November 2017

Wind Tower Market Global Scenario, Market Size, Outlook, Trend and Forecast, 2015 – 2024


- December 2017